South Sudan continues to burn as the world watches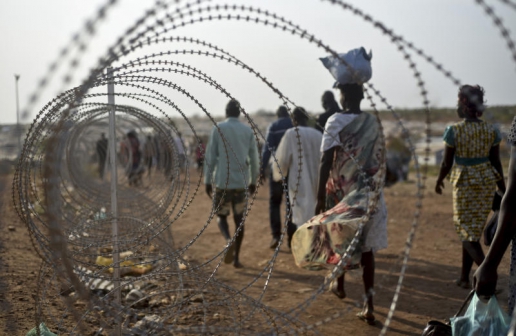 At 8am on a wet Monday morning two South Sudanese children step out of a gleaming SUV and run into their classroom in a school in Kampala, the Ugandan capital. Wealthy South Sudanese generals prefer to send their children to school abroad, and only the best, such as this $17,500-a-year (Sh1.8 million) private school near Lake Victoria, is good enough for their offspring.
About 500km away to the north, several children queue up for food rations in Bidi Bidi, a makeshift refugee camp near Yumbe Town, on the Ugandan side of the border with South Sudan. A year ago Bidi Bidi was an arid and empty tract of land. Today it is the second largest refugee camp in the world, hosting about 270,000 South Sudanese.
The UN warned this week that South Sudan is on the brink of genocide, only a week after declaring that 100,000 people in the country were facing famine, with another 1.5 million in urgent need of humanitarian assistance.
A commission set up by the UN to monitor the human rights situation in the country called for an immediate ceasefire and the "immediate establishment of an international, independent investigation, under the auspices of the UN, into the most serious crimes committed in South Sudan since December 2013 by, inter alia, collecting and preserving evidence of human rights violations and abuses and violations of international humanitarian law, and by supporting criminal proceedings before the hybrid court and national, regional and international tribunals with jurisdiction over such crimes."
Repeated condemnation
The report, as with previous ones, is likely to be disregarded by the Government of South Sudan and ignored by the region and the international community. Despite repeated condemnation of the violence, including by the UN Security Council as recently as last month, the world has been unwilling or unable to definitively end the civil war that has been raging, on-and-off in South Sudan, since December 2013.
As the latest report bemoans, "Both regional and international actors seem unable to exert any substantial influence on the warring parties to stop the conflict, while regional national interests undermine collective action to save South Sudan".
In August 2016 the Security Council extended the mandate of the UN peacekeeping mission to South Sudan (UNMISS) and authorised the deployment of a 4,000-strong regional protection force to act as a buffer between the warring factions of the Sudan People's Liberation Army/Movement and protect civilians. President Salva Kiir's government has so far successfully managed to delay the deployment of the regional force, which it is opposed to.
While the capital Juba has remained relatively calm since the last full-on clashes between the SPLA factions in July 2016, UNMISS has struggled to keep the peace in the rest of the country. This week Japan announced it will withdraw its 350-strong contingent from UNMISS due to political pressure at home over the country's pacifist constitution.
In the absence of clear and decisive external intervention and a clear winner of the internal conflict, South Sudan has continued to fall apart. A peace deal signed in August 2015 between President Kiir and main rival Riek Machar now feels spurious. Machar, who was reinstated to his position as vice president under the peace deal, is currently in South Africa where he fled to after his bodyguards were decimated in the July 2016 clashes in Juba. Most of his allies in the SPLA/M faction loyal to him also fled, recreating an ethnic chasm in the country mainly between Dinkas in government and Nuer in opposition.
Alliances continue to be forged and broken. Last month Lt Gen Thomas Cirillo quit as SPLA deputy Chief of General Staff and announced the formation of a new rebel outfit, the National Salvation Front. The new group has since merged with a faction of the South Sudan Democratic Movement/Army, another armed rebel group, and attracted a general, Faiz Ismail Fatur, from Machar's faction.
Renewed fighting has been reported in Equatoria, Western Bahr-el-Ghazal and Upper Nile States, mostly along ethnic lines.
With more than three years of lost production, the economy is in crisis. Inflation is at 900 per cent, the South Sudan Pound continues to lose value and the country is expected to run out of oil, on which it relies for more than 90 per cent of its revenues, in 2035 if no new fields are discovered.
But it is to South Sudan's unarmed civilians that the war has been most devastating.
Unlawful detentions
"The conduct of the Government of South Sudan and of other parties to the conflict suggests the deliberate targeting of civilian populations on the basis of their ethnic identity by means of killings, abductions, unlawful detentions or deprivation of liberty, rape and sexual violence, and the burning of villages and looting," the latest UN report notes.
The UN has also warned that a process of ethnic cleansing was underway in South Sudan, while its Special Adviser on the Prevention of Genocide also warned last month that indicators for genocide were present in the country.
For ordinary South Sudanese, however, these indicators are a lived reality.
On February 20 famine was declared in Unity State, one of those worst affected by the fighting; the war has made it unsafe for people to go out into their fields to grow or harvest food. Some 100,000 people were facing famine, while 5.5 million, more than half the population, will not have enough to eat by next month. Food prices have soared four-fold in some places.
South Sudan was already one of the poorest countries in the world; the fighting has pushed it further down worsening all indicators, including access to clean water, health care and education. Maternal and infant mortality rates are all up, according to aid agency reports, and there is a cholera outbreak for the third year running.
Women and children have been particularly hard hit. The UN children's agency estimates that 17,000 children have been conscripted into the fighting by the opposition armed groups and self-defence militias, in contravention of laws forbidding the use of child soldiers. Government forces and militia loyal to them are also said to have at least 1,300 soldiers among their fighting ranks.
Rape has proliferated along with the fighting. Survivors turning up in refugee camps give harrowing accounts of women being tied against trees and gang-raped by armed combatants from both sides of the conflict. In October and November 2015 the UN Family Planning Agency conducted a survey in four camps of internally displaced people in South Sudan. They found that about seven out of every 10 women said they had been raped since the war broke out in 2013, mostly by police officers, soldiers or armed rebels. Those numbers are believed to have risen steeply since hostilities resumed.
In one case, armed men raided the Terrain Hotel in Juba in July 2016 where aid workers were staying. They separated the women from the men, took them into the rooms and raped them.
As with most crimes in South Sudan, the rapists went unpunished. Experts on the country say a culture of impunity is at the heart of the country's current problems. At the end of the country's long war against Khartoum there was no justice or accountability for whatever crimes had been committed by both sides of the conflict.
Armed factions that had splintered from the main SPLA and even allied with Khartoum — including Machar— were reintegrated without question and in many cases generals allowed to keep their private militia as part of an expanded SPLA. When fighting resumed different generals peeled off with their loyal fighters.
Abandon accountability
Under pressure to stop rights violations, President Kiir's government has responded with even more severe restrictions. Journalists have been arrested and newspapers forced to shut down while non-government organisations have been forced to employ locals, abandon accountability programmes or cede property and money to the state. The government recently announced a $10,000 (Sh1.1 million) fee for foreigners applying for work permits.
Those who can have fled. According to the UN refugee agency, 1.5 million South Sudanese have fled into neighbouring countries, half of them in 2016 alone. This has turned the country into the largest source of displacement in Africa, with refugees reported in Kenya, Ethiopia, the Democratic Republic of Congo, Central African Republic, Sudan and Uganda.
South Sudanese are not strangers to fleeing. Throughout the conflict with Khartoum hundreds of thousands fled into neighbouring countries and onwards to other countries. Those with means attended schools and integrated themselves into the middle classes in those countries. The poor scrapped a living in refugee camps like Kakuma, in Kenya's northwest Turkana County.
In 1987 fierce fighting forced about 20,000 Nuer and Dinka boys, some aged as young as six, to walk more than a thousand miles to avoid being conscripted into the army. Those who survived the trek ended up in Kakuma and provided the inspiration for books and movies about 'The Lost Boys of Sudan'.
About 87 per cent of those displaced by the current fighting are women and children. They include 36,000 South Sudanese children who are unaccompanied or separated from their parents.
Then and now, as with the school children in Kampala and their counterparts in Bidi Bidi refugee settlement, it is the poor that have continued to pay the price of bad governance in South Sudan.