It's D-Day for Tanzania as voters head to historic elections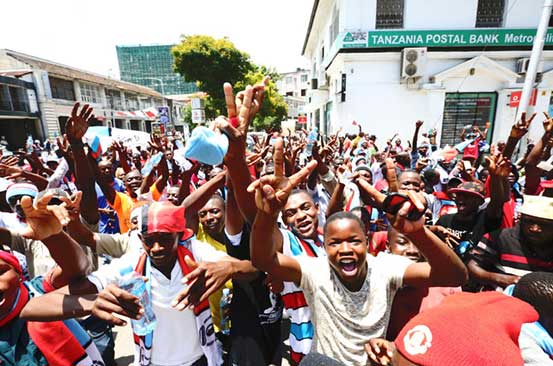 Tanzanians go to the polls today in what is billed as one of the closest elections in the country's 51-year history since independence.
Voters in both mainland Tanzania and the Zanzibar archipelago will go to the polling stations to cast their ballots to elect their President, Members of Parliament and Ward Representatives drawn from the country's 20-plus political parties.
About 20 million registered voters in 30 provinces will brave the sweltering heat to elect their representatives in 239 constituencies.
In mainland Tanzania, the main contest for the presidential seat is between ruling Chama Cha Mapinduzi (CCM) candidate John Pombe Magufuli and the Opposition Chama Cha Demokrasia (Chadema) candidate, Edward Lowassa.
Magufuli and Lowassa have been on a two-month campaign trail to convince voters to vote for them in an election where voters are torn between change and loyalty to the old order represented by CCM.
"If Mr Magufuli wins, CCM will retain power but put a technocrat in office. Should Mr Lowassa somehow succeed, and CCM concede honourably, he will push out a party structure that has dominated Tanzania for too long. In either case, Tanzania seems to be becoming a more democratic place," said The Economist.
Although the main contest is between Lowassa and Magufuli, six other candidates, including a woman, will be on the ballot. They are Anna Elissha Mgwirha (Aliance for Change and Transparency), Chifu Lutalosa Yembe (Alliance for Democratic Change), Fahmi Nassoro Dovutwa (United People Democratic Party), Hashim Rungwe Spunda (Chama Cha Ukombozi wa Umma) and Janken Malim Kusamaba (National Reconstruction Alliance).
Ahead of Sunday's decisive poll, the mood in the streets was ecstatic. Supporters of Magufuli and Lowassa, clad in party colours, sang and danced in the hot sun. But the campaigns have largely been peaceful. On Friday, the High Court banned all public gatherings on polling day.
"The candidates and supporters have conducted themselves maturely, and I believe this is something that other African countries, including Kenya, should learn from," said Wanjiku Muihia, a member of the Kenyan Parliament who is monitoring the elections.
Other observers are the African Union, the East African Community and the Commonwealth.
"We are happy with what we have seen so far," said Clerk of the Kenya National Assembly Justin Bundi who is also in Dar es Salaam.
At Jangwani grounds, just a few kilometres from the commercial capital, where the Opposition held its last rally Saturday, youth donning the white, red, black and blue colours representing the Opposition paced up and down the streets carrying a green coffin they said represented the death of the ruling party, CCM.
Their counterparts watched from a distance, having been in a similar mood on Friday when their presidential candidate addressed a gathering at the same venue.
Saturday Opposition supporters blocked the main highway and roads leading to the city's suburbs such as Mazense and Ubungo, and at one point police had to be called in to clear the roads.
"We want change. We feel we have been oppressed for a long time. There are no jobs and life is becoming more difficult," said a Chadema supporter, Anthony Ngowi as he blew a large vuvuzela painted in the opposition colours.
Posters and billboards of the two candidates dominated the streets. Lowassa, the grey-haired 62-year-old former Prime Minister, smiled broadly from the billboards emblazoned with the words "Mabadiliko" (change). Images of his rival, Magufuli, the serious-faced former Works Minister, also stared out from the large billboards, with words declaring "tumemkubali na tutamchagua" (We have accepted him, and will vote for him.) Lowassa bolted out of the ruling party after losing the presidential nomination to Magufuli.
According to statistics from the National Elections Commission, out of the 22.7 million voters, men make up 10.8 million, while the number of women voters stands at 11.9 million. The two candidates will also be battling for the youth vote, which statistics put at over 60 per cent of the total voting population.
Among the areas where Lowassa is expected to do well are Mara (892,741 voters), Mwanza (1,448,884 voters), Kagera (1,051,681 voters), Mbeya (1,397,653 voters), Arusha (1,009,292 voters) and the capital Dar es Salaam (2,775,295 voters).
Magufuli is banking on the support of Dodoma (1,071,383 voters), Singida (648,897 voters) Tanga (1,009,753 voters) and areas occupied by the Sukuma people.
There are 65,105 polling stations in mainland Tanzania and 1,580 in Zanzibar. Each polling station will serve a maximum of 500 voters.
In the Zanzibar archipelago, the candidates are incumbent President Ali Mohamed Shein of the ruling CCM and Vice-President Seif Sharif Hamad from the opposition Civic United Front (CUF). The two share power in a unity government. Although there are no recent independent opinion polls on this election, a September 2015 poll by non-profit civic organisation, Twaweza, placed the ruling party candidate ahead with 65 per cent of the vote, with his opponent having 25 per cent.
Schools grapple with private developers over land ownership
Public institutions in Nakuru County are losing large tracts of land to developers. Individuals and private companies have taken possession of land claimed by primary and secondary schools, hospitals, mortuaries, cattle dips, churches and the museum.