By Cyrus Ombati
Friends they were and together they held onto the taut rope of friendship until snapped by death minutes into their flight.
The police chopper came down while former Internal Security minister Prof George Saitoti overflew his constituency, probably pointing out familiar landmarks to his fellow fliers.
Their destination was Homa Bay for a church fundraiser and the host was Saitoti's long-time friend and Assistant minister Joshua Orwa Ojode. He too died. And as their bodies burned next to each other, horrifying as it were, the flames flickering like it were from a candle in the wind, seem to pay tribute to their friendship.
Their deaths shocked the nation, led to cancellation of rallies across the country by leading presidential contenders, and eerily happened exactly on a date and month when Kenya also lost Cabinet minister Kipkalya Kones and former Sotik MP Lorna Laboso.

The cordial relationship between Saitoti and Ojode was best exemplified in Parliament where the professor delegated critical responsibilities to his assistant.
Ojode was a cut above other Assistant ministers and was nicknamed 'Serikal' (Luo slang for "government") by his colleagues. Even in death, given their tall body frames, no one could distinguish Saitoti's mortal remains from that of Ojode, or even the others in the plane for that matter.
Until DNA results are out, they will lie at the Lee Funeral Home's cadaver trays, and those coming to pay tribute would, while walking in, have to contend with the fact they may never tell which body is George's or Joshua's.
We use their first names here because that is how they referred to each other, even though the Professor of Mathematics, who rose to be Kenya Commercial Bank Chairman, Cabinet minister and then Vice President, was 13 years older than the Ndhiwa MP.
Saitoti survived poisoning after 1990's killing of former Foreign Minister Robert Ouko, while Ojode beat death in a previous police helicopter accident and a road crash.
But the grim reaper finally caught up with them as they flew underneath a heavy cloud blanket that obscured the usually azure blue skyline. He was Vice President for 13 years and was literally a breath away from the Presidency, but died as he campaigned for the seat.
Also burning were the wads of Sh1000 notes the two MPs were taking to the fundraiser at Nyarongi Catholic Church. Just like its owners, the money never reached its destination and at the church tears flowed as news arrived that the Guest of Honour and their MP were dead.

Also gone in the loop of friendship in the helicopter accident in Ngong area was Inspector Joshua Tonkei who for years was part of Saitoti's life, given that every newspaper picture and TV footage of the late Kajiado North MP bore his own.

Big loss
Lurking in the shadow of the former Vice President was Tonkei, a man whose burning stare seemed to confirm he could actually literally take a bullet on behalf of his boss.

But Sunday, death struck without warning and it was instantaneous. Tonkei suffered the same fate as his boss. Later, from the smouldering debris, they recovered his pistol, seared and crumbled by fire, as it too had completed its work, and the owner would never use it again in this life. Also gone with his boss was Sergeant Thomas Murimi.
In the same way, Captain Luke Oyugi and his co-pilot Nancy Gituanja literally went down with their helicopter. Their unidentified bodies were among those smouldering in the fire whose cause is still a matter of speculation.
Those who saw the helicopter zigzagging in the air reported that behind its tail was a billow of heavy smoke. One could have mistaken it for one of those aircraft that used to thrill Kenyans during airshows and national days, only that it had turned into a harvest tool for the grim reaper, otherwise called death.
President Uhuru Addresses Local and International Press at the Ivory Burning Site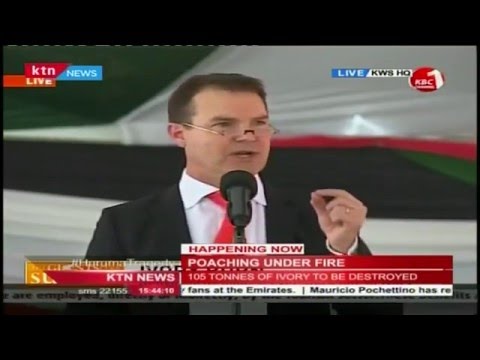 Dr. John Scanlan-Cities addresses Kenyans against poaching at the Ivory Burning site
Dr. Richard Leakey-KWS Chair addresses the nation at the Ivory Burning site in Nairobi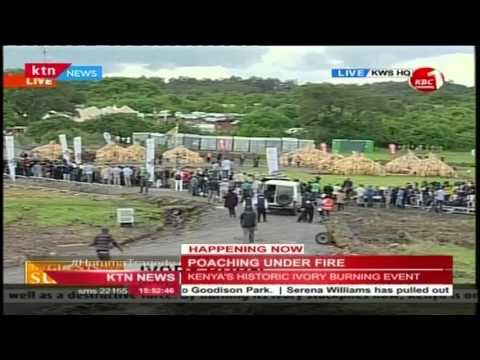 Deputy Secretary of State reads out President Obama's statement to Kenya
French Environment Minister and Corp 21 President; Segolene Royal Royale at the Ivory Burning site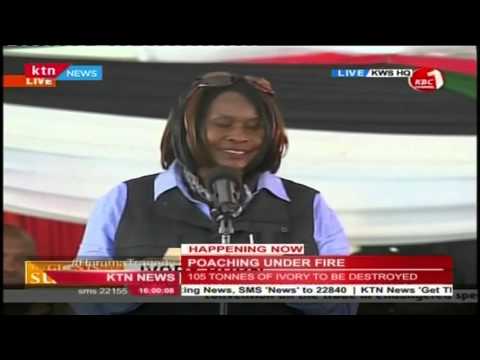 Dr. Judi Wakhungu Cabinet Secretary for Environment makes her statement to poachers today