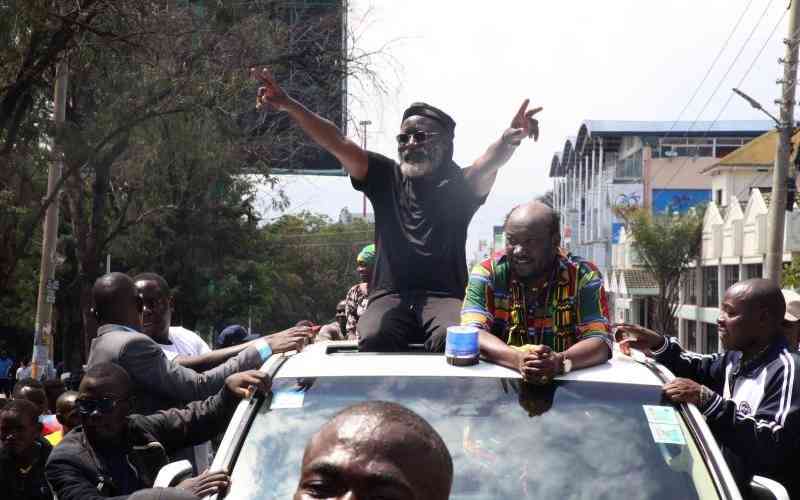 With political change frozen, we bet on economic change.
Have you noted the lack of excitement over polls with only a few weeks to go? Freebies are rare. By this time in the past, the country would be awash with branded caps, shukas, t-shirts and even exam success cards.
I thought it was about Nairobi but after visiting Nyeri, Kiambu, Nakuru, Nyandarua and Kakamega, I found no excitement.
The subdued mood is the best indicator that our economy got a hit from Covid-19 and now the war in Ukraine. Add the adverse weather with rains below average in some parts of the country and the national spirits are subdued.
That has not stopped us from dreaming, as captured by our manifestos and public pronouncements. Lots of our dreams and, I must add, nightmares were not captured by the manifestos despite the many pages and lofty ideas.
What did they leave out? The list is not exhaustive. You are free to enrich. Let's note first that the country is torn between the old order and the new.
Both Azimio La Umoja One Kenya Alliance and Kenya Kwanza have a foot in the past - read Kanu.
Despite the public display of differences, both coalitions have a lot in common. Who will bring the economic change?
The political change is frozen in the 2010 constitution. Attempts to change that through the Building Bridges Initiative (BBI) failed. Could that realisation be forcing political contestants to focus on the economy? Or was this an intended consequence of the 2010 constitution?
Who can you trust to carry through the economic changes? One is closing the gap between the socio-economic classes; without being derogatory, those who use the Expressway and those who do not. Those who stay in the leafy suburbs and those who live in the slums.
Who can bridge this gap without the utopianism of the communist manifesto? Will it be through empowering the hustlers with new skills and soft loans or money transfers got from taxing the affluent?
How do they meet in the middle? Both Azimio and Kenya Kwanza proposals make economic sense.
Money transfers to the vulnerable would start them off, but they need soft loans from Kenya Kwanza to scale up.
Two is corruption. Someone needs to stamp out this vice that has left citizens bitter and angry. If I were to give the next regime one and only one assignment, it would be to slay the dragon of corruption: if it does that, I demand that my grandchildren vote for them.
Will the next regime go after perpetrators of graft even in its midst? It could start by listing its donors.
Two is land. We are still attached to nature and its resources. Land is life, but subdivision has made it unproductive. Who will stop that and ensure we think of other factors of production such as innovation-based entrepreneurship? Farming should be left to those interested, not those who have no choice?
Three is the protestant work ethic. We have imported American names for our children and political titles but not their work ethic.
We dislike work, hence graft. Who will make us love work and go beyond the call of duty, like missionaries? Who will ensure that the hard work, both mental and manual, is rewarded?
Brain drain
Four, devolution. Who will demystify Nairobi and ensure resources are devolved to counties or remain there? Who will stop the brain drain from the rural areas?
More importantly, who will ensure that devolution is not about sharing revenue but generating it first? How do we shift economic growth to counties and to individuals?
Five, who will make us global? We are too tied to our wards, counties and the country. Why so inward-looking when other countries are in space? Did you read how China is increasing wheat yield by taking the seeds to space?
Six, who will give us an identity we can be proud of. Why are our children getting names like Jennifer Lopez or Jesse Jackson when none of our names has been declared extinct?
Who will ensure Central Kenya children have an identity beyond their mothers' names? Few countries ever developed without an identity.
Seven, who will ensure that economics will remain in the headlines long after the polls? That we focus more on what makes economic sense, not excite our emotions.
Eight; the laws of economics will not change because of polls. Prices could still be determined by the laws of supply and demand. Subsidies will still distort the market. Pay should be commensurate with productivity.
Price caps will lead to shortages. Will the next regime allow economic laws to work? Of keen interest is ensuring there is competition in all sectors. That not only brings down prices but spurs innovation.
Nine, the laws of the land and the constitution will still apply after the polls. Any economic decision will be taken within those constraints. Will the new regime change the constitution to suit political instead of economic interests? I doubt if BBI is dead, it was put in hibernation.
Ten; the dreams espoused by our manifestos are not new, they have been there for the last 59 years. Will they be finally realised? We have moved economically but not fast enough, too many Kenyans are still at the periphery.
Eleven; who will end the slave-master mentality. Someone must work for you, your house girl, a junior officer, even on mundane things? Shall we learn to respect those below us? Mutual respect, not fear, drives the economy.
The economic changes promised will not come overnight. Voting is like a sprint, economic changes are a marathon.
Next week: My fears in 2022 polls.