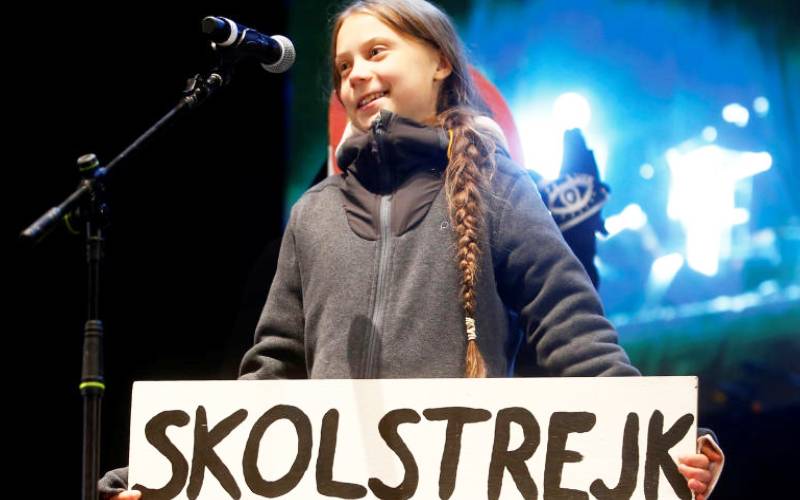 Young climate crusaders delivered a bare-knuckle attack on world leaders over their inaction on global warming as the UN-led climate talks entered the second week.
Swedish climate crusader Greta Thunberg led the coalition of youth climate leaders from various countries, including Uganda, in warning governments to shape up or ship out in the wake of climate calamities facing vulnerable communities.
"The climate crisis is already affecting so many. We have all told our stories but now, it's the people of the global south and other affected communities who should be heard," Thunberg said in Madrid, Spain, the venue of this year's climate change negotiations.
Ugandan teen climate crusader Hilda Nakabuya spoke about Africa's tribulations seen in recurrent droughts, floods and hunger. She said global warming is "a new era of colonialism."
Read More
"It feels like apartheid. Our hearts are bleeding. Developed countries should clean up their mess but they do not care. Africa emits almost nothing, but suffer more," Nakabuya told a press conference.
Teen activists from the US and Chile, in thinly veiled attacks on presidents Sabastian Pinera and Donald Trump, criticized leaders who breed fear, abuse human rights and show zero commitment to environmental conservation.
"We cannot sustain a system that sustains the climate crisis to the benefit of a few," Rose Whipple from the US said. "The climate crisis is a spiritual one too. We should build movements that will help us reconnect with mother earth."
A shy-looking Thunberg and her team were surrounded by a cloud of security personnel, journalists and officials of the United Nations Framework Convention on Climate Change at the meeting venue.
The teens, who have inspired millions with their passion for environment conservation, are widely seen to have set the tempo for this week's high level segment of the COP25 conference. Heads of state and government and ministers will address the meeting beginning Tuesday.
Meanwhile, priority tasks for countries will be to finalise implementation guidelines for the Paris Agreement, which becomes fully operational in 2020. Other key areas are climate financing, adaptation, technology, gender, loss and damage and countries' nationally determined contributions.
On Sunday, Africa countries raised the stakes when they said they would insist on actions around finance, technology and other forms of support to combat climate change and to transition their economies to sustainable pathways.
"The Madrid talks come at a pivotal moment when science is sending a clear message we face a climate emergency and that everybody should act with a renewed sense of urgency," said South Africa's Minister of Environment Barbara Creecy, who assumed the presidency of the African Ministerial Conference on Environment.
Finance ministers of African countries, including Kenya, are expected to launch a plan of action to accelerate transition into low carbon and climate-resilient economies.
COP25 President Carolina Schmidt, UNFCCC Executive Secretary Patricia Espinosa, Spanish musician Alejandro Sanz and UN General Assembly President Tijjani Muhammad-Bande will grace opening of the high-level segment.
Over 30,000 participants are attending the Madrid talks and are drawn from government, sub-tiers of government, parliamentarians, NGOs, UN agencies and business leaders.