Using beauty to disarm cattle rustlers
As an effort to bring peace in Northern Kenya, Cabesi Project organises beauty pageants. OSCAR PILIPILI spoke with the field co-ordinator Mercy Kiyapyap about the life-changing initiative
1. What is the story behind modelling among pastoralists?
Miss Kerio Peace Queen 2010 winner Rosinah Jerutto (centre) and other contestants during the Cultural Peace, Fashion and Beauty Show at Turkwel Gorge, last week.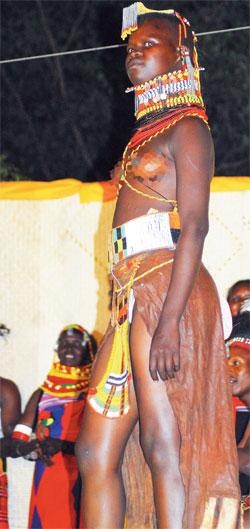 Some of the contestants show of their traditional regalia. Photos: Boniface Okendo/Standard

The main purpose of the beauty show was to bring women into the process of peace making in our communities. Women suffer most in times of war but they are always not considered in peace activities. The 1997 raid on the border of Pokot/Marakwet left several women dead and properties lost. Therefore, the cultural beauty show is meant to unite the youth of Pokot, Marakwet and Turkana among other nomadic communities in Northern Kenya and use them as an entry point to peace initiatives. We have also created a multicultural band— Kerio Peace Band— that comprises four people each from Turkana, Pokot and Marakwet. Through the band we broadcast peace messages through songs.

2. What criteria is used to select the beauties?

First, we hold meetings with village elders in every community and explain our idea. Once they buy it, we call a group of girls from whom we choose potential beauty contestants. For one to qualify she must be over 17 years, not married and not in school because we don't want to disrupt their studies.

For us, the physique does not matter, since our aim is to let every girl understand she has a role to play in the society. If you are too selective, then the ones who are left out may feel they have no role at all to play in the society. The girls in Turkwel performed beyond expectations since they trained as a unit for less than two weeks. They are potential models if they get all necessary support from all Kenyans.

3. How has the shows impacted on the models?

Most of the models we paraded during the Great Turkwel Race and Beauty Show are illiterate and can't even speak Kiswahili. And unfortunately most of them are orphans having lost their parents in incidents of cattle rustling. Such a cultural beauty show gives them courage and empowers them. Once they get exposed it becomes easier to use them as entry point in educating the rest in the community.

4.What challenges do you face in the modelling process?

Challenges were few on this occasion than when we organised the first cultural beauty show in 2006. Whereas some people feel the show is a potential threat to their cultural values, others wonder why we present girls in rich traditional background in beauty contests. They expect us to showcase the girls in modern fashion clothes but we are proud of our culture.

5. Could you take these girls to a show in places like Nairobi or Mombasa?

I can if the chance arises but it all depends on which message we are sending to Kenyans. Furthermore, we have to change our attire because the clothing we used in Turkwel had traditional purpose and we can't take the same style outside our villages where our girls are very comfortable. To participate in shows outside our region is not a big deal as long as we understand how and why we are going for the event. Some of the models are college leavers who are capable of featuring in national contests.

6. Part of the audience at Turkwel was against the shorter Rosinah Jerutto being declared Miss Kerio Peace Queen, what's your take?

As I said earlier, body physique is not a priority in our cultural shows. Most of the contestants were tall and slimmer and we didn't pick them. The purpose of the shows is to empower girls and promote cultural diversities as a positive aspect of Kenya.

7. How does dowry contribute to cattle rustling?

No man among the pastoralists will get a wife if he is poor because bride price is damn expensive, like a minimum of 50 cows. Many people among Turkana, Pokot and Marakwet are poor and so the only way they can pay dowry is raiding neighbouring communities for cows. We are holding meetings with old men in the villages trying to convince them to reduce bride price for the sake of security. What we tell them is that although their girls are beautiful, they should consider making bride price affordable to reduce cases of cattle rustling in North Western Kenya and Eastern Uganda.

8. What's the way forward for the models?

We shall request respective communities to let them get involved in activities from Cabesi Project like sale of bee products, development of wild silk, jatropha products and production of soap among others. Our objective is to make these girls role models in respective communities and use them to educate the rest on wide range of initiatives with peace being the priority.

9. How do events like Great Turkwel Race and the Beauty Show help improve security in Northern Kenya?

Sport is known to unite people because it cuts across cultural, political and religious borders. I believe the race offers great opportunity for the people of Pokot, Marakwet and Turkana to share ideas. But a lot needs to be done for peace to prevail in the region. The Government should create more security stations here to curb lawlessness. As much as leaders advocate for peace, what they should understand is that no peace comes without security. And without peace there is no development.

10. A brief history of Cabesi Project?

Cabesi is a self-help project under Icipe's commercial insect programme, mainly sponsored by Biovision Switzerland. It started in 2004 in West Pokot and grew since then towards Marakwet and Turkana. The main focus of Cabesi lies in the economic empowerment of women and the environment-friendly use of natural resources, value addition and peace. With culture for peace, Cabesi promotes the cultural diversities as a positive aspect of Kenya and heats the drum for respect towards the other. Cabesi participates in the Great Turkwel Race as organiser of the cultural peace, fashion and beauty show.

11. Any final comments?

Kenyans should learn to involve women in all peace activities because they are the ones who suffer most.

 

 

 

 
Handling drunk callers
What do you tell that lonely and troubled drunk dialler, who annoyingly calls you at 3am on a frequent basis to discuss nothing? PATRICK KARIUKI asks.