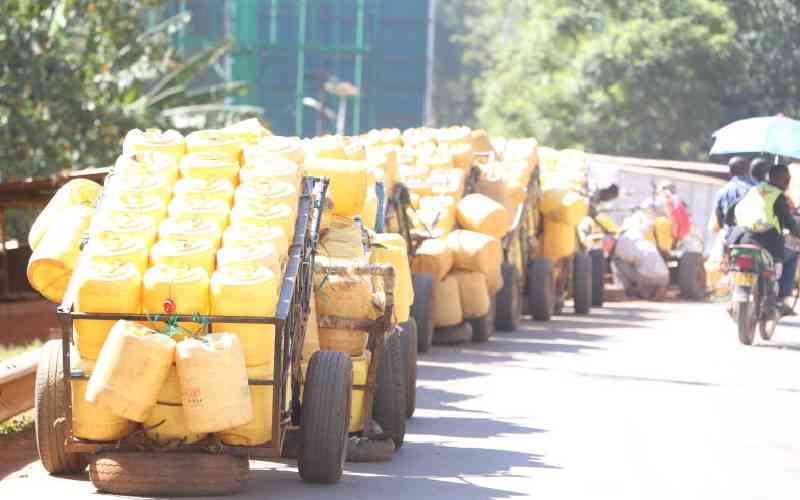 It is a chilly morning at Mukwa village in Bumula, Bungoma County, and women are queuing with containers near a borehole. The borehole has existed for 10 years and serves at least 2,000 people from six villages.
"You must be here as early as 2am to get water," says Chris Wamukota.
He says women spend a lot of time out looking for water. "Almost all the springs here have dried up. Others are not reliable," he says.
According to locals, it takes nearly an hour to get 20 litres of water at the springs. On this day, Wamukota says he arrived at borehole at 4am, with his wife and three children "but the queue was already long."
Sometimes they go to streams when water levels reduce.
"Sometimes people fight over water. Sometimes, as we walk in search of water, gangs terrorise innocent people," says Wamukota.
And there is another problem. At the borehole, Sarah Nafula claims she has not spared adequate water to bathe, for days. "The water we get is for cooking, washing and drinking. Nothing is left for bathing. We spend hours looking for water, leaving our husbands lonely. It's not possible for couples to spend time together because women have to wake up early to look for water," she says.
In Toloso, Lwandanyi, Bisunu, Kabkara and Kulisiru villages, the situation is worse. The water level in wells and streams is low; what is left has a foul smell. The worst hit sub-counties in Bungoma are Bumula, Sirisia and Bungoma South.
Busia and Kakamega counties have reported similar challenges. In Butula, wells and streams have dried, and residents rely on River Sio, whose water is not as clean.
Others are Malaba border, Matayos and Nambale. Kakamega central, Khwisero and Butere sub-counties also experience water shortage. Rivers whose water levels appear to be receding include Nzoia, Lwakhakha, Sio, Yala, Isukhu and Lusumu.
Humphrey Buradi, a regional director at The Water Project, blames the situation on "ploughing and planting eucalyptus trees that suck a lot of water on riparian land."
He says increasing population and settlement on riparian land is also a contributor and that farming activities with concentrated fertilisers has increased acidity in soils, and when it rains, surface runoff contaminates rivers.
"And because of climate change, the water table in the Western region is messed. Ten years ago you would reach water 20m deep. Today, one has to dig at least 80m despite the Hydro-Geological Survey showing presence of water. Boreholes and springs will continue drying up."
Vincent Wechabe, the Agricultural Sector Development Support Programme coordinator in Bungoma, says deforestation, cultivation on riparian areas and sinking of shallow wells along the river banks contributes to drying up of natural water sources locally. "For example, gas stations constructed near Rivers Sio and Khalaba start in Bungoma. Was there impact assessment before the construction?"
Wechabe says lack of implementation of existing legislation on preservation of water sources is another challenge, as illegal logging, lumbering and settlements on slopes of Mt Elgon, where forest cover has reduced, worsen the situation.
"The government must enforce the ban on shamba system in Mount Elgon to help restore and protect the water catchment," says Wechabe.
Pauline Muigai of Masinde Muliro University of Science and Technology's Department of Natural Resources Management, says many bamboos should be planted on river banks to hold soil particles together.
She says bamboos also purify water in the rivers. Ms Muigai says gold mining, industrial pollution, destruction of catchment areas such as Mau Forest, Kakamega Forest, Maragoli Hills, and Nandi Hills has caused rivers to dry up, saying it's the main reason for the declining water levels in Lake Victoria.