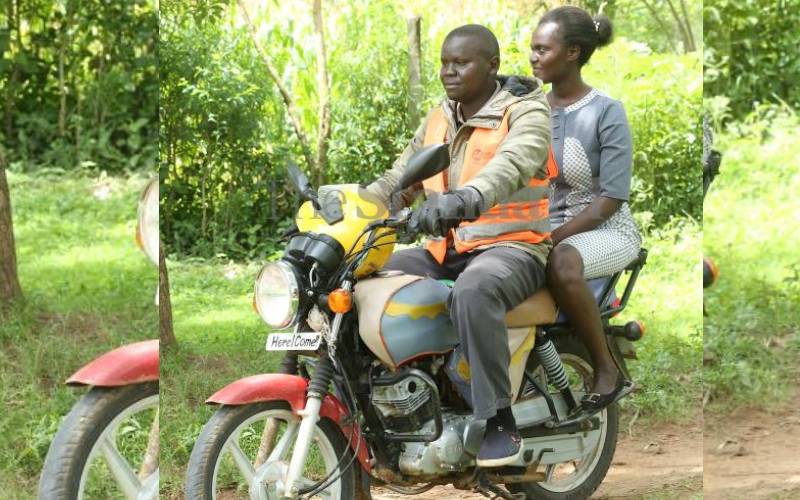 Busia deputy governor nominee John Chimmo is the true definition of a hustler. He is a boda boda rider at the Malaba border police roadblock junction.
The term 'hustler' has been popularised to describe people in the lower strata of society where the struggle for survival is intense.
Mr Chimmo was cleared by the Independent Electoral and Boundaries Commission (IEBC) to become Michael Oloo's running mate on a National Liberal Party ticket.
Far from the perception that boda boda riders are mostly school dropouts, Mr Chimmo is a Moi University, Eldoret, graduate. He graduated with a Bachelor's degree in Business Management.
"I was born in 1988, the sixth born in a family of seven. I started schooling at Kekalet Primary School, Teso, in 1995. I joined Moding High School in 2003 and left in 2006.
"After my Kenya Certificate of Secondary Examination, I enrolled for a diploma course in Business Management at Moi University in 2010 and graduated in 2011. I then enrolled for a degree course at the same university in 2012 and graduated in 2015," Mr Chimmo said.
Like many fresh and optimistic university graduates, Mr Chimmo tried to get a white-collar job but was unsuccessful.
"I went in search of a job in Lodwar, Nairobi and Eldoret but did not succeed. After trying for a long time, I realised I had reached a dead-end and decided to come back home.
"I had earlier worked as a boda boda rider in 2008 before joining university and when I realised jobs were hard to come by after university, I fell back on boda boda to take care of my family. This time, I took a loan to buy my own motorcycle and I am still repaying the loan," Mr Chimmo said.
He is married to Seraphine Abonyo who holds a Higher Diploma in Beauty Therapy and teaches at Amagoro Polytechnic. They have two children aged four and one-and-a-half years.
Before Mr Oloo chose him as a running mate, Mr Chimmo said joining politics was the last thing on his mind, if it all. He was skeptical and very reluctant when Mr Oloo sought him out as his running mate.
"I rejected the proposal first because I felt I was not cut for life in the rough and tumble of politics. However, Mr Oloo did not give up and continued to persuade me.
"Frankly, I was hesitant at first but when he persisted, I consulted my parents and wife, and they all encouraged me to accept the offer". It was after the family's blessings that he summoned the courage to accept the nomination and present his papers to the IEBC.
"At first, we thought the offer was a joke," Ms Abonyo said. "However, after Mr Oloo and my husband were cleared by the IEBC to contest we realised it was a serious matter."
Mama Rose, Chimmo's mother and Jackson Wangusi, his father, liken him to David in the Bible. "He is like David in the Bible who God raised from a humble background and elevated to the status of a king," they said.
Mr Chimmo plans to use his boda boda colleagues to campaign. "We are targeting the disabled and women to support us. My colleagues have resolved to persuade every customer they carry to vote for us," he said.
Robert Barasa, Teso North boda boda spokesman, says they will support Mr Chimmo unconditionally. "We thank Mr Oloo for choosing one of us from Teso North. There are many educated people doing the boda boda business because white-collar jobs are scarce, not because they are illiterate".
Mr Chimmo said NLP has executable plans for Busia. "We intend to set up factories in all sub-counties as well as improve the status of health and education. More importantly, we shall provide water and electricity".