Rains rekindle flooding fears for Budalang'i locals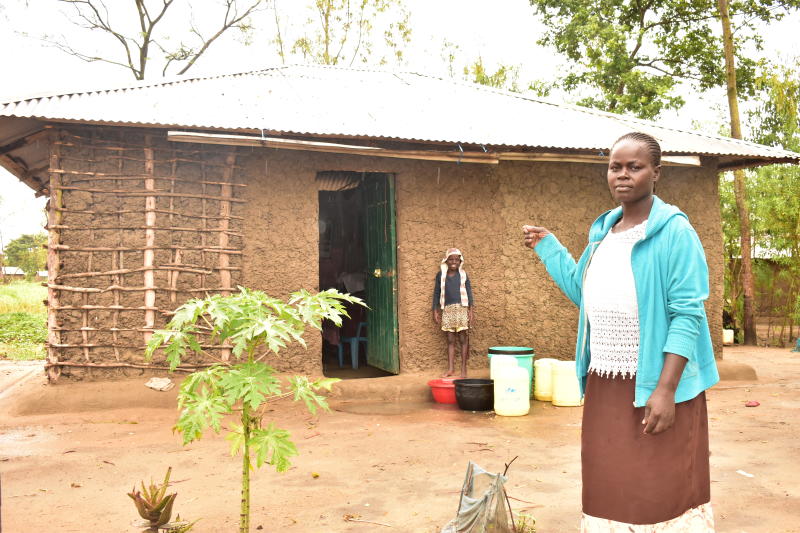 Fredrick Bwire stares at the receding flooding waters of Lake Victoria with doubting looks, unsure whether it will "go for good or return to haunt my business".
The trader at Budalang'i's Mau Mau market in Busia is among hundreds of residents displaced by the waters which broke the banks of Lake Victoria and submerged the entire market in mid-2019 through 2020.
"I panicked when it rained Sunday and Monday. I am not sure whether the waters will return to submerge my shop again," he says. The floodwaters had spread 5km from the bank, keeping him out of business for 10 months.
"When the waters made me shut down, the business was worth Sh1.2 million. It now stands at Sh400,000. I spent a substantial amount of the stock on my family," Bwire adds. Many businessmen migrated to Port Victoria which is on higher grounds, but he was not lucky to find prime space in the town.
Just like Bwire, Christine Auma who stays 5km away in Khandundu village has also built a two-bedroomed house on the family land which was underwater a few months ago.
But unlike Bwire who did a little renovation on his permanent shop, Auma had to start building from scratch as her house was swept away.
She spent time in Rukala IDP camp with her fisherman husband and five children from May 2020 until December last year to allow the waters to recede.
"There is little else I could do apart from rebuilding at this site. My husband and I have no other home," she says as she points at her two-month-old mud house.
"I am worried the waters may return and sweep the house, but for the sake of our children, we had to rebuild. Our privacy apart, they [children] had difficulty studying, especially at night, inside the plastic tent we stayed in at Rukala."
Auma and her husband are among hundreds who resettled in the lakeside village in Bunyala South ward after either living in IDP camps or putting up with relatives.
At the peak of the floods, the Red Cross estimated that 7,000 households were affected by weather- and climate-related risks in the constituency. Authorities are not sure of the number of people who have since returned to their homes.
Foreign Affairs CAS Ababu Namwamba, a native of Budalang'i, has been championing against climate inaction through the annual Isambo festival. The CAS says global climate change forums which should address the climate crisis end up with little implementation.
During last year's COP26 summit in Glasgow, International Organisation for Migration director-general Antonio Vitorino said the link between the effect of climate change and migration is not only evidenced in poor countries but also in Europe and North America.