Man keeps honeybees in bedroom despite locals' stinging comments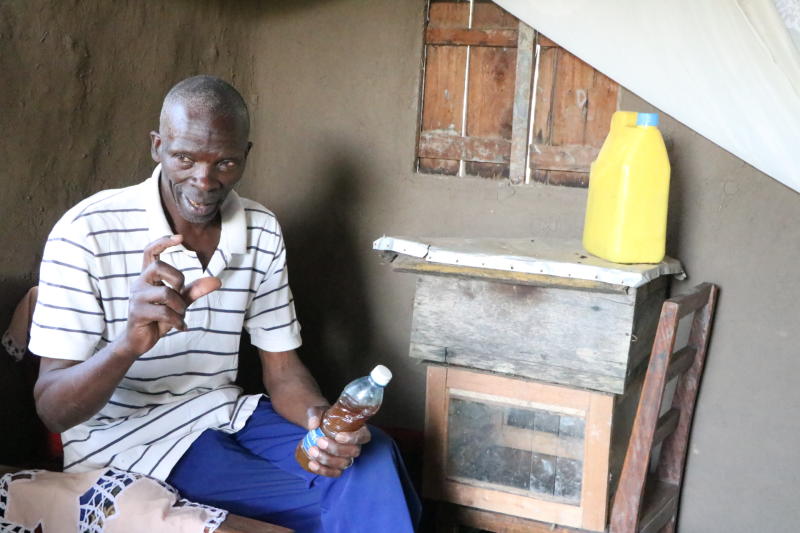 A buzzing sound welcomes you to the home of John Murimi at Ivakale village in Shinyalu, Kakamega County.
Murimi, who is also a pastor in a local church, has reared bees in his home for over 40 years.
And some of the beehives are inside his bedroom.
But it has not been easy for him.
Not that the bees attack him or he doesn't make money from the venture but some neighbours, who don't understand why he would literally live with bees, have branded him a witch.
"Don't panic, just come in. The insects are friendly," the 64-year-old said as he welcomed The Standard team to his home near Kakamega Forest.
"We have more beehives in the bedroom. The bees are like pets to us. Despite the stigma I have suffered, I'll not stop keeping bees the way I do."
He said he was initially affected by the comments.
"Even my self-esteem went down when people started calling me a witch because of the way I relate with bees.
"Not anymore. I understood that the villagers do not understand how a man would keep bees even in his bedroom without being attacked by them," Murimi said.
He added that he developed an interest in keeping bees after pursuing a course at Baraka Farmers Training Institute in 1976.
"After the training, I came home and started rearing bees on a piece of land I had. I have never looked back since then because I am fulfilled."
It was easy for Murimi to trap swarms of bees since he lives near the forest, which is home to bees.
At the same time, the forest has a variety of flowers that make it easy for the bees to make honey.
He says he put beehives in strategic positions in his compound, and some are in his bedroom.
Murimi and his family ensure that the windows are open, as much as possible, to enable the bees fly in and out at any time.
"All you need is to understand how bees behave and master their language and psychology. That way, it will be easy to manage them.
"In Genesis God, gave man the capacity to rule over every creature in the air, sea, and on the land," said Murimi as he explained why he is able to control the insects feared by many because of their sting.
Murimi's way of rearing bees has attracted tourists, both local and foreign, to his home.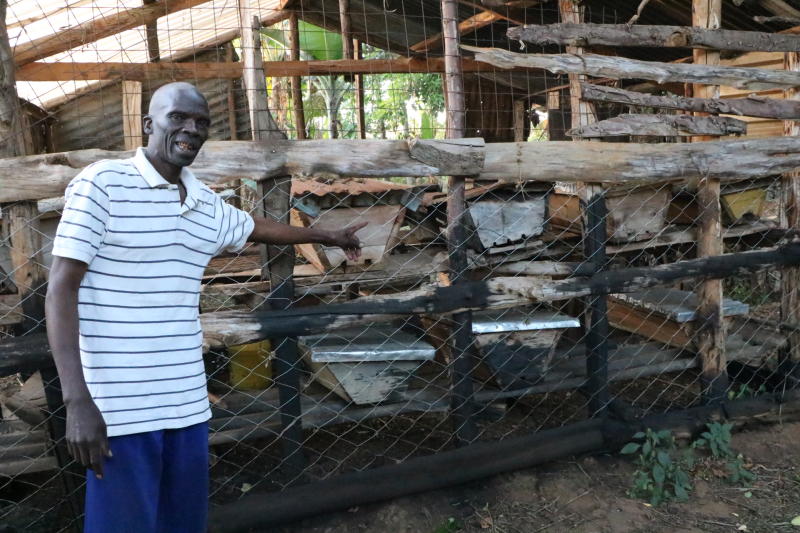 Former British High Commissioner to Kenya Jeffery James is among those Murimi has hosted over his unique beekeeping method.
The pastor has also hosted researchers, lecturers, and students.
"I keep the bees mainly for economic gain. Each beehive gives me about 80kgs of honey per harvest. A litre goes for Sh1,000," said Murimi.
He harvests the honey at least three times per year from the beehives spread across his homestead.
Other than honey, Murimi said he sells byproducts including wax, venom propolis, and royal jelly from the insects.
He said the bees have also provided his family security, just the way dogs do.
He said the bees will always attack intruders and that they can tell the difference between people with bad intentions and genuine visitors.
Murimi has trained his wife and children on how to handle the bees.
"We sprinkle the water they have washed their hands with on the beehives to make it easy for the insects to recognise them," he said.
"Bees are disciplined, especially when looking for food, water, and other ingredients to make honey. They only attack when provoked."
Murimi has perfected the art of cross-breeding his honeybees to increase honey production. He also makes beehives for sale.
Murimi said he has so far trained 3,800 farmers in Shinyalu sub-County on beekeeping.
"They have all embraced the trade," he said.
Clementina Isuta, a bee farmer from Bunuku village, said she earns a living from the beekeeping through skills she learnt from Murimi.
"I have 65 beehives on my farm. I have never looked back since I started keeping them," she said.
Murimi said he was once invited to harvest honey at former President Daniel Moi's home in 1997 and got a nice reward in return.
"I harvested honey from 10 beehives that day and I was paid Sh40,000 instead of the Sh5,000 I asked for," he said.
He believes beekeeping can be a major revenue earner for residents and even counties in the region and called on authorities to invest in its development.
"County governments can support beekeeping by giving grants to those wishing to venture into the trade, and providing them with equipment," he said.