Family calls for help as disease threatens to wipe out lineage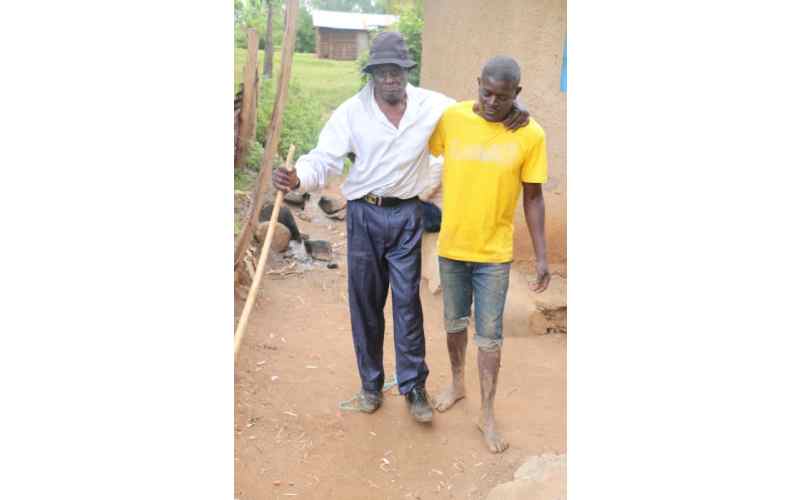 Richard Muhati, 68, is a man in despair. He has visited many hospitals seeking specialised treatment in vain.
He is immobilised and can hardly move from one place to another unless he is supported.
Muhati, who hails from Ichina village, Lurambi has been selling his property in order to raise money to facilitate his treatment on top of contributions he gets from friends and well-wishers.
He woke up one morning in 2015 feeling dizzy, sleepy and had a persistent headache. "My body was trembling, it was strange and I thought someone could have bewitched me, however, I never felt any pain."
Muhati would later lose eyesight and the ability to speak. "My legs and hands started becoming weak and finally, I became paralysed."
Doctors in all the hospitals he visited could not diagnose the disease he was suffering from.
"I spent the last quarter of 2020 in hospital, I was a frequent visitor at Jaramogi Oginga Odinga Referral hospital in Kisumu."
He visited the facility after learning that doctors from overseas were visiting to help treat patients with chronic diseases like mine," Muhati told The Standard yesterday.
According to Muhati, the doctors were friendly and conducted numerous tests to establish whatever was ailing him.
The tests were costly and Muhati had to part with Sh50,000 which appeared not to bear any fruit.
Doctors recommended a head scan "but I had run out of cash and just decided to go home," he said.
Muhati has been relying on painkillers to keep him going. "The doctors said my spinal cord got severed after its cells and the nerves were damaged."
His son, Kevin Litembeho, 31, who has been taking care of him said they believed his father's condition was as a result of consuming alcohol.
"We asked him to stop drinking but his condition worsened. I make bricks and sell them in order to get money to buy him food and drugs," said Litembeho.
The disease appears to be spreading fast in Muhati's clan called Bamilonje.
"Some of our relatives have already succumbed to the same disease in the last five years and many others are battling the condition. Apparently, women are the worst affected and die faster immediately the symptoms start to manifest," said Litembeho.
Blurred images
At least 20 family members within the clan, including children, have fallen victim. Patrick Mbakaya, 55, a victim, started exhibiting the signs 10 years ago.
Mbakaya said he started seeing blurred images, his body weakened and later become immobilised.
He has been in and out of hospital where he spent over Sh100,000 "but there has been no improvement."
"I believe our condition can be treated in case we get highly trained and specialised doctors to carry out a thorough examination on us," said Mbakaya.
The father of 11 says he lost six children to the disease even before they celebrated their 10th birthday.
"My first-born daughter is suffering from the same disease and some of her children have also been affected and her marriage is at a crossroads," said Mbakaya.
He added: "This Christmas season, people will be celebrating the birth of Jesus Christ, but for me and my family it will be a gloomy day."
Dr Joshua Azere, a surgeon based at Kakamega County Teaching and Referral Hospital, said Muhati and his family members could be suffering from a condition known as autoimmune disorder (a condition in which one's immune system mistakenly attacks their body).
"As a result of the disorder, the patients suffer from Multiple sclerosis and Myasthenia gravis. It may also be infectious from one person to another since it's parasitic," said Azere.
He describes Myasthenia gravis is a chronic autoimmune disorder in which antibodies destroy the communication between nerves and the muscles, resulting in weakness of the skeletal muscles, adding that it affects the voluntary muscles of the body, especially those that control the eyes, mouth, throat and limbs.
Dr Azere said Multiple sclerosis is a disease in which the immune system eats away the protective covering of the nerves, which in turn disrupts communication between the brain and the body, saying the disease leads to vision loss, pain, fatigue and impaired coordination.
Appropriate treatment
"Expanded investigations that include MRI, nerve conduction studies, auto-antibody profiles and microbiologic tests should be carried out to ascertain the cause of the condition for appropriate treatment to be recommended," said Dr Azere.
Prof Gordon Nguka of Masinde Muliro University of Science and Technology (Mmust) also recommended that the patients should undergo Magnetic Resonance Imaging (MRI) to ascertain what is ailing them.
He said the victims' limited access to resources and poor sanitation could be exposing them to the condition.
"Note that most of the affected families are living in houses smeared with cow dung, which according to Prof Nguka makes them susceptible to diseases such as salmonella, listeria and Escherichia coli," he added.