Diver celebrates Mashujaa Day retrieving bodies from River Isiukhu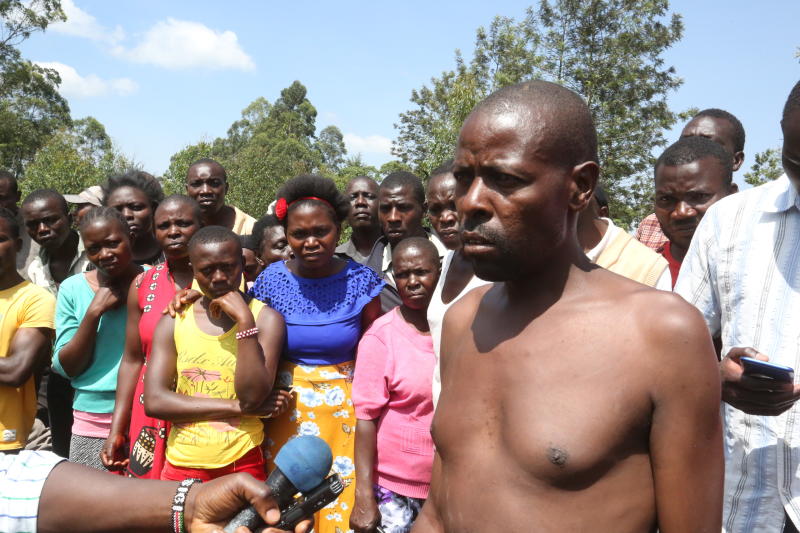 Every man to his own devices. While most Kenyans were glued to their television screens following Mashujaa Day celebrations, Elbano Ichechi was busy retrieving bodies from River Isiukhu in Kakamega County.?
The 47-year-old self-proclaimed diver could not have thought of a better way of celebrating the big day in Kenya's history.
He was busy combing the river in search of the bodies of two boys who drowned four days ago while attempting to swim across.
After an hour of frantic efforts, Ichechi emerged with a body in his hands. "This is my second day here, I have been searching for the bodies in vain," he said.
Villagers believe Ichechi is an underwater champion of sorts given his record of retrieving bodies from rivers within the county and beyond.
The precision with which he executes his work has baffled many and left others in shock. Ichechi does his job with passion and determination.
Relatives of the boys aged between 6 and 7 approached him to help in recovering the bodies.
"They visited my hope and pleaded with me to help out, hopes of getting the bodies was slowly fading away."
Having dropped out of school at a tender age, the father of Four says he has no formal education and never trained anywhere as a professional diver.
"It is something I inherited from my late grandfather who was a professional diver, no formal training."
This year a lone, he has been able to retrieve 26 bodies from River Isiukhu. "I have also retrieved several other bodies in other rivers."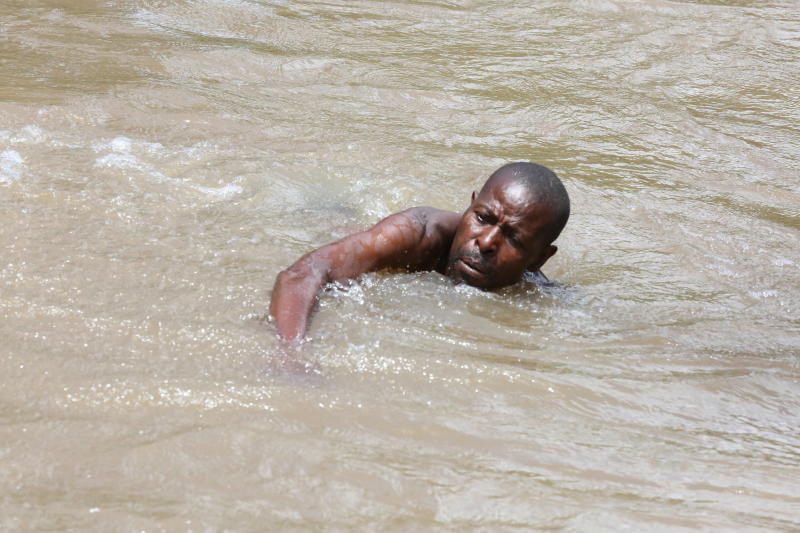 "I learnt the skills from my late grandfather who was feared and respected for his prowess to swim and as a diver," said Ichechi.
"It took over the mantle in 1995 and I have never looked back since then, it is more of a calling for me."
Before Ichechi embarks on any mission, he performs rituals that involves herbal medicine concoctions which he believes protects him against harmful animals living inside the water.
"Once you take some special traditional medicine, chances of being attacked by reptiles are minimal," he said.
Ichechi uses clothes of a dead person who drowned as his pillow prior to embarking on a search mission of bodies in rivers.
"The dead person's clothes connects me with whoever drowned spiritually and enable me to receive a revelation of exactly where their bodies could be hidden inside the river," Ichechi told The Standard.
He said it was just a matter of time before he locates the remaining boy's body.
"I have experience in doing this work and I understand how to navigate the waters, I have helped many needy families and retrieved bodies where even county government divers have failed. That is why I am the most sought after man," he says.
He says performing rituals is a must, as it gives one a bearing on how the mission will end.
"There is a special herbal oil I apply on my body, it exorcises demons and protects my family against the evil spirits which could pursue them due to the nature of my work," he said.
However, he acknowledges the challenges that he experiences while retrieving and rescuing the bodies from the water.
"Unlike professional divers, I lack protective gear including gloves. I just carry the dead bodies with bare hands, neither do I have a diving attire or equipment that would be required during a rescue mission in bigger rivers."
Families that seek his help pay a small fee for the service depending on their financial capacity and generosity.
"Like for these two families, I charged Sh 30,000 but if it is a well to do family, I would charge more, say Sh 50,00 to 100,000. We have those who pay Sh 5,000 or even less."