Myopia prevalent among schoolboys in Kakamega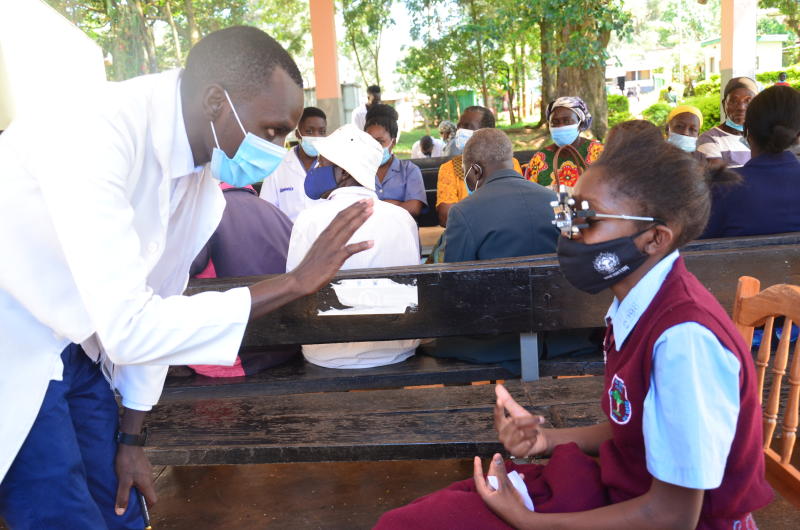 At least 7.5 per cent of learners in Kakamega town suffer from Myopia.
Experts from Masinde Muliro University of Science and Technology are now investigating the possible cause of the condition in learners around Kakamega town and why the cases are high among male students.
This is after researchers conducted a study on the prevalence of myopia.
They involved 733 learners out of 7,400 in 22 schools within the municipality. Females and males in the study constituted 45 per cent and 55 per cent, respectively.
"The purpose of eye screening was to identify learners with myopia," said Alfred Ragot, lead researcher.
"The study population was subjected to visual acuity screening, and all those who had visual acuity of 6/9 or worse in any of the two eyes qualified for the next stage of the examination."
According to the researcher, the study, 'Prevalence of myopia and its socio-demographic distribution amongst secondary school-going adolescents in Lurambi sub-County, Kakamega' targeted students aged between 13 and 19 years.
Dr Ragot from the Department of Optometry and Vision Science and Mustafa Baraza from the Department of Medical Laboratory and Biotechnology spearheaded the study.
Peter Clarke-Farr from the Faculty of Health and Wellness Sciences, Cape Peninsula University of Technology in South Africa, also participated in the research conducted last year and has been published by ResearchGate, a Europe-based journal.
At least 55 learners were found to have myopia, giving an overall prevalence of 7.5 per cent.
Out of the 55 students, 29 (52.7 per cent) were male, and 26 students (47.3 per cent) were female.
"Students between the ages of 15 and 18 years were the most affected.
We had 39 students in this age bracket, accounting for 70.9 per cent," said Ragot.
He said the condition starts to manifest at the age of 14.
Myopia occurs when the eyeball is too long or if the cornea is too curved.
Experts describe it as a common vision condition, in which one sees objects near them clearly, but objects farther away are blurry.
Ragot said myopia is due to the elongation of the eyeball caused by environmental factors, overgrowth of the eye and dis-correlation between axial length and corneal curvature soon after puberty.
Baraza said myopia was found to be more prevalent in urban schools, where 49 students had the condition, representing 87.3 per cent compared to seven students in rural schools.
"There is a high prevalence of myopia in an urban setting due to the rise in technology and the increased usage of mobile phones, tablets, computers and televisions," said Baraza.
"The reduction in outdoor activities has been found to have some influence on the onset, development and progression of myopia," he added.
According to the researcher, lack of playing grounds in urban areas is a leading factor since the areas that were set aside as children playing grounds have high-rise buildings.