My year-old baby died at Malaba police cell, distraught mother cries out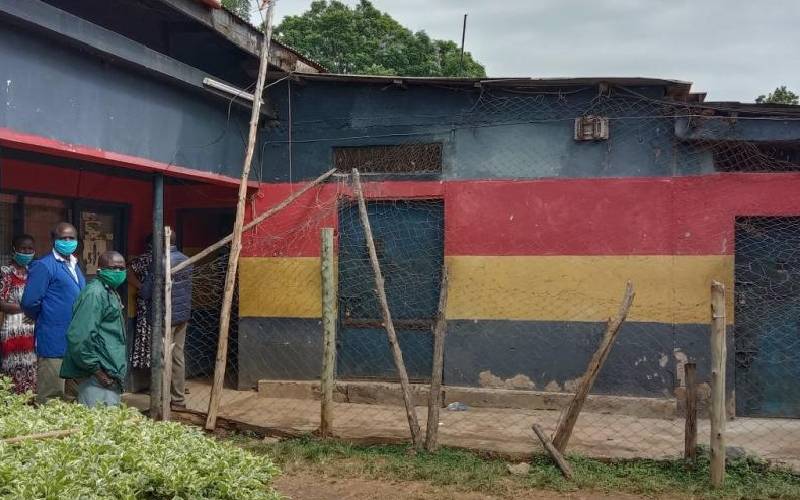 A family in Aleles village, Kakapel location of Busia County is mourning the death of their one-year-old at Malaba police station.
Evelyn Emoyot, the mother of the minor told The Standard she was arrested on Wednesday at around 3p.m. by her area Chief, Assistant Chief and vigilantes for being in possession of Chang'aa, an illicit brew under Kenyan law.
"On Wednesday, my son fell sick and was attended to by community health workers. He was given anti-malarial drug AL and painkillers' Emoyot said.
According to her, she was going to wait for the painkiller to lower the child's fever before taking him to Kocholya health centre when the Chief and vigilantes came to her home and arrested her for being in possession of the illicit brew.
Emoyot says her plea to be released on an account of her child's health fell on deaf ears.
"The Chief refused to release me even after my son started vomiting while I was being taken to the police station. The Chief then called for a vehicle that took me to the GSU camp at Amagoro. At around 7 p.m. a police vehicle came to transfer me to Malaba police station," she says.
The distraught mother said no amount of pleading could convince the officers on duty at Malaba police station to consider her plight.
"By morning, my child's condition had worsened. He vomited again and convulsed. It was only then that a female police officer took note and notified her seniors. But they took their time taking tea before ordering that the child be taken to Kocholya hospital," she says.
Malaba police station OCS George Ooka acknowledged that Emolot was indeed detained at the police Station overnight for being in possession of Changaa .
He could not, however, state the condition of the child at the time that he and his mother were brought to the station.
"I have been on leave and only came back yesterday having been recalled to await the arrival of auditors from Nairobi, said Ooka.
While Emoyot says she was arrested for being in possession of half a litre of chang'aa in a small bottle, the OCS said she was in possession of 15 litres of the illicit brew and it is being held as exhibit.
Asked why Emolot was released unconditionally after the death of her child, the deputy OCS said "The case is still on. In fact, we had written to the court to release her under section 87 A of penal code."
Emoyot believes her child died at the moment he developed convulsions at the police station and went limp.
However, the OCS said the child died while undergoing treatment at Kocholya but the hospital's staff where the child's body lies in the morgue were non-committal and requested us to seek information from the police.
"Police officers are human beings and there is no way we could have denied the child treatment. Actually, it was was a police officer who noticed the child was sick and acted to take him to hospital. As the police service, we are very sensitive to cases of ill health. I have on several occasions personally taken suspects to hospital," said the OCS.
The National Police Service Bail and Bond charter states that "We shall inform you of your constitutional right to be released on police bail or free bond upon arrest."
It goes on to state that "We shall not remand you in custody for minor offences if the offence is punishable by a fine only or by imprisonment for a period not exceeding six months."
The offence for which Emoyot was arrested falls within this description. It is therefore not clear why she had to be detained overnight despite her plight.
Emoyot's husband, Alphonse Ekiring blames the police for the death of his child. The father of five says he is jobless and has no means by which to conduct a decent funeral for his child.
"I am unemployed. I need help to bury my child. I don't know why the police detained my wife with a child who was very sick. I want justice for my child," a tearful Ekiring said.