Secret caves that offer a peek into Maragoli roots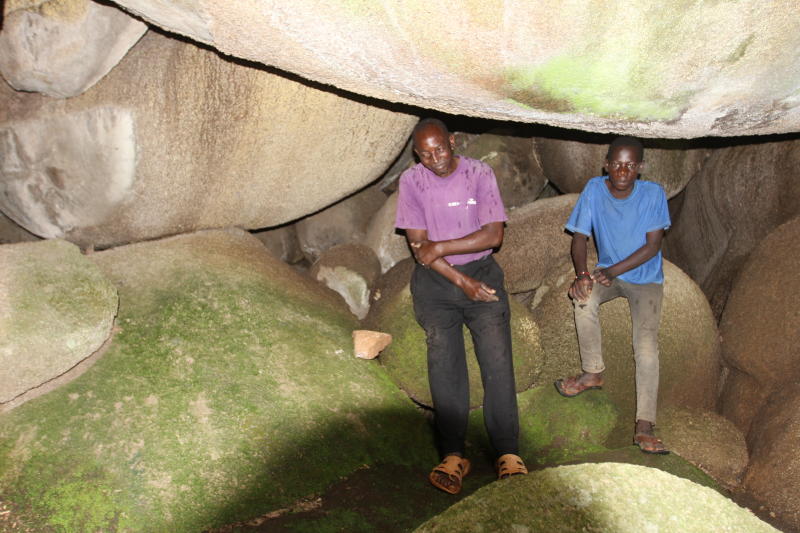 It takes courage to enter the Maragoli caves in Mungoma village, Vihiga County.
The caves were home to Mulogoli, the ancestor of the Maragoli sub-tribe, the second-most populous of the larger Luhya tribe in Western Kenya.
The Maragoli are mainly found in Vihiga County. However, a good number has spread out to other parts. Indeed, owing to their adventurous nature and propensity to migrate in search of land, former President Daniel Moi, nicknamed them "Maragoli East Africa".
"Mulogoli settled in Mungoma circa 1560," according to Joab Kitagwa, an elder and curator of the Maragoli Caves under the auspices of the Mungoma Cultural Group.
"Mulogoli moved to Congo from Egypt. He later went to Uganda, then crossed into Kenya," Kitagwa says.
It is believed that Mulogoli's first stop after Uganda was at Kit Mikayi in Kisumu County. He later migrated to Keroka together with his brothers, Mugusi and Mukuria.
"While in Congo, Mulogoli acquired a magical drum that guided his movement all the way to Mungoma caves in Vihiga. Every time he tried to settle somewhere, the drum would magically sound to urge him to move on," Kitagwa says.
Mulogoli and his brothers are said to have parted ways at Keroka. He took the Kisumu route and briefly settled at Maseno.
With him were his wife Kayeri, daughter Kavogoi and four sons; Musali, Mukizungu, Mukirima and Mmavi. They later moved on to Kitsava where his daughter died.
His wife died at Kima in Bunyore. At the prompting of the magical drum, a desolate Mulogoli moved with his last-born son, Mmavi, to Mungoma and occupied the caves.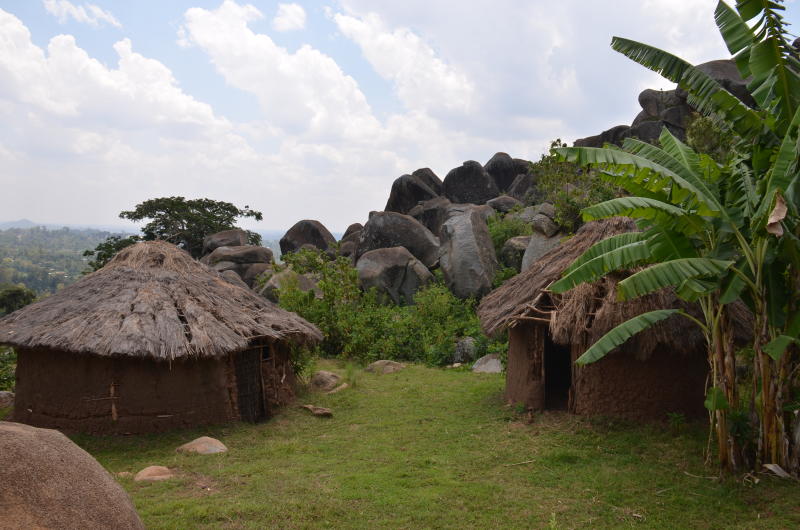 "It was at Mungoma that the magical beatings of the drum stopped, to signify Mulogoli had finally arrived at his destined home. By then, three of his sons had moved on to other areas of present Maragoliland. Mulogoli died in 1620," Kitagwa says.
David Kisia Omollo, a caretaker at the Mungoma Cultural Caves, says: "In those days, the dead were not interred in graves. Relatives covered them in a special type of grass and put the bodies in narrow spaces between rocks. A man is never buried away from his home."
Haphazard arrangement
"When Mulogoli settled here, it was heavily forested. He fed mainly on cassava, sweet potatoes, sorghum and millet," Omollo explained.
Even as it lies serenely in a depression surrounded by Kima, Luanda, Maseno and Majengo towns, Mungoma is a rocky marvel.
The haphazard arrangement of giant boulders atop each other speaks of a massive earth disturbance that caused expansive rocks to splinter, get dislodged, shift and pile up to form caves centuries ago.
Above the treacherous entrance into the cave, standing between boulders is a tree that Omollo says transcends centuries. "Every time the tree sheds its leaves, we know we are faced with drought. Whenever it sprouts new leaves, it is a sign we will get ample rainfall."
The caves have a spooky aura. The slippery rocks on which we walk look like they are suspended in space. Underneath, there are deep, dark crevices between the rocks. A slip could easily result in a broken leg. "Leave your valuables outside. If you drop anything, it cannot be retrieved," Omollo warns us.
To enter the first cave, one must crawl carefully through several narrow, low ceilinged passages. A sudden blurry movement in the dark cave froze our movement. If it was anything dangerous, we were trapped in the narrow passage: no turning, no standing or room to run. "Relax, it's a rock rat," our guide assured us from the darkness ahead.
There are three spacious caves, each on elevated ground, accessible through narrow, dark tunnels.
"This was Mulogoli's sitting room. This other cave was his bedroom and the one higher up served as the cooking area," Omollo says.
"Mulogoli spent most of his time at a place called 'Mungurumutu', close to the Maragoli hills. There, facing a sacred stone, he used to commune with Nyasaye (God)," says Omollo.
"A cultural ceremony is normally held at the Maragoli caves on December 23 every year, in honour of Mulogoli. Attendees feast on roast meat, chicken and an assortment of traditional foods free of cooking oil," says Kefa Mwangale, one of the curators.