Retired but not tired, former PC Maurice Makhanu now a champion of arbitration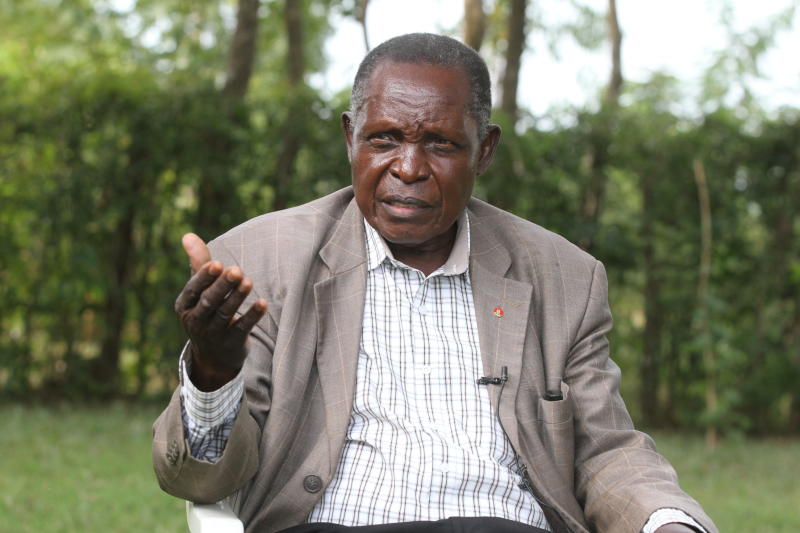 When civil servants retire, most of them return to their rural homes and wait for nature to take its course.
But Maurice Makhanu, who served the country for 27 years, transferred his skills to the village where he serves as an arbitrator.
Currently, he helps in solving disputes and contributes to the development of Bumula village, which he says has numerous land disputes.
Makhanu acquired his arbitration skills when he worked as an administrator in various parts of the country.
And when he retired, he converted one of the rooms in his house into an office, just like the one he had as a civil servant. "I thought after my retirement, I would devote my time exclusively to family and leisure but that was never the case," says Makhanu, a jovial man.
Sometimes, he is invited by the administrators or police officers to help to resolve some disputes. "I have been insisting on alternative dispute resolution mechanisms which work well because matters are resolved amicably and to the satisfaction of the parties involved," he says.
On some occasions, villagers present petty issues, but the former PC has no option but to listen and act accordingly.
"Some residents will go to the police but I intervene and demand that the issues, particularly family matters, be referred back to the elders since police can hardly understand their root cause," explains Makhanu.
One of the recent cases he resolved involved a man who was allegedly found chewing sugarcane in a neighbour's farm. The farm owner is said to have beaten him up before the matter was reported to the police.
"It was a big issue because the victim insisted that he should be paid Sh300,000 for the injuries he sustained. I requested the police to let us handle the matter. I later convinced both parties to agree on a Sh60,000 fine for the victim to seek treatment."
Makhanu always refers more complicated matters to the county administrators or police.
"I don't ask for any money for the services I offer because it is an obligation I cannot run away from. Many times, I prepare my visitors tea and even give them fare."
Makhanu, a father of nine, says his five children stay in the United States and four work in the country.
He also participates in development activities, including fundraising for schools, churches and hospitals in Bumula and beyond. "I also sit on the Board of Governors (BOG) of several schools."
And even when his wife died of kidney-related complications in 2005, Makhanu soldiered on. "I approached the elders and asked them to allow me to marry another wife, which was approved."
Makhanu is also a maize and coffee farmer who had previously tried his hands on beekeeping. "Coffee farming is proving to be a lucrative venture. We recently formed a Sacco for coffee farmers in the village."
His journey
He joined the public service as a District Officer after completing university in 1973 and worked in Wajir, Mandera, Nyeri and Nyandarua.
Five years later, he was transferred to Harambee House in Nairobi where he worked closely with former president Daniel Moi.
"I was among 12 administrators who were picked by Simeon Nyachae, the then powerful Permanent Secretary," said Makhanu.
Towards the end of 1980, President Moi appointed him a District Commissioner for Kisumu and was later transferred to Kisii. "It is in Kisii where I would meet the Head of State from time to time because he used to visit the region at the invitation of Mr Nyachae. By then, Nyachae had been promoted to Head of Public Service and Secretary to the Cabinet," said Makhanu.
Just before the 1988 general elections, Moi sent the then Local Government Cabinet Minister Moses Mudavadi to ask Makhanu to resign and contest the Bumula Parliamentary seat on a Kanu ticket. Moi was not aware Makhanu and former Minister Elijah Mwangale and the then Bumula MP Lawrence Sifuna were not seeing eye to eye.
The bone of contention was a fundraising function organised by Makhanu in aid of 57 schools in Bumula in December 1984. And upon the request, Makhanu resigned on February 25, 1988, to join politics.
He trounced Mr Sifuna in the election and served as Bumula MP for five years.
"We worked closely with President Moi. It was during my tenure as an MP that Moi visited Bungoma to commission Webuye Hospital and Nzoia Sugar Factory," he said.
However, the opposition wave that had swept through Western Kenya saw Makhanu and three other powerful Kanu MPs from Bungoma lose their seats in the 1992 elections.
Makhanu was jobless for a year before he was summoned to State House and President Moi gave him a job.
"I boarded an Akamba bus to Nairobi and arrived at State House by 7.30 am. I waited until 9 am to meet Mzee," Makhanu said, adding that he was reappointed Makueni District Commissioner.
"Mzee Moi gave me Sh50,000 for transport back home. I was happy," Makhanu said.
He was later promoted to the rank of Provincial Commissioner for North Eastern.
According to Makhanu, selfishness and lack of confidence among leaders in the Western region had affected development. "We could not have seen Mumias Sugar Company go down and Pan Paper Mills sold if our leaders were speaking in one voice," argues Makhanu.
The former MP says he has no clue when President Uhuru Kenyatta will be touring the region "because the leaders have been unable to convene a meeting and involve veteran politicians like myself."
Makhanu says he will focus more on serving his people when called upon. "Currently, I am spearheading a campaign to have a court of law established at Bumula to bring justice close to my people."