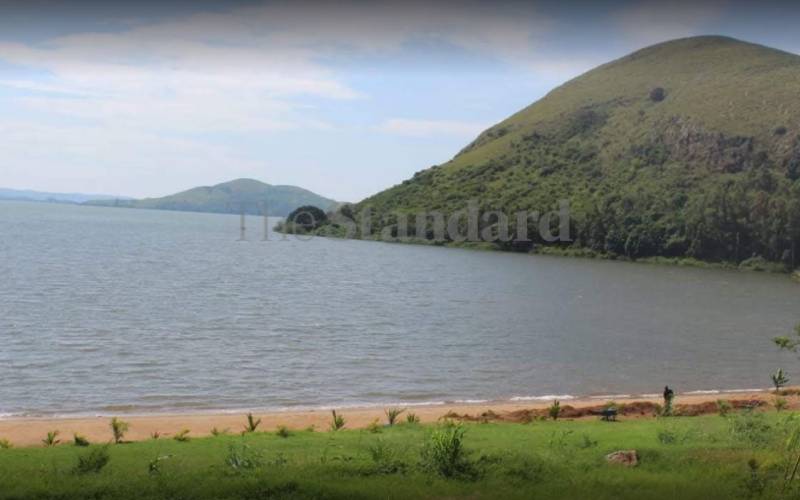 Whether you approach it by sea or by road, the landscape of Port Victoria - Bunyala is breathtaking.
The picturesque shore, dotted with hills, form a memorable pattern of blue lake, sun and land and, remains as alluring as it was when the greatest journalist of the English speaking world landed there in March of 1875.
Fortunately, the story of Henry Morton Stanley, as we established, is still told in Bunyala, albeit, among a few families whose ancestors met him. When he landed there, Morton was on his second tour of Africa after being commissioned by two newspapers; The New York Herald of the USA and The Daily Telegraph of London. The instructions by his editors were that he circumnavigates Lake Victoria and 'completes the work of David Livingstone by filling in the discoveries of John Speke and James Grant'.
As Kenyans were taught in their basic history lessons, the beginnings of colonialism in East Africa, John Speke had proved that Lake Victoria was the source of River Nile but had not explored the great lake to know whether it was one huge mass of water or a series of lakes. He was then to report to The Royal Geographical Society in London. Morton was therefore to determine its size and its connection to Lake Tanganyika. Morton's first commission had been in 1871 which was to find Dr David Livingstone, who, for four years, had gone missing.
The rumour in the 'civilized world' of New York and London at the time, was that he 'may have been eaten by primitive African tribes that he had sought to civilize'. The editor and publisher of New York Herald, a man called James Gordon Bennett Jr., felt that the rumour needed a good journalist to investigate and confirm it or dispute it. Word was ringing in the 'civilized' world that Livingstone had been spotted for the last time 'in the vicinity of Lake Tanganyika.'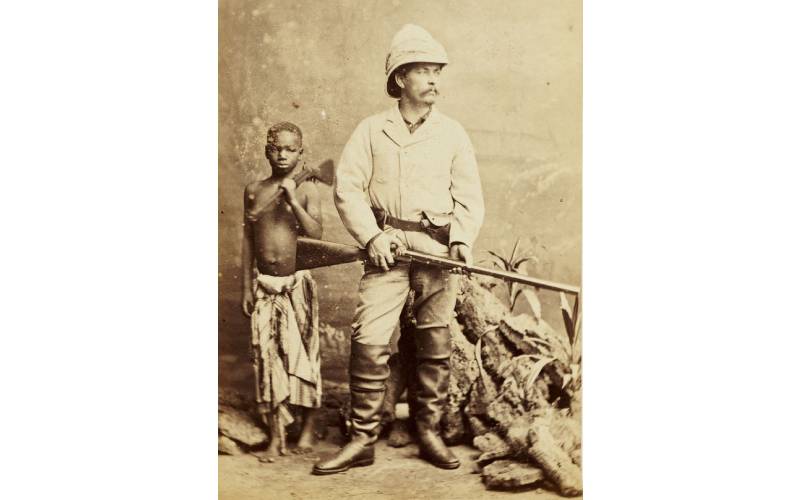 Morton had successfully handled that mission with the competency and precision of the good journalist that he was. He had found Dr Livingstone in present-day Tanzania at a place called Ujiji on the shores of Lake Tanganyika. And that inspired the two newspapers to commission his second safari to Africa; to go round Lake Victoria. And so Bunyala became one of the key posts that he stopped and met dwellers as he navigated the winding, then unexplored shoreline of Lake Victoria.
When Morton arrived in Bunyala at present-day Bukoma, the shores spotted a very different ecosystem at the time. He writes in his classic account Through the Dark Continent, which was published by Harper Collins in 1878, that 'through a channel two miles broad we entered 'the bay of Manyara' bounded on the east by picturesque hills ….' He ends page 169 of his book that 'neither men nor women wore any covering for their nakedness, save for a kirtle of green banana leaves, which appeared to me to resemble in its exceeding primitiveness the fig-leaf costume of Adam and Eve...'
Most certainly that world has changed greatly. Bunyala is today a far cry from such 'exceeding primitiveness' even to the eye of a mzungu journalist who may wish to follow in the footsteps of the great Morton. For as we arrive in early 2021, exactly 146 years after Morton, on a journalistic cause as was Morton, only the scenic hills on the shores remain the same. What may have been lost are the thick forests that Morton found. They have since vanished. A leading conservationist here Christian Makokha of Marenga Eco farm says the hills that Morton describes in his account, were greener at the time. Environmental studies Professor Fulbert Namwamba tells us that the current shy cover of trees was caused by the British colonialists who burned forests on the Islands and along the shores in an effort to control the spread of tsetse flies.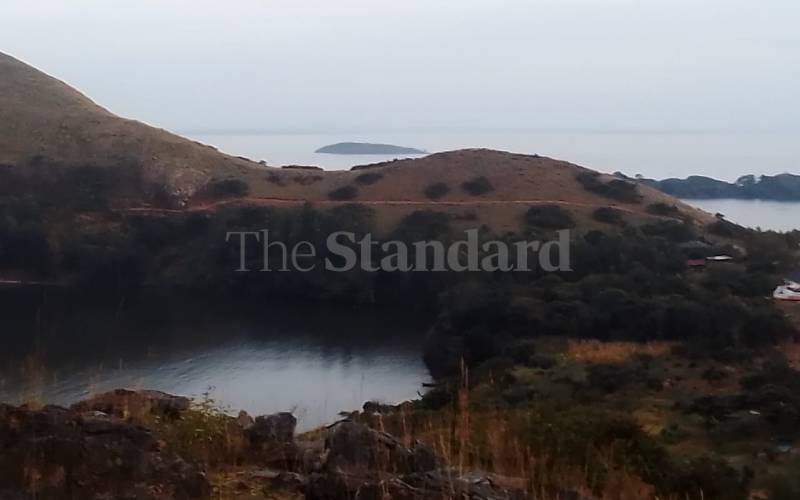 The shores of Lake Victoria around Bunyala, or put more fittingly within this context, in the language of Morton 'the bay of Manyara', have seen the better part of human activity. One thing is that Morton's arrival opened that world and greater East Africa to colonialism. His investigative stories that were published by The New York Herald and The Daily Telegraph served to open up the Great Lakes region of Africa to mzungu. And so today the shores are peri-urban. They spot an infrastructure of a modern world. There is tarmac, electricity, telephone and for many years a vibrant fishing industry. More recently the shores have spotted a beach resort.
The beach resort called Che's Bay now quenches its thirst in the 'bay of Manyara' where the explorer landed 146 years ago. The budding hotel is owned by Chief Administrative Secretary for Foreign affairs Ababu Namwamba. His acquiring of the land on which the resort stands is now a dispute pitting him and a neighboring family. The family's patriarch a man identified only as Ludasia is said to be the one who received Morton the explorer after he anchored his three boats in 'the bay of Manyara' and climbed the hill of Bukoma. Che's Bay now stands at the foot of that hill.
'That is why I have been growing a forest here," says Christian Makokha a descendant of Ludasia 'I want to preserve that history. My father left this land to me and my brothers and asked me to preserve its rich history. He told me two explorers came here and one of them was Morton. At school, we were taught about Morton Stanley and Joseph Thomson's tours around Lake Victoria. They are the ones our family has been talking about since the 1880s'.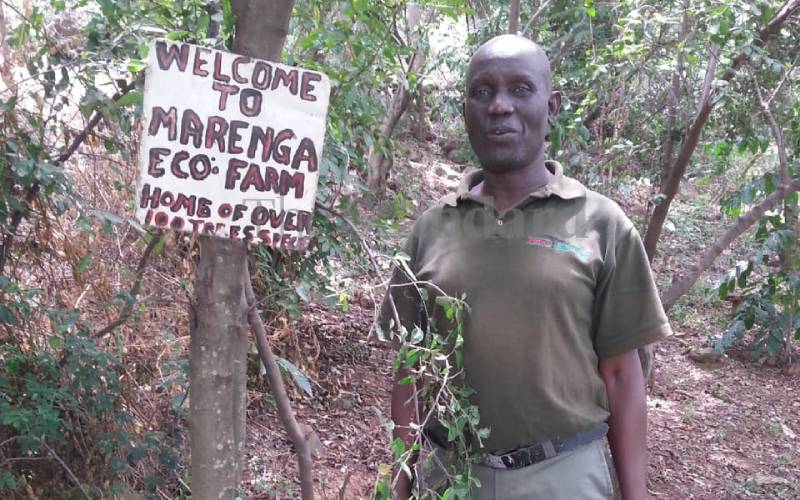 We stand at the highest point of the hill of Bukoma where Morton stood and admired the bay below, known among the people here as Muhondo, we admire the hills dotting the shores still standing as they were when Morton stood here in 1875.
"My father Herbert Makokha brought me to this spot and told me Morton Stanley stood here and admired all this" Christian says pointing to the wonders of nature below and in the waters yonder "That story has remained in our family since our ancestor Ludasia met Morton here many years ago. All of us narrate that story to our children"
The land that is currently registered in government records as Bukoma section Plot 91 and 92 originally belonged to Christian's father Hebert Makokha a descendant of Ludasia, he of the Morton Stanley fame. Herbert was a teacher who was keen on preserving the well-guarded story of the explorers arriving here. He schooled his children in that heritage. Four of Herbert's children Christiano, Felix Francis and a daughter Teresa are administrators to their father's estate and are all kin to preserve the land's history.
Apparently, Herbert Makokha, their father, shared a part of his farm with his nephews which was the norm then, that relatives shared land. That portion is the one marked as Plot 92 in government records and is the one that was sold to an investor, the owner of the beach resort. Now it emerges that in doing so the buyer seemed to have failed to check the history of the boundaries between his newly acquired farm and Marenga Eco farm.
Christian has been growing that forest for the last 25 years. It has brought natural beauty to the historical hill of Bukoma. The forest has more than 300 species of indigenous trees some of which are endangered. His efforts have had him awarded a Head of State Commendation for 2011, Civilian Division, an award of Total Eco-challenge for 2016, a certificate of recognition of 2017 from the Kenya forestry service, and a certification of technical excellence from the Texas-based Vetiver Network International. The man-made forest has caught the attention of environmentalist and experts in the field, some of who work and live outside the country.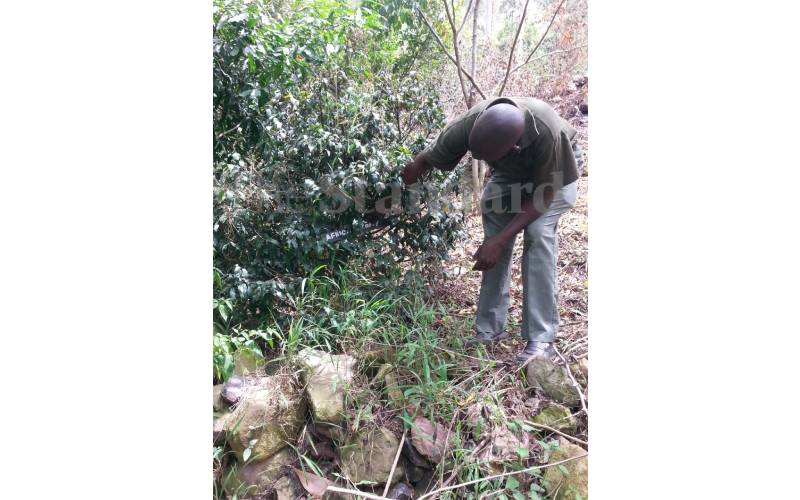 Environmental studies Professor Fulbert Namwamba, who teaches at Salisbury University in Maryland United States expresses concern that the vegetation on the shores of Lake Victoria is quickly dying away. He says any efforts to conserve it must be encouraged. The teacher of environmental sciences and geographical systems says the Islands of Singwe, Siriye Namenya off the shores of Bunyala have been losing trees to human activities since colonial times
"Marenga Eco farm is a very commendable effort by an individual," Says Prof Fulbert "Makokha has formed a very good pristine forest which is also home to some very rare antelopes"
Prof Namwamba has spoken about these conservation efforts to his colleagues in the United States and some have toured the man-made forest. We establish that the great attraction to most foreigners who come by is the history of the piece of land. That the explorer Henry Morton Stanley stopped there in his solemn duty of circumnavigating Lake Victoria in the 19th century.
"Henry Morton Stanley describes the beautiful landscape in his book Through the Dark Continent," says Prof Namwamba "I have checked the accuracy of Morton's account including the names of those Islands as used in the book and I have confirmed that those are the names used at the time, Manyara is Luo for Banyala, there is also Ugingo, Muiwanda, Usuguru."
Despite his efforts, Christian is a worried man. He looks back at the long journey he has travelled to keep his ancestors' heritage and grows more worried. He has travelled far and wide in Kenya Uganda, and the Democratic Republic of Congo looking for seedlings of indigenous trees.
'Some of these trees take 80 years to mature some even a hundred years" He says 'I have trees that I planted in 1997 and up to now are not more than ten feet high. They need another forty years to reach their maximum height. And now a man in power comes and erects beacons in my forest hiving off part of it".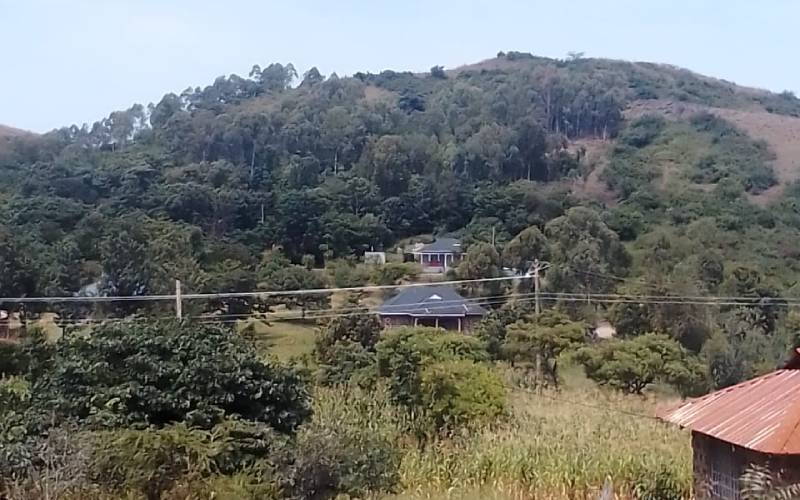 Four years ago Christian received a call from his younger brother Felix who told him that the owner of Che's Bay resort was erecting a fence on the side of the farm that leads to the spot where Henry Morton Stanley stood. When he went to look he realized that the new fence had eaten into his forest by more than twenty meters.
"We politely told them we needed to consult as neighbours because it was clear their fence had curved in a half-moon into my forest, eating into my trees"
Christian says that evening, however, a police van arrived with five policemen. Their efforts to discuss the matter were viciously repulsed
"They treated us so badly," says Felix Makokha "We left and sought help from the area Chief. But he told us we must look for help from the Lands office in Busia"
Documents in our possession show that the boundary between Plot 92 of Bukoma registration section Busia district which is owned by the Makokha family and Plot 92 that is now owned by Che's Bay resort is a straight line on the map. A closer look reveals that the boundary line on the official lands maps curves slightly towards Che's Bay's farm allowing more space to the advantage of Marenga Eco farm. But our walk through the man-made forest reveals that the new beacons erected by the proprietor of Che's Bay form a half-moon that curves into the forest eating away a sizeable acreage. The Makokha family claims four and a half acres have been hived off.
"After we were chased away," says Christian "and threatened that we will be shot by the police, we left planning to take matters with the authorities. The following day we confirmed that they had completed erecting the fence at night"
We arrive at the lands office in Busia and put this to area registrar Wilson Nyaberi. He was the arbitrator of the dispute. He tells us he is not allowed to speak to the media, he can only do that with permission from the ministry's headquarters in Nairobi. He also says that the matter may end up before court since the Makokha family told him they weren't satisfied and would appeal his decision. He, therefore, seeks to keep off the controversy.
We find an official at the department of lands in Busia who was part of the arbitration process. He says that they listened to both sides and later went on the ground. They found that the place lacked a clear boundary.
"Of course there had been an earlier survey between Plots 91 and 92 but towards the mountain, you wouldn't know where the boundary was supposed to be." He says "And so we agreed. We agreed with all parties present that we will make a decision and abide by the decision we had made. We, therefore, had the surveyor lay the beacons"
Felix Makokha a brother who is one of the four administrators of the historical land says the manner the officials treated them was suspect.
"It is Ababu who called the registrar even before we arrived at his office. When they came here, they had no intention of listening to us" He says "We brought in our surveyor but they chased us away. Whenever they had something important to discuss they would, hold a meeting amongst themselves, the registrar and Ababu's people and then later call us and say, we have decided this!"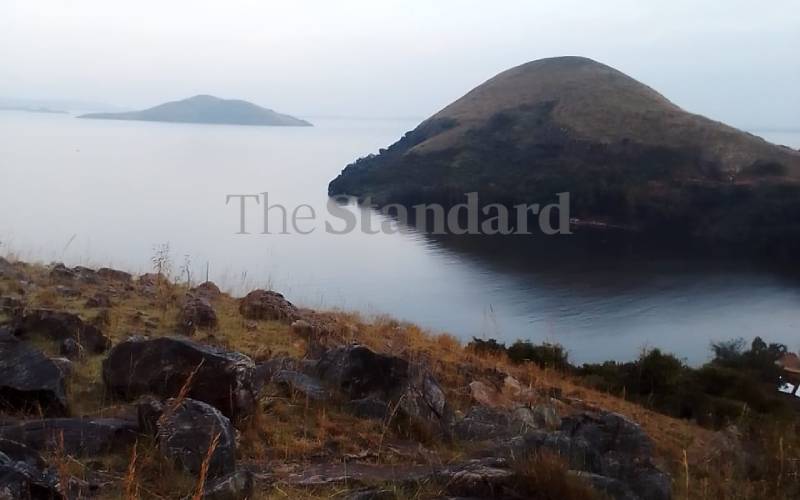 Eric Nduyu a Nairobi based surveyor says that in surveying margins of errors are allowed with limits of two to three meters for general boundaries. But errors within city municipal and town boundaries the margin of error is in centimetres. The general boundaries logic applies between farms which are larger spaces and are mostly in rural areas while towns and city boundaries apply a logic called cadastral measurement which has narrower margins that range in centimetres.
"Where a fence eats into another's farm for more than twenty meters that is clear land fraud someone is taking another's part of the land," Nduyu says that most land problems in Kenya are partly because people use unqualified individuals to do their survey.
"You are allowed to ask for his qualifications and practice license"
Meanwhile, Port Victoria OCPD Peterson Nyakundi has denied knowledge of the involvement of his team in the land dispute. Speaking to us via phone the OCPD says if there is a family that has been harassed by the police over land issues they should report to his office immediately.
Christian Makokha and his siblings who are administrators to the historical land consider the whole matter a deliberate effort to grab part of that historical land. They believe that the beach resort wants to leverage its historical value as a tourist site.
"The problem is the way they have done this," Says Christian "we will not allow someone to grab a historical land that our family has owned for more than 200 years"
The family now seeks to have their farm marked ad a historical site by Kenya's department of culture and heritage.
Professor Fulbert Namwamba says the activities of the British-American explorers are intertwined with the history of Kenya and Africa "Countries like Uganda have preserved sites that explorers landed because they are beginnings of their modern history"
Chief Administrative Secretary Ministry of Foreign Affairs Ababu Namwamba picked our calls regarding this matter and gave us an appointment for the following day. On a material day, we couldn't reach him. Our texts and WhatsApp messages were not answered.
A manager at the resort that is a sole proprietorship, told us he was not authorized to comment on the matter.