Botched jab: 'We were left with scars that will never heal'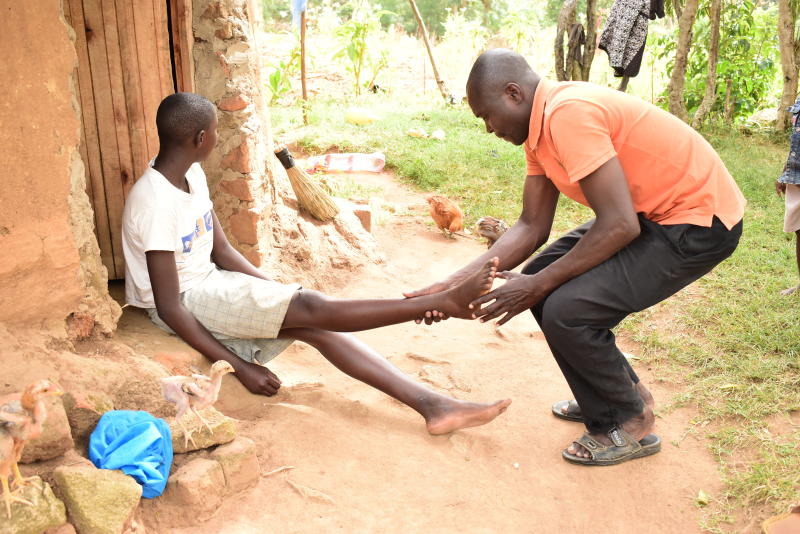 Cate Ateng'e, 13, sits pensively on bare ground facing the direction of the grave outside their ramshackle house at Osajai village in Teso North Constituency, Busia County.
Together with her four siblings, they are having lunch – ugali with omena (fingerlings fish) stew, but you can easily tell from their looks that they are malnourished.
At first, Cate plays timid as we approach them, maybe because of the hardship she has suffered at her young age.
The death of her mother Jessica Kasila four years ago left Cate and her siblings devastated. Seemingly the family has never recovered from the shock. Kasila developed depression, which was preceded by stroke, occasioned by the sufferings of her daughter (Cate).
Cate always breaks down whenever memories of her late mother trickle back.
Kasila had been overwhelmed to see her daughter, who was born healthy and jovial, suddenly crawl like a snake to move from one point to another.
Cate's troubles began one morning when she fell sick. She exhibited high fever and was sweating profusely.
Her mother took her to Akichelesit Dispensary, located about 20km from their home, where Cate was given a Malaria injection after diagnosis.
Take a quick survey and help us improve our website!
Take a survey
Little did Cate's mother know that the injection meant to heal her daughter would be the cause of the child's worst nightmare.
Cate was just six-years-old when she was suddenly paralysed after receiving the botched Malaria jab.
It was a journey that would plunge the family into untold misery.
Cate is one of the 28 children who were left disabled following toxic injections administered to them at Akichelesit dispensary in 2015.
Some of them were left permanently physical disabled. For many, their ability to walk was affected. Others became mentally challenged. The 28 had to be airlifted to Nairobi for specialised treatment.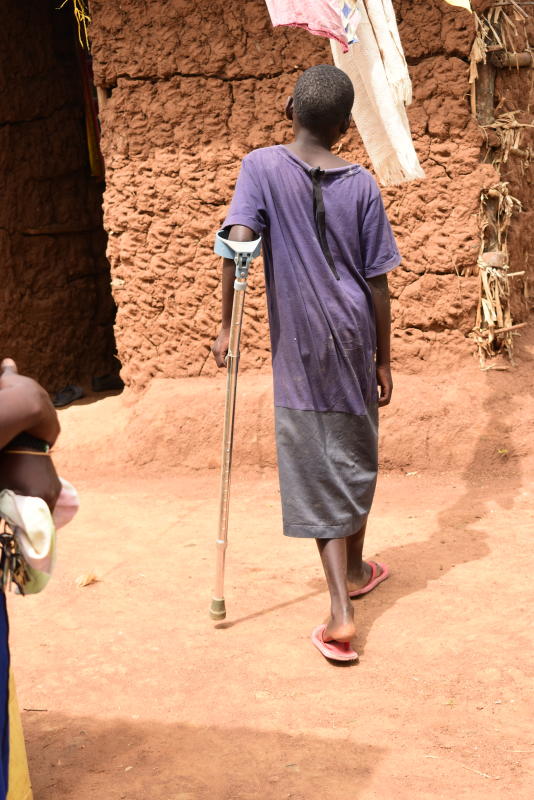 "Cate has to walk with the help of crutches since she has a knee that is stiff even after undergoing surgery in Nairobi. Going to the latrine is a problem because she cannot fold the knee," said Goretti Ateng'e, her stepmother.
"We have tried massaging the knee, but nothing happens. This has rendered Cate helpless. She cannot play with other children of her age, and, sometimes, pupils discriminate against her, causing her to develop low esteem and perform poorly in class."
Cate is in Class Four, and because of the paralysis on her leg; her schooling is an on-and-off affair.
Parents whose children were affected went to court seeking justice. After five years of protracted battles between them and Busia County Government, they won the case and were awarded Sh42 million by the Busia High Court.
Permanent disability
Cate was awarded only Sh2.5 million out of the total amount pronounced by the court, according to Mathews Edejai, a parent and the chairman of parents of the 28 victims.
"Each child was given her share as per the percentage of disability or injury they got after receiving the injection. Those who got severe injuries (permanent disability) received more money, while those who did not get life threatening injuries got less. The lowest got Sh200,000," said Edejai.
"The lawyer who represented them took a small part of the share each child got. Parents took home another percentage to help fend for their affected children while the remaining percentage was given to the child and deposited to fixed deposit accounts until the beneficiaries turn 18 years," said Edejai.
Cate's father, Emmanuel Omonya, bought a parcel of land and a posho mill with part of the money.
Cate was also bought a special portable toilet, which cost Sh25,000, because of her stiff knee, and an Ankle-Foot Orthosis at Sh8,000.
Ankle-Foot Orthosis shoe is a brace, usually made of plastic material, worn on the lower leg and foot to support the ankle.
"Our lawyer was Godsend given that he used his money to ensure all the 28 children got medical examination at a cost of Sh50,000 per child. He also catered for our transport and accommodation expenses, as well as paying for court fees. The county government paid us Sh40 million and still owes us Sh19 million as accrued interest for delayed payment," argued Edejai.
Edejai's daughter, Veline Abita, 13, is in Class Six at Kakalet Primary School and suffered 20 per cent permanent disability after she received the injection at Akichelesit Dispensary in 2015.
"I used to limp, but now I can walk, though with a lot of pain, and have to use a crutch most of the time. My father has to take me to and from the school every day. I don't participate in extra-curricula activities or even play with my fellow pupils, as my body is weak," said Abita.
"The doctor said my condition cannot be reversed and that I will have to live with this disability. Sometimes at night, I experience chest and neck pains as well as on the spinal cord and the legs and persistent headache," she added.
Edejai said his daughter suffered nerve injuries, which caused most of her pain.
The sciatic nerves branch from the lower back of the body, through the hips and buttocks, and down to each leg. Sciatica pain is caused by an irritation, inflammation, pinching or compression of a nerve in the lower back.
Edejai's daughter also received Sh2.5 million from the court as compensation.
He grows papayas and bananas on a section of the two acres he bought using the cash.
Abel Okiror's daughter, Vivian Asere, 12, also suffered the same fate when she went for treatment at Akichelesit Dispensary. She is in Class Five at Adanya Primary School.
Vivian's right leg and the right part of her body was left permanently paralysed, and her sole is curved towards the left. Her right leg drags, as she walks.
Like the first two victims, she was awarded Sh2.5 million, but had to part with 30 per cent, which was paid to the lawyer.
"I used half of the money in treating my daughter at Alupe Hospital, but her condition has not improved," said Mr Okiror.
He added: "When she walks, she falls down most of the time and at night her right leg gives her much pain making her to scream in pain. I am forced to take care of her as if she is a toddler. That needs too much attention and it pains me so much."
Okiror said the pain that his daughter suffered could not be equated to what they received as compensation, adding that she always complained of back pain and persistent headache, and that she had started developing hearing complications.
Severe pain
Evelyne Barasa's two children - Gideon Wekesa, 15, and Shielda Nekesa, 13, are living with permanent disabilities as a result of the jab that affected their backs and left legs.
She remembers that day as if it was yesterday. When they started experiencing severe pain, she took them back to the dispensary.
"The nurse asked me to go back home, boil water, pour it in a glass bottle and place it at the exact point they were injected to reduce the pain. The injection turned the lives of my children upside down. I regret taking them to that facility," Ms Barasa told The Standard.
The children cannot play like their peers. They cannot even participate in any physical activity in school.
Six years later, after the jab, victims and their parents have resigned to fate because the situation is irreversible.
Consalata Masakhwe, an advocate with experience in handling children's matters, says the decision in the Akichelesit case was in order and goes a long way in speaking hygiene in the health sector.
"The award was fair, for it factored in the future of the children and their sustainability, as they nurse the injuries they suffered following the misdiagnosis. I want to believe that no clinic in the country will want to mess with the life of patients anymore," she said.
She added that the case had left a lasting precedence that could be applied in the Commonwealth law practicing countries as pertains to determining medical injury cases, which are rampant and often go unclaimed. ?