Man returns after 14 years to deal with news of his death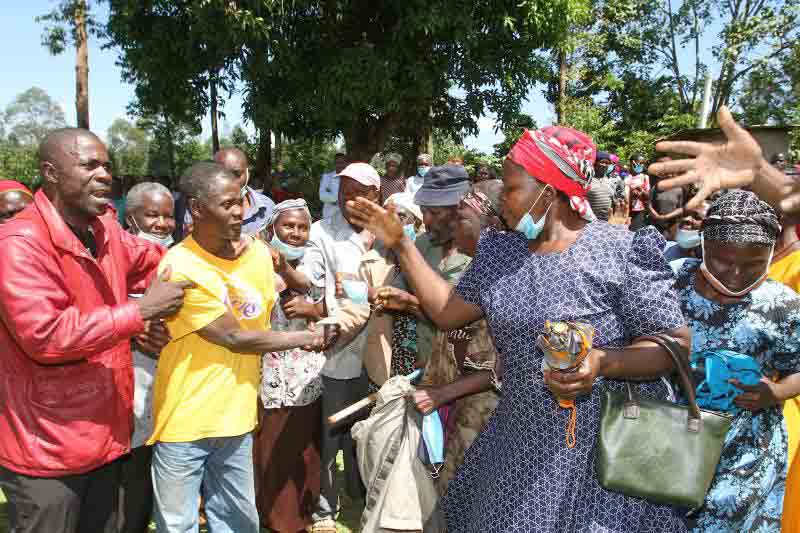 Anthony Muhati was said to have died last year under unclear circumstances and was "buried" at his rural home in Shirule village, Ikolomani Sub-county, only to resurface on Wednesday last week.
The 58-year-old farm hand travelled from Cherengani in Trans Nzoia County to Ikolomani in Kakamega County, some 160 kilometres, to "deal with the news" of his death which he heard on Monday.
The news came about 10 months after a body believed to be his was collected from a mortuary in Kitale town and buried at his ancestral home.
The slim man with dark eyes and a soft voice was clear about his mission immediately he returned home after 14 years to a joyous welcome.
"I want the man who was buried in my place exhumed before we get to other business," he declared without mincing words.
Mr Muhati is said to have received a call from someone who informed him of his "burial" that mistakenly occurred in the village in August last year.
"I was hurt to the bone by the news. I had to find bus fare and travel home to rectify things. I had to come and tell the Idakho people that I am alive, I am one of their own and the person they buried was a stranger to our ancestral land," he said.
Shirule village elder Hillary Shikhuyu said the mistaken burial happened largely because of a disjointed family bond in the Muhatis family.
Take a quick survey and help us improve our website!
Take a survey
Muhati's mother was married briefly in the village and left his son for another union in Vihiga County while Muhati's father died 20 years ago.
"When he (Muhati) went to find a life in Trans Nzoia in 2007 and failed to return, many believed he was dead. Few could tell how he looked and that is where trouble began," he said.
Sylvester Amukaka, one of Muhati's uncles, said when rumours of Muhati's death reached the village in June last year, they went out to find the truth.
"We took about eight close family members and were shown the alleged body at a Kitale morgue. We were all in agreement that it was not our son. We knew our son Muhati to be slender but that body was of a fat person," he said.
The troop returned to the village with the findings that the body was not of their kin; they had no reason to mourn. A group that had gathered at the home in readiness for a funeral was dispersed.
After some days, there was a new twist to the story. Muhati's mother Grace Shilwatso had changed her mind about the findings.
"Mama said she had a deep reflection on the Kitale tour and the body. She said she was the one who gave birth to the missing son and that she had since realised the body they left at the morgue was indeed that of the son she bore in 1963," said Mr Amukaka.
He added: "We had some disagreements but she persisted, forcing us to return to Kitale to get the body for burial. I spent Sh40,000 on the entire funeral."
Clement Shimeka, the eldest of Muhati's uncles, believes the rush to bring closure to their missing kin's chapter contributed to the mistaken burial.
"If he (Muhati) was communicating, this could not have happened," he said of Muhati whose reason for not communicating was that he left home without a phone and he had no one's contact.
Shimeka went on: "Now we have two hurdles to jump before we welcome our son back home - a legal one and the tradition one."
The legal bit is straight forward: They get an exhumation order from court and return the body to Kitale or bury it in a public cemetery. The traditional way, however, sounded involving as Shimeka told The Standard.
"He cannot sleep in any of the houses until the body is exhumed. He cannot eat in either of the houses in the home and he will have to be bathed in charms to chase away with the bad omen," he said.
The Standard spent hours at Muhati's home and no food was served to him, just pleasantries with his family and tens of villagers who turned up to take a glimpse of their lost son.
The religious ones praised and thanked God for his return as they hugged and kissed but those who believe in tradition kept off until he is "declared clean to interact with the rest of the community by elders".
"He cannot just pop in and start life just like that. We will treat him first to exorcise the demon of people getting lost in this home," said Shimeka, who refused to divulge more on the length of the treatment.
Pius Moi, a younger brother of Muhati, also walked away from home before Mulati disappeared and nobody knows his whereabouts to date.
As for Muhati, before the treatment, he will not talk too much. "What you people (media) ought to know is that I was married in Trans Nzoia to one Nekesa and we have two children. That's all for now," he said.
Traditions aside, Geoffrey Isalambo, a villager, blames it all on the rushed burials in line with the presidential directive of burying bodies within 72 hours.
"We never saw the body before it was buried because of the fear of coronavirus. We never knew what caused the death. The burial was also rushed, the body arrived in the evening and by noon the next day it was interred," he said. "That is how we buried a stranger."
The family is now looking for money to hire a lawyer to move to court to get orders for exhumation of the body.