Family forced to bury son's leg severed in strange attack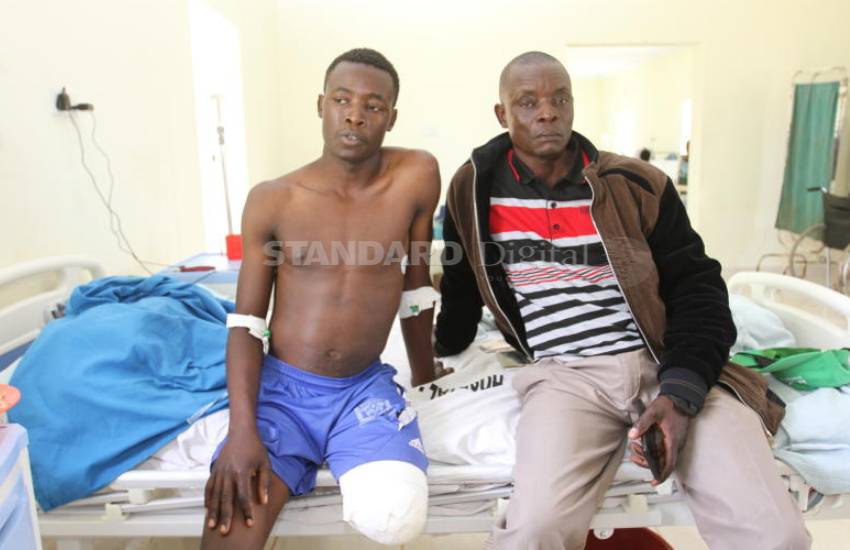 A family in Kakamega has buried the leg of a kin after it was severed in an attack last week.
The family did not know what to do with the left leg after Duncan Kakai, 22, was attacked by an unknown assailant at Ingavira in Kakamega North.
Kakai said he escaped death by a whisker after his attacker cut off his left leg using an axe in the April 5 attack.
He said he was accosted while in the toilet at his parent's home at around 9pm and dragged for about five hundred metres by the assailant.
"He threatened to kill my two sisters, a cousin and my maternal aunt who had a small child unless I complied with what he told me," Kakai said yesterday from his bed at the Kakamega County General Hospital.
After arriving at a familiar open field, the attacker order Kakai to call his father who was not at home at the time of the attack and inform him that "Peterson" and his colleagues were at home to collect their debt.
"He claimed my father and my stepmother owed him some money which he demanded to be paid that night.
"He also claimed that he was a gun for hire and was on a mission to kill me and my two siblings. He then demanded that my parents pay him a long-standing debt of Sh150,000," said Kakai.
Levi Kakai said his son called him to inform him about what the attacker was demanding "but I could not comprehend, I don't owe anyone anything.
"Besides, I stay in Homa Bay where I work in a sugar factory."
Annoyed, the attacker ordered the younger Kakai to lie flat on the ground before he unleashed the axe and hurt him. The leg was amputated in hospital.
"Before attacking me with the axe, he told me to call my sister and inform her where to collect my body. After I spoke to my sister, he ordered me to switch off the phone.
"After he left me writhing in pain, I mustered enough strength, switched on the phone and called my sister. I gave her directions to where I was," said Kakai.
Mzee Kakai said they were forced to dig a grave just beside his house and bury the son's leg although the son could not attend the burial because he was still in a lot of pain in hospital.
"We observed some usual traditions required during such a burial," said the senior Kakai.