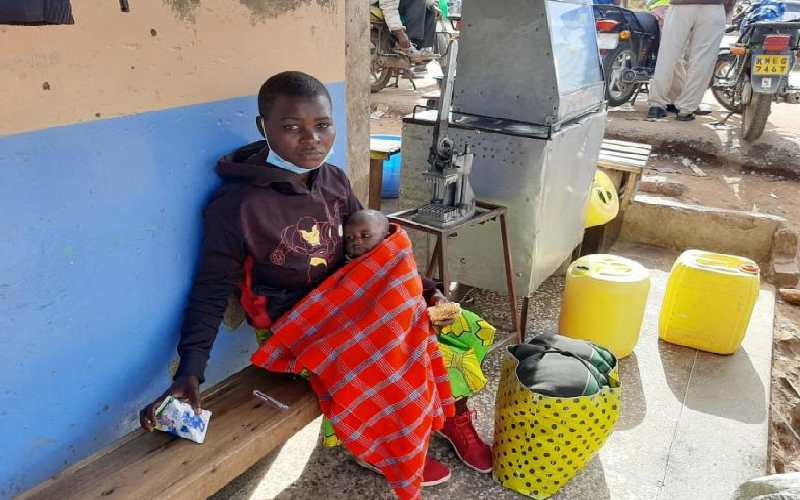 She looked exhausted, weary and confused, occasionally examining her three-month-old daughter on a chilly morning yesterday.
She yawned numerous times, thinking about what to do having spent the night in the cold at Kakamega bus park with her baby.
The 17-year-old Form Three student at Sirigoi Secondary School in Navakholo, has nowhere to call home after her grandmother kicked her out.
Her grandmother, she says, told her to go to Naivasha and look for her father because she was not in a position to support her and her baby, save for paying her school fees.
"My mother died in 2008 leaving me under the care of my grandmother. My father lives in Naivasha but rarely comes home," she says.
But the schoolgirl has never been to Naivasha before and the task of looking for a father she has not seen for some years seems impossible.
School fees
"I arrived here on Sunday evening with Sh700 yet the buses are demanding Sh2,000 to Naivasha. I turned my luggage into a pillow and spent the night in the cold," she said.
The girl said she was eager to meet her father, ask him for forgiveness and beg him to pay her school fees. "I have nowhere to run to right now," she said.
Her aunt stopped paying her school fees when she got pregnant. "She told me that I had become a mother just like her and that I should now shoulder my own responsibilities," she said.
She said the 21-year-old man who made her pregnant disowned her when she informed him and his parents that she was carrying his child.
Last evening, the student and her baby were still stranded at the bus park from where she observed girls of her age in uniform return to school.