Fire destroys property worth Sh12m at Nzoia Sugar Factory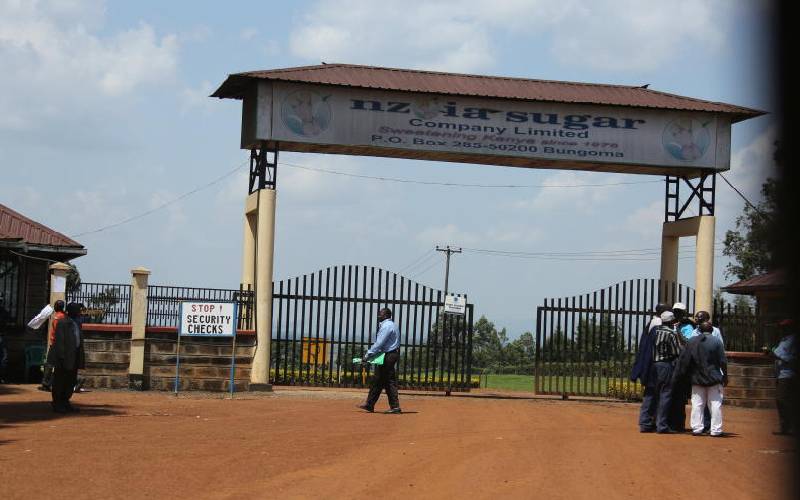 Property worth Sh12million was on Friday evening reduced to ashes at Nzoia Sugar Company in Bungoma county following a fire outbreak at the factory plant.
The fire is said to have started around 5.15pm after a hot steam pipe ignited bagasse at one of the mill turbines at the factory during cane crushing.
"The fire was caused by a hot steam pipe, which ignited bagasse at the Mill Turbine (2). It then spread through the electric cables affecting mill turbine (3) and the bagasse rubber conveyor belt," said Wanjala Makokha, Nzoia Sugar Managing Director in a press release.
Firefighters from Bungoma County Government and those from the sugar miller took at least two hours to put off the fire before affecting the main turbine (1), boilers, powerhouse, process house and the sugar warehouse and other company premises.
"The extent of the damage is estimated to be Sh12million. We want to assure our stakeholders that our engineers repairing the turbines so that we can resume operations on November 25," said Makokha.
No injuries or fatalities were reported.
The fire incident comes at a time sugarcane farmers are at loggerheads with the sugar miller over delayed payments for the cane they have delivered to the factory since 2017.
But Makokha has blamed the Kenya Revenue Authority (KRA) for the delayed payment of farmers on
"KRA deducted Sh20 million from the account without even informing us and this was the money meant to pay cane farmers. I am working round the clock to see to it that we pay farmers and they should be patient as I sort out their issues. I can assure them that they will get paid soon," said Makokha.
When contacted, KRA stated that it was bound by law not to reveal tax affairs of an individual or company unless it was a case under investigation.
"KRA is bound by law not to reveal tax affairs of an individual or company. The information is treated as confidential under section 6(1) and (2) of the Tax Procedures Act and Section 125 of the Income Tax and the same are held as such," said Grace Wandera, the KRA Deputy Commissioner in charge of Marketing and Communications.
The government has already kicked off the process of leasing out five debt-ridden sugar factories including Nzoia Sugar though the High Court has temporarily stopped the process until a case challenging the move is heard and determined.
The orders were awarded to Jack Munialo, a human rights crusader, who has moved to court to stop the leasing on grounds that farmers attached to the miller would suffer.
Munialo told the court that the Privatisation Commission only carried out public participation across the country over privatisation of millers but Nzoia Sugar farmers and local leaders unanimously rejected that proposal.