One killed in Teso North truck explosion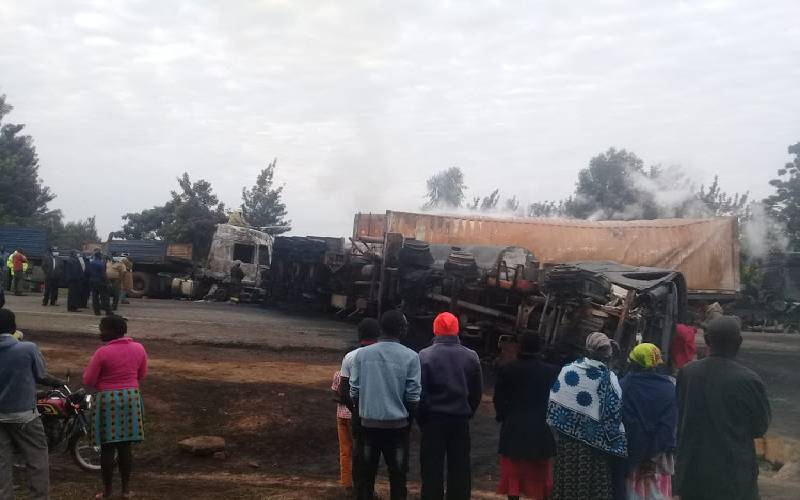 Traffic police are currently trying to clear out a snarlup that stretches more than 15km on the Northern Corridor.
The traffic jam was occassioned by a fuel tank explosion (pictured above) last night that left one dead.
The Teso North accident involved a petrol tanker and three other trucks.
Witnesses said the drivers ferrying goods to Uganda were trying to overlap when the incident occurred.
Teso North police chief Wilson Muraya said one of the drivers lost control, leading to the truck overturning and exploding, causing a fire that spread to the other vehicles.
Those injured were taken to Kocholya Level Four Hospital where they are admitted.
Last November, two people were burnt beyond recognition after a fuel tanker's driver lost control before the vehicle exploded in Narok County.
According to Narok East Sub-County Police Commander Philip Musyoka, the tanker was speeding down a steep section of the Narok-Mai Mahiu road.
After the driver lost control, the tanker hit the rear of a light truck that was ferrying Grade Four books at Ntulele area before bursting into flames.
The driver and his turn boy died after being trapped in the tanker.
"When the tanker hit the canter, the two vehicles veered 10 meters off the road and that's when the tanker burst into flames trapping the two inside, burning them to death," said Mr Musyoka.
According to the police, initial investigations concluded that the tanker's brakes might have failed.
The police commander said the two occupants of the canter escaped unhurt but books worth hundreds of thousands of shillings were reduced to ashes.