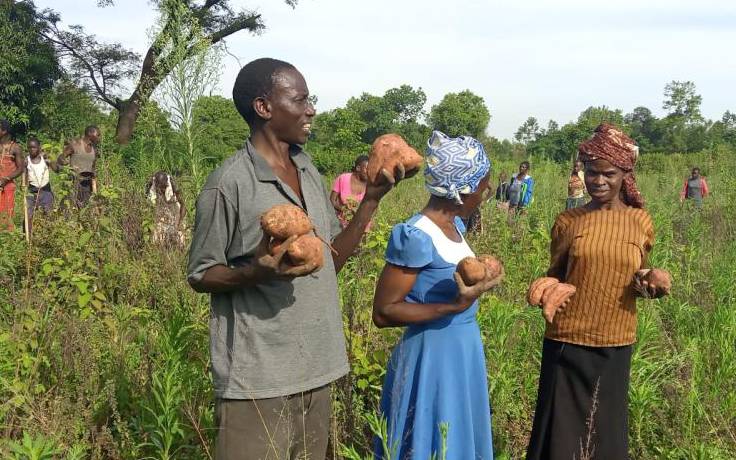 Alfred Etyang and his wife Julian Anyango have been cultivating sweet potatoes for the last two decades, thanks to skills they acquired from Kenya Agriculture and Livestock Organisation (Kalro).
Their two acres of potato plantation located in Kwangomor, Teso South Constituency, was due for harvesting last month.
However, the Covid-19 pandemic spoiled the party for the couple as the government's directive restricting movement ensured they could not reach their customers.
Besides selling raw potatoes, Mr Etyang, a catechist at Khwirale Catholic Parish, and his wife, engage in value addition.
Read More
They make bhajia, cakes, crisps, chips, chapati and mandazi from potatoes and sell to local secondary schools.
However, the closure of schools, which are their main customers, and restrictions of movement to Nairobi because of coronavirus, complicated matters for them.
They had also found a new client in Nairobi and had mooted plans to use matatus to transport the potatoes to the capital city for their customer. But that was not to be.
Last week, the pair decided to let residents of Kwangomor harvest potatoes to enable them feed their families faced with hunger as the Covid-19 pandemic persists.
The locals hurriedly stormed the farm armed with hoes and helped themselves to the sweet harvest. "We have no market for our produce at the moment, that is why we decided to allow residents of Kwangamor to harvest the potatoes and feed their families during this difficult times," said Etyang.
He added: "Once locals have harvested their entirely we shall embark on preparing the land to plant potatoes afresh and continue with our business."
Anyango said her family alone could not feed on two acres of the crop. "The knowledge we acquired helped us to start value addition. We sell various products to schools and get money," said Anyango.
Etyang noted that this was the best time for people in need to be remembered by those with sufficient food.
The beneficiaries expressed gratitude to Etyang's family. Mildred Awino is one of the beneficiaries. She harvested a full sack.
"This is a good gesture and we are happy as it will cushion us for some days," said Awino.
Resila Etyang, another beneficiary, said: "I was not expecting that we would be allowed to harvest potatoes for free."
Prepare land
She is ready to assist the Etyangs to prepare the land for the planting of tubers to reciprocate the favour.
"I would have spent some money to buy the potatoes, but because I was given for free, I will help the catechist during the preparation of the land," she said.
Although John Ekombe harvested the potatoes, he sympathised with Etyang for having no market to sell the farm produce.
"We do not take his generosity for granted because he used the money to cultivate the potatoes, but he has decided to give us at no cost," he said.