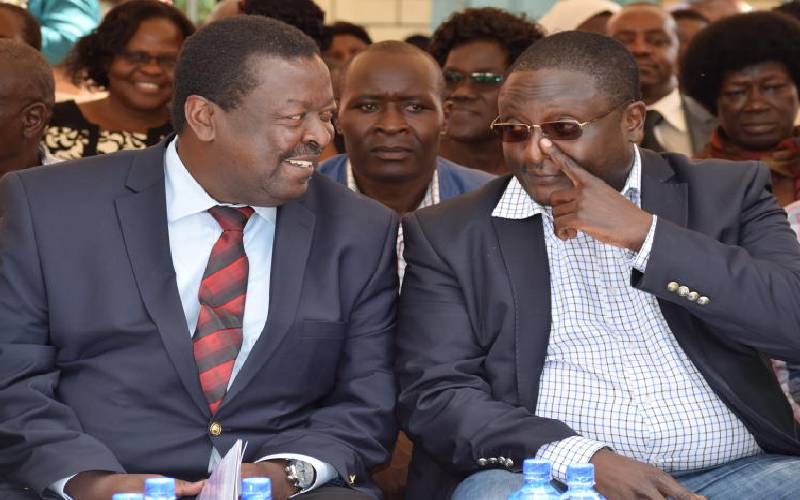 Amani National Congress (ANC) leader Musalia Mudavadi has warned against rigging of the forthcoming census results to favour some regions. Mr Mudavadi said some areas in the country have benefited from census rigging in the past, and whose population cannot clearly be explained. He said the introduction of the digital census is a step in the right direction which should be fully implemented so that the results of the exercise scheduled to begin later this week relayed as soon as possible. "In the past census exercise, there are areas whose results were doctored and some fictitious figures presented. This time round, we must get it right," said Mudavadi.
SEE ALSO: Mudavadi eyes gains in Mt Kenya
Mudavadi spoke on Saturday at Lusengeli Secondary School Grounds during the burial of Dr Sobbie Mulindi, in a funeral that was also attended by ODM leader Raila Odinga, Vihiga Woman Rep Beatrice Adagala and Sabatia MP Alfred Agoi. The ANC leader asked Interior Cabinet Secretary Fred Matiang'i to ensure that the enumerators that will carry out the exercise are secured to help them come with accurate data, free of exploitation and doctoring.
National cake
"In the last census exercise, President Mwai Kibaki ordered for some region's results to be recounted so that the validity of the data collected could be verified, but it was impossible because the security of the officers carrying out the exercise could not be guaranteed. This time round, let all police officers protect the exercise with the seriousness it deserves," he said. Mr Agoi, Ms Adagala, and Hamisi MP Charles Gimose while speaking in a different function, called on the locals to ensure they are counted to boost the region's chances of getting a better 'national cake' during the allocation of resources.
SEE ALSO: CS to testify on bid to revoke sub-county
"We have the necessary numbers that can enable us to get a better percentage of the national revenue during the allocation, but when we do not turn out for some of these exercises, we reduce our chances of benefiting accordingly," Mr Gimose said. In Vihiga County, Vihiga Constituency is one of the 27 constituencies which did not meet the population quota of 133,138 people in the last census and may risk scraping off with the population quota this year expected to rise to about 170,000 people. The constituency had only a population of 91,616, but leaders have exuded confidence that it may rise to meet the thresholds if all the people in the region will turn up for the exercise.