Over 60 drivers arrested, handed instant fines on Kakamega-Webuye highway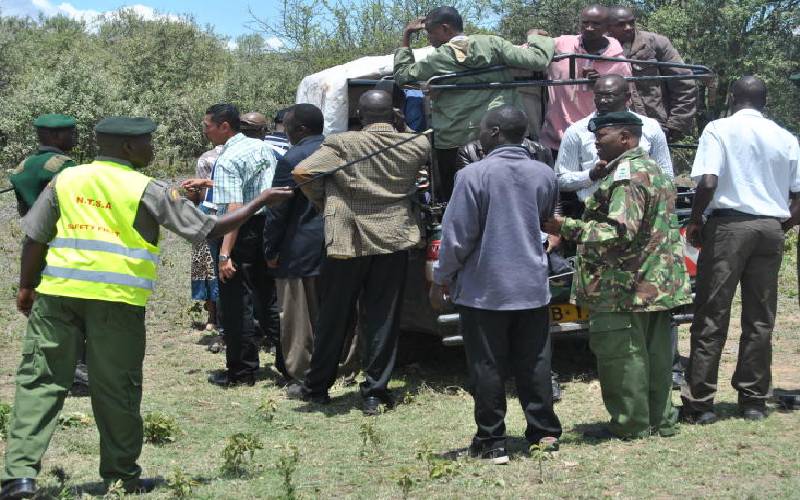 More than 60 drivers were arrested and fined by mobile traffic courts mounted on Kakamega –Webuye highway yesterday.
The motorists were charged with breach of traffic laws including driving unroadworthy vehicles and endangering lives of other road users.
Confirming the arrests, Kakamega police boss David Kabena said the ongoing crackdown on unroadworthy vehicles will bring sanity on the roads and guarantee locals their safety.
"The mobile traffic courts have been effective in dealing with rogue drivers and other road users, we mount them on various roads interchangeably to ensure traffic laws are enforced," said Kabene.
He said the multi-agency approach taken in restoring sanity on the roads was bearing fruits.
"As you can see, we have officers from the National Transport and Safety Authority (NTSA), Kenya National Highway Authority (KeNHA), the police and the traffic department."
Kabene said roads targeted include Kisumu – Kakamega highways, Webuye – Kakamega and Mumias –Kakamega roads.
"Those are arrested for flouting the law are taken to the mobile traffic courts and fined instantly," he said.
On his tour of Western on July 8, Inspector General of Police Hillary Mutyambai gave the regional police commanders authority to erect roadblocks wherever they deemed good to deal with traffic offenders.
Mutyambai commended mobile traffic courts for their good work on the highways.
Kabene warned owners of the unroadworthy vehicle to expect more operations until sanity is restored.
"We are going to intensify the crackdown to ensure road users adhere to traffic rules," he said.
According to Kabene, violation of traffic rules is the leading cause of road accidents that have claimed lives and left scores paralysed.
He cautioned motorists evading the mobile traffic courts by using 'other routes' that the law will catch up with them.
Kabene said roadblocks would be mounted unannounced to catch those breaking laws unawares.