Tension still high in Matungu as theft of livestock rise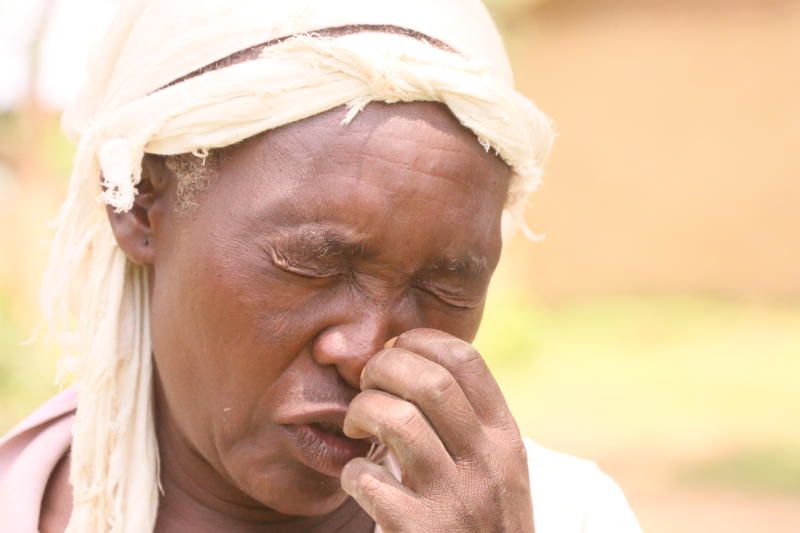 We arrive at the homestead of Stephen Rapachi in Sayangwe village, Ejinja Sub-Location in Matungu Constituency at about 10am. He is just from sleeping, probably because he did not enjoy a good night's sleep.
Rapachi like other villagers still lives in fear following the Matungu field killings that occurred in April and May that saw over 30 people killed and over 100 people nursing life-threatening injuries.
Rapachi has not recovered fully from his injuries inflicted on him by a gang calling itself 42 and 14 brothers.
The 9.30pm May 4 incident remains fresh in his mind. After spending a most ordinary day, the crooks attacked him and took nothing from him, leaving him for the dead.
The sexagenarian is yet to come to terms with events leading to the death of his six-month pregnant wife, Petronila Mung'ayi. Petronila was hit with a blunt object on the head followed by kicks and blows on the chest and stomach. To make matters worse, their eldest daughter Shaline Okhasia has visible life-threatening injuries on the head.
The widower still has bandages on his left hand after he sustained panga cuts while trying to protect his family from the attacks.
His eight-year-old daughter sustained serious head injuries after she was clobbered by a hammer. Their second-born child who had slept with her step-mother escaped the attack.
"I pleaded with the attackers to spare my family but they would hear none of it. Apart from hitting me with a blunt object, they also slashed me severally in the head, palms and leg and I went into a comma. I gained consciousness two days later and found myself at the Kakamega County Teaching and Referral Hospital," says Rapachi.
Rapachi says he has frequent nightmares of unknown people wielding machetes trying to kill him. When this happens he wakes up gasping for breath, his entire body drenched in sweat.
His younger brother, Peter Anyangu, says Rapachi has been reduced to a beggar. "I have been forced to fend for his family and mine as well since he cannot work," he says.
Boda boda riders
Anyangu says that despite Interior Cabinet Secretary Fred Matiang'i deploying the General Service Unit to restore sanity in the area, tension remains still high.
"On Wednesday night armed people came with a lorry and drove off with five cows from this village. Despite our efforts to alert the police to come to our rescue, no officer came. We have never seen the said GSU officers in this area," says Anyangu.
He says theft of livestock is rampant in Matungu despite claims that security officers have been deployed. "We cannot go out since they will either shoot, slash you or hit you with an object."
Hadija Ramadhan from Nabunulu village says after the burial of Suleiman Mambo aged 25, who was lynched by boda boda riders on May 5, over suspicion he was one of the gang members terrorising the area, they have not known peace.
"Four days after he was buried, five men armed with crude weapons came riding motorcycles and climbed to the rooftop of our house at 1am. They started removing iron sheets but we raised the alarm and they ran away. No police came despite informing them," says Ramadhan.
Ms Ramadhan says the gang came back in mid-May again at 2am and tried breaking into the house through the back door. This time too they alerted the area chief and the police but none of them came despite being 50 metres away from the Matungu Deputy Commissioners complex.
"During the last week of Ramadhan, three gang members came and struck again. We raised the alarm and neighbours woke up to protect themselves. Police came and chased after the attackers," says Ramadhan.
They recovered a motorcycle from them which was later discovered to belong to a police officer at Ejinja police post but no action has been taken to date,"
Eddah Munyendo says when on the day Mambo was lynched, her 19-year-old pregnant daughter was clobbered by boda boda riders.
"Security chiefs are lying to Kenyans through the media that security has been restored but tension is still high in Matungu. Cows are being stolen and they are telling us, security has been beefed up; that is a blatant lie," she says.
Our efforts to get Matungu Deputy County Commissioner, Charles Ocharo, to shed light on the issue were futile.
But Matungu Sub-county Police Commander, John Matsili has maintained that normalcy has returned in the area.
"Operations are ongoing and operations will only be called off depending on the situation on the ground. GSU officers are trying to restore normalcy. No cases of insecurity or attacks have been reported for the last six weeks," says Matsili.
Matsili also denied that armed gangs were stealing cows at night using vehicles, and that he is only aware of one case where two cows were stolen a week ago but recovered and two suspects taken to court.