World marathon champion Edna Kiplagat to defend crown in Beijing worlds
WEIRD NEWS
By xinhua | December 1st 2014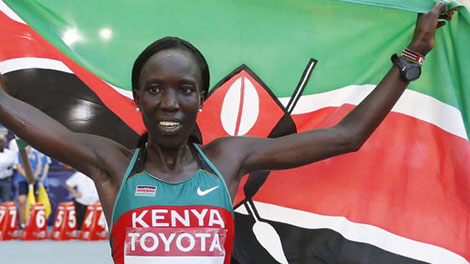 Edna Kiplagat
World marathon champion Edna Kiplagat is keen to defend her title at the 2015 world championships in Beijing.
Kiplagat, 35, wants to write new history as the first woman to win the marathon title at the world championships three times after she successfully defended her crown in Moscow in 2013, having won it first in Daegu, South Korea in 2011.
"Of course the target is to defend my crown. I want to run well next season. But the focus should be on defending my title," she said Saturday in Nairobi.
However, Kiplagat said she will do well in the winter marathons in London to prove her critics wrong and boost her chances of making the Kenya team.
Kiplagat was speaking in Nairobi during the commissioning of a synthetic 400-meter tartan track at Gems Cambridge International School in Nairobi.
Also present was world 1,500m champion Asbel Kiprop, who also confirmed that he will be ready for his title defence in August.
However, Kiprop, one of the athletes who have been concerned with the influx in doping cases in Kenya (28 now) said more need to be done to curb the vice.
Kiprop said he supports the call for stiffer and longer bans to the athletes found guilty of the offence in a bid to save some reputation for the sports he loves.
There have been allegations and reports that there is widespread doping amongst the country's long distance runners especially after the failed test of top marathoner, Rita Jeptoo, which has caused uproar amongst the athletics family.
"This needs to be escalated and we see those guilty serving even longer terms out of the sport and make it hard for them to return. This will help because they will be afraid it will end their careers," he said.
Kiprop was speaking in Nairobi at the unveiling of the first standard running track by a local learning institution, GEMs Cambridge International School where he was accompanied by two times world marathon champion Edna Kiplagat and National Olympic Committee of Kenya chairman, Kipchoge Keino.
"Kenya has lagged behind in other sports disciplines and the track would bridge the gap and have Kenyan athletes train in many disciplines in Commonwealth Games and Olympics," said Kiplagat.
Kiplagat and Kiprop said they are keen to contest for their third titles at the world championships.
"I could not hit my target this year of breaking the 1,500m world record. But I don't do anything for now but wait for my results next season," said Kiprop.
"Dead Beat" is not the answer to responsibility question.
I took time to scroll through the posts, comments and likes, most of which are negative and expose the "accused" to a mob justice mentality. The genuineness of Jackson to highlight on the problem, might have been an attempt to solve the cancerous problem in Kenya. Men and women alike procreate and abandon children to women to toil in up-bring. In rare cases, women also abandon their children with their grannies and head back to the city to search for better life with less burden on their necks. Others meet "potential" marriage material partners who do not wish to enter into a relationship with a woman with a baby. Children are often raised by single parents while the other parent misses out. Whereas there is no doubt that the problem is widespread and raises concern for the well being of the children. Exposing the cases on social media is far from being a solution to the underlying cause of the problem in a society which shy away from discussing sexuality. Posting images and comments