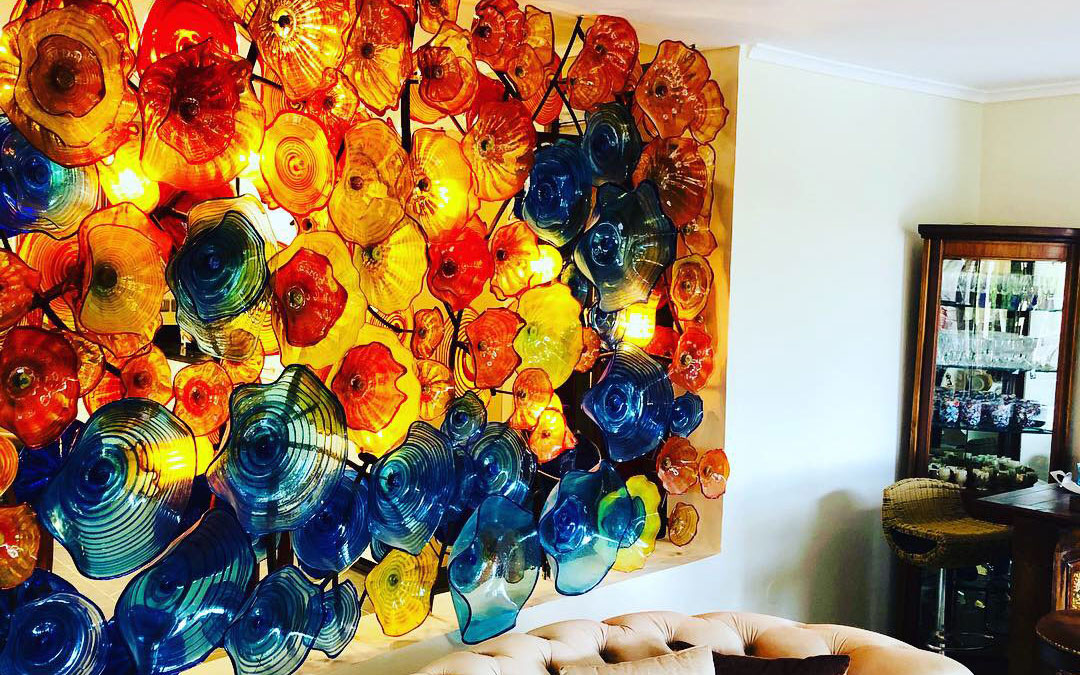 The Product
Most of us have trouble dealing with waste yet this 'waste' can be recycled into usable products. While most people have a clue on how to handle paper and plastic waste, they grapple with how to handle waste glass. This need not be the case especially after encountering the functional and stylish items made by Anselm's Kitengela Hot Glass. Led by the founder, Anselm Croze, this one-of-kind studio creates a wide array of original art from 100 per cent recycled glass. The creations range from blown objects, dalle de verre (glass art technique that uses pieces of coloured glass set in a matrix of concrete and epoxy resin or other supporting material) chandeliers, lamps, and beads. They also create full interiors and prefabricated murals. Incorporating the techniques of master designers and glassblowers from around the world, Kitengela Hot Glass's artisans have developed their own uniquely Kenyan style of working.
"Whether the teachers are from Italy, America, the Czech Republic or the Netherlands, it's really a collaboration," explains Anselm. "They learn from us how to operate in very basic and difficult conditions, while we pick up tricks and tips from them," says Anselm Croze who has decades of experience working with architects, interior and exterior designers boasts a kaleidoscopic portfolio- ranging from individual, custom-made pieces to giant public space installations. With a core discipline of blown glass, there are several different studios under his creative umbrella.
Origins
Born in 1966 to an American ethologist father, Harvey Croze (Elephant Trust founder), and an artist mother, Nani Croze, Anselm went to Holland to understand glass-making with Willem And Bernard Heesen in the early 90's. On the heels of this apprenticeship, he then decided to explore his calling in glass blowing.
"I had this experience that was really a magical fusion of luck and revolutionary thinking from master teachers. When I came home, I met a Finnish glassblower (Mikko Merikallio) who was also a furnace builder and inventor," remembers Anselm. "He was accomplished with the relevant appropriate technology we needed to get started. Therefore, we cleared a space behind our house and started building.
"Because we had no electricity, we had to be self-powered," he continues. "Mikko helped us install a steam-injected system that uses recycled engine oil to power the furnaces and melt our material. Energy-saving processes such as these were important to us. Even back then we wanted to have a good working relationship with the environment."
Anselm and his workers were learning as they went, blowing objects and casting glass that they then turned into panels and furniture. Anselm's sister Katrineka began making glass beads and things started taking off. The team finished the front part of the studio, but in order to create the now-famous star-studded dome, Kitengela Hot Glass needed bricks.
"We sold goblets to build it," Anselm says, "and based the design on an old English glass 'beehive'. Plus I thought the shape was cool. It took three or four years, but by the time it was done, we had evolved from one studio into a number of them."
"As it turned out, the guys who'd been building for us needed jobs once done and I asked, "Who wants to learn how to blow glass?" And that is how Kitengela Hot Glass got started. We all just dove in."
Where is it made?
Anselm's studios that draw visitors from around the world are located off Masai Lodge/Magadi Road, near Ongata Rongai, a 50-minute drive from Nairobi town centre. The drive to the studios drive is an experience in itself. Once you leave the chaos that characterises the Rongai bus-terminus you are transported to a serene haven with sweeping views of the city landscape in the horizon. The gallery with finished products sits in the middle while the dome stands to the right. Here, enthusiasts can watch as art is created; from glassware, tableware to homeware. To the left of the entrance is an outdoor café where visitors can sip coffee at a funky, chunky mosaic table surrounded by a garden of sculpture and furniture and living designs that enchant and inspire. Kitengela Hot Glass is not just a place or a product; it's an experience.
Where is it sold?
Bespoke orders are Kitengela Hot Glass's forte. Gift vouchers are also available from at their Junction and Village Market outlets, or online from [email protected] Orders take four to six weeks to fulfil. Kindly note that the peak season for pre-Christmas is September to December, so allow plenty of time and plan ahead.
Ultimate goal
The common goal at Kitengela Hot Glass, according to Anselm, is to transform recycled material into objects and designs that have a future, address a need and fulfil a function or desire. They are also keen to impart a glass culture locally and that is why they encourage visitors to visit the studio and learn. They allow a maximum of five people groups without booking.