Lost in the Mara sunset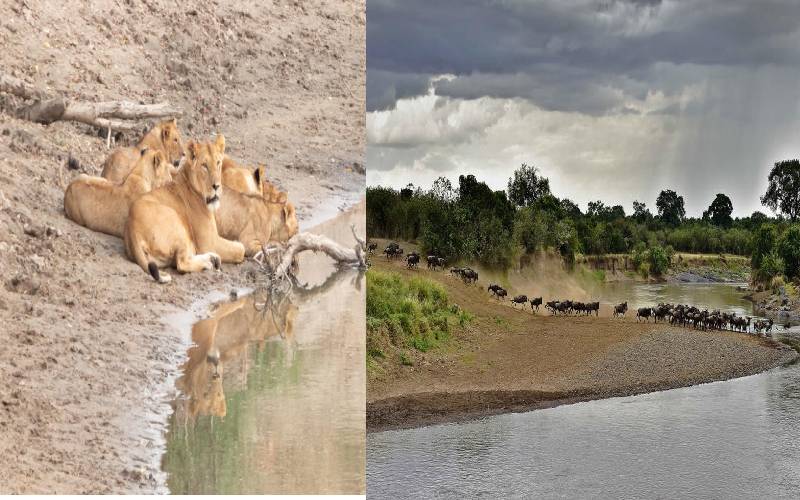 There are many ways to travel and many places to see. The most stressful free of course is by using a travel agent and tour drivers and guides when going to the bush.
Some people, however, choose to go it alone, and while it promises adventure and unfettered access to the wild free of a schedule, it can take more than you bargained for.
Imagine getting lost in the bush. It is probably the most frightening experience anyone can encounter in the wild.
One minute you are enjoying breathtaking scenery and the next you are lost. Take the Masai Mara for instance.
A visit to the Mara is not a walk in the park, especially if you are doing it alone, or were not properly prepared.
A story is told of David and Rosemary Watson who had a horrifying experience when they got lost in the Mara in 1999. David, a half-Scottish, while driving took the wrong turn and lost bearing.
This misfortune opened for them a new door. Having drawn orienteering maps covering the UK a quarter of a century before, David told the Kenyan government that he was available to map the Masai Mara Game Reserve better, an undertaking he ventured into before the end of that year.
Today, parks and game reserves are better marked, and many have decent roads, but this does not mean you do not have to be keen, especially when driving yourself.
Take Mark Kamau who found himself handling more than he had bargained for.
"My friends made the impression that the Masai Mara was just a stone's throw away from Narok town. They told me I could drive to the park and come back to spend the night in Narok, where accommodation is cheaper compared to what one can get inside those conservancies. I also thought I would find animals all over, as that is the notion everyone created. To my surprise, the ride to the Mara was long and bumpy; I had to endure the scorching sun, dust and humiliating boredom," says Kamau, who visited the Masai Mara three months ago, at the peak of the wildebeest migration.
He adds: "I found out that the distance between Narok and Masai Mara Game reserve is actually 150 kilometres."
Kamau says adding this to a similar distance from Nairobi, and getting lost once or twice drained him.
"Mind you, we had done 140 kilometres from Nairobi to Narok. In fact, unless you have a good tour guide or sense to follow the compass, you can end up not tracing the exact place you have been booked in as the vast land is just one endless world. I got lost twice before getting to my destination, drained and exhausted."
Kamau argues that while tour agencies can talk about the stop-over in Narok where one is treated to great cultural heritage as well as breathtaking views of the Great Rift Valley, local visitors are not interested much in these.
"One's focus is usually on the Mara, thinking about the wildlife."
Safari tour driver Moses Mutisya, who has worked for several tour companies since he got into the touring career in 1998, says there's always a price to pay for visiting the Mara. This is either in logistics, physical exhaustion, or in the cost.
"For starters, if you are driving from Nairobi through the Sekenani gate, you will have to cover about 260 kilometres. That is for visitors going to
spots like Keekorok, Mara Sopa and Mara Leisure lodges. For visitors going to Serena, Mara or Kichwa Tembo lodge, the distance increases to 320 kilometres," he says.
He notes that the distance can be a gruelling encounter for visitors, especially those driving personal cars – who still have to spend two days driving through the national reserve and conservancies.
And sometimes things might not even go according to plan.
Nelson Mbugua and his, now, wife visited the Mara in 2015 for the first time. It was a special outing for him as he had planned a surprise proposal, a solitary romantic occasion in the wild where he would ask for her hand in marriage.
This went on perfectly, it was memorable.
Then, the unprecedented happened. As they were driving back to their lodge late in the evening, their tour van got stuck in the middle of nowhere due to poor roads.
The tour driver was cut off from radio communication with his colleagues who had now left the park for the night and reaching their hotel on phone was impossible. The dream outing turned into a nightmare.
"We were stuck there the whole night, as we imagined all the dangers that surrounded us. This was a love test, I recall my fiancée crying throughout and asking if I had brought her all the way to kill her.
"Would we stay here and face possible attack by wild animals, or would we risk and walk till we got ourselves some sort of help while still contemplating attack by lions, cheaters, hyenas and all other carnivores who rule the juggle, was our dilemma," says Mbugua.
It was after their hotel reported that the couple had gone missing and was unreachable via radio signals that rangers and drivers launched a search for them. They finally spotted the stranded couple at 2am, in the morning, cold, starved and shaken.
This is, however, a rare occurrence.
Steve Keriga, a division manager at Fairmount Mara Safari Club, says cases of tourists getting lost in the Mara are not common, as most safari lodges provide firm instructions to their visitors while taking their game drives.
Keriga says most visitors use tour companies, either through a direct hire or through the hotel's services, that are established and that have great experience of the Mara.
"The isolated cases you hear of are unfortunate and even then, once signals are raised about a missing visitor, there is always a swift collaborative effort by rangers and the entire security team to salvage the situation.
"According to our regular itinerary, our visitors are always advised to return to the camp before sunset. When doing the night campfires away from the camp, we always have security officers and wildlife rangers accompanying us and our guests," he says.
Even though they are part of the wildlife experience in the Mara, night game drives are not common in the game reserve. They are done around the reserve conservancies where internationally reputed hotels like Fairmount, Kempinski and Serena are situated.
With more tourists opting to enjoy champagne and other beverages in the backdrop of roaring animals and a beautiful sunset, more established hotels in the reserve are offering these safe evening safari experiences, secure from night bush dangers.
Amazingly, located next to the Olare Orok airstrip, the luxurious Olare Mara Kempinski remains an unfenced tented camp that maintains an extraordinary natural wilderness feel.
Besides Olare Orok airstrip, there are many airstrips surrounding the Mara. Where you fly to will depend on where you will be staying during your safari.
Flying is the easier way for those wishing to spare themselves the trip by road, and willing to spend a little more.
The functioning airstrips close and inside the Mara include Serana, Buffalo, Ol Seki, Ngerende, Keekorok, Ol Kiombo, Siana, Kichwa Tembo, Cottars, Olare Orok and Musiara.
Unlike the long road trips that wear out safari lovers, it barely takes 45 minutes from Nairobi's Wilson Airstrip or Jomo Kenyatta International Airport to the Masai Mara.
However, factoring in the cost, flying to the Mara remains the preserve of a few.
The cheapest flights from Wilson cost upwards of Sh20,000 one way. That is before costing the expenses on the ground that includes accommodation and safari drive.
That being said. The Masai Mara remains one of the most beautiful conservation areas to visit.