Silage bale wrapping, new trend in fodder packaging lasts two years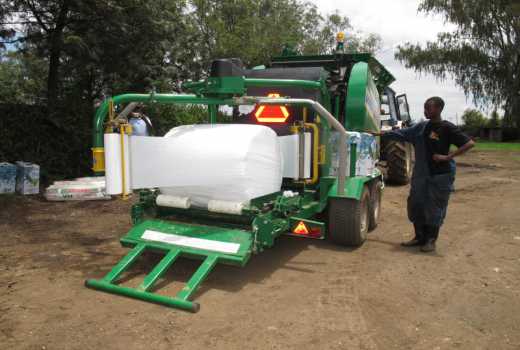 Many dairy farmers are used to buying silage packed in kilos and compressed in open packs. But there is a new trend in town — bale silage.
According to silage experts, bale-wrapping system introduced in mid 1980s, brought in baled silage that is high quality, nutritious and long lasting.
Wrapping silage, already practised in several developed countries like Netherlands, has helped farmers feed their herds in an easy and cost-effective manner.
Smart Harvest got a chance to visit a farm where silage baling and wrapping happens and it was a fascinating experience.
We are at mega Chemusian Dairy Farm in Nakuru County and the baling machine is roaring in action.
Latest machine
"This is the latest machine that makes vacuum baled silages for dairy farmers," says Mr De Jong from Fodder Innovative Team, who mans the machine.
This is how it works.
The machine scoops silage, packs it into huge rolls, wraps the roll using whitish nylon paper and finally rolls it to the ground.
The silage is wrapped in quality material to guarantee freshness. This process happens in minutes.
Farmhands are on standby to push the wrapped silage roll to a different location.
The ready silage bales are kept on a safe corner ready for transport to various locations depending on orders from dairy farmers.
Mr Jong says silage baling machine has enhanced how silage is packaged and stored and for dairy farmers it means high milk yields and higher profit margins.
Jong says the packed silage is of high quality and nutritious to dairy cows.
He explains: "In dairy farming, forage is the most essential feed component. Providing high quality silage at cheaper prices is key to unlocking the huge potential and enhance the competitiveness of the dairy industry in Kenya and beyond. This can only happen with improvement of feed and forage systems."
Easy transportation
The baling machine packs the silage in packs weighing between 350 and 400kg. Each bales goes for Sh5,000.
One advantage of the bale silage he says, is it eases transportation using pickups and trucks. The technology has been received with excitement on the ground says Mr Jong.
"Farmers we meet appreciate the package silage, saying it is cheaper compared to the hay they are used to," he says.
And it has numerous benefits.
Unlike previously when silage was made manually or using makeshift machines and would be affected by heat, bad weather, poor storage leading to spoilage, baled silage can last for over two years in good state.
Good silage
For those interested, the whole process from cutting to baling to wrapping, stacking and storing needs critical care to avoid spoilage and wastage.
One critical aspect of bale wrapping is selection of a high quality wrap for best protection.
Good quality bale wrap withstands rigours of high speed wrapping equipment and the stresses during wrapping, transport and storage.
Equally important is quality silage.
Mr Jos Creemers, a fodder management expert says good quality silage comes from maize.
"We are advising farmers to consider planting maize for silage. Compared to nappier grass, boma Rhodes or rice stalks, maize silage is a better quality product. It has a lot of energy components and is more digestible," he says.
He continues: "Maize silage is harvested together with stem, cob and the leaves, which are chopped into small pieces-sizes of about 1-2cm. The corn have a lot of starch in them which makes excellent nutrients for dairy cows."
Mr Jos reveals that if livestock uses maize silage effectively, a farmer can cut on costs for buying commercial feeds significantly. This will in turn translate to higher profit margins.
Notably, quality fodder for silage starts with land preparation and crop management.
Harvesting, he explains, should be at right stage just before flowing or early flowering stage and also the use of proper machines.
Apart from maize, farmers can also invest in sorghum for silage.
Mr Creemers estimates that three dairy cows can use one bale for a week.
Apart from making silage for sale, the machine can also be hired by farmers who have 50 and above acres of silage to package.
"If farmers have their own silage, we can wrap and package at Sh1,000 per bale. This is what we are doing for Chemusian Farm," says Mr Jong.
Good silage
"There are farmers who do not have large farm where they can do their own fodder production. We also provide solutions within the dairy sector. Through this project, farmers can access quality silage," explains Cosmas Muchina, Monitoring and Evaluation Advisor at SNV.
Feed storage
The beauty of this machine is that it can package silage that has already been done in pits or direct from the farms.
The flipside is that the technology is still new in the country, yet there are already several farmers lining up for its services.
"As far as I know, this is the only bailing machine in the country at the moment. With that reality, we are getting orders from all over the country from dairy farmers," says Jos.
The machine was acquired as a result of linkage between the suppliers and the Feed Innovation Team by The Kenya Market Led Dairy programme's innovation fund, under The Netherlands Development Organisation.
The baling machine comes with experts who advise client farmers on critical aspects of feed storage and management.