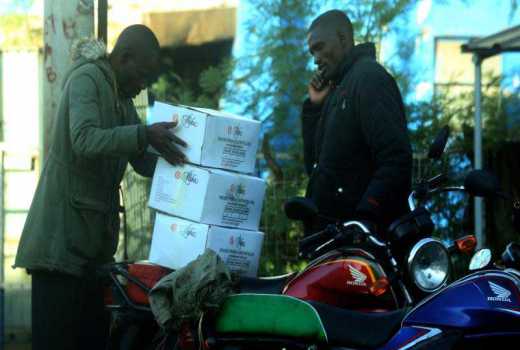 From a vantage point at Kisumu's Jubilee Market, one enjoys the picturesque view of Lake Victoria - Africa's largest fresh water lake.
Interestingly, traders at the market, fondly known as "Chiro Mbero" (small scale market) are selling fish harvested from ponds and smaller lakes in China, thousands of miles away.
Lorries from Mombasa offload frozen tilapia every morning even before local fishermen return from the lake with their small catch, sometimes with empty nets.
A biting shortage of home grown fish from the lake has created a gap now filled by a multi-billion-shilling market for the China-bred fish.
Meanwhile, the Lake Victoria Fisheries has warned that the situation is worsening daily. Statistics from the Kenya Marine and Fisheries Research Institute show that fish production in the lake has plummeted by 50 per cent in the past decade.
At Jubilee, the biggest fish market in Kisumu, 70 per cent of dry and fresh tilapia sold to customers is from China, which are significantly cheaper than the lake fish. Kenya Marine and Fisheries Research Institute (KMFRI) research shows Lake Victoria's fish stocks on the Kenyan side have dropped to 2,500 tonnes annually, from 5,000 tonnes, due to overfishing, illegal fishing gear, fishing in breeding grounds, water hyacinth and pollution.
The impact of imports from China is already being felt.
The massive fish imports from China led to job losses in the fish industry both in Western Kenya. The imports have also flooded the Coastal towns.
Statistics from the Kenya National Bureau of Statistics (KNBS) show that China's fish exports to Kenya hit the Sh1 billion mark in 2015, a figure that may double by the end of this year.
According to statistics, imports grew by 60.2 per cent to Sh1.02 billion in 2015 compared to Sh624.1 million a year in 2014.
Last week, fishermen in Mombasa appealed to Industrialisation and Enterprise Development Cabinet Secretary Adan Mohamed to ban the imports.
Chinese much cheaper
But Mohammed defended fish imports, saying they have been necessitated by market demands.
He said Kenya's fish production cannot meet the high demand due to dwindling catches. Mr Mohammed said fish farming had not helped to bridge the gap due to the shortage of fish feeds.
"Lack of fish feeds is a key bottleneck...We don't necessarily ban imports but we make sure that imports pay the necessary duties and levies," Mr Mohamed told a conference in Mombasa last week.
Elizabeth Adoyo, a fish trader in Kisumu said a big imported tilapia is sold at Sh400. A similar tilapia would cost Sh1,000.
This means local fishermen cannot compete in the market without making losses.
Making losses
"Every day we see trucks of fish from China being offloaded, the supply is high compared to the demand hence the low price," said Adoyo.
Jackline Adhiambo another trader told the Sunday Standard because of the easy availability of the China fish, she rarely goes to the lake to get stock.
"I used to buy 200 pieces of fish from the lake before China fish came in two years ago, today I only go to get 100 from the lake once in a while," said Adhiambo.
But even with that stock, convincing customers is a challenge.
"Because the market is flooded with imports, everyone thinks I am selling frozen fish from China," she says.
Fisheries and traders now want the government to find a lasting solution to the problem.
Researchers agree that the Lake Victoria Fisheries is facing a serious challenge because of pollution, destruction of wetlands, over fishing and destruction of fish breeding grounds.
Kenya Marine and Fisheries Research Institute (KMFRI) reported that fish stocks in the lake were declining at an alarming rate due to destruction of wetlands.
Kisumu's KMFRI Assistant Director of Inland Fishing and Limnology, Chrispine Nyamweya said Kenya might be subjected to consume imported fish with the continuous decrease in population of fish.
"Fish population cannot be sustained without protection of wetlands as their breeding ground in the lake," said Nyamweya.
Prof Phillip Raburu of University of Eldoret department of Fisheries and Aquatic Science said there was an urgent to save the lake from an eminent catastrophe.
"They move to wetlands which provide conducive environment for breeding, then they come across wastes they shun away and don't breed," said Raburu.
Dr Margaret Abira, a hydrologist said Lake Victoria basin wetlands have been encroached and no longer help to sieve water getting into the lake, hence the massive pollution in the water body.