City demo farm aims to sharpen farmers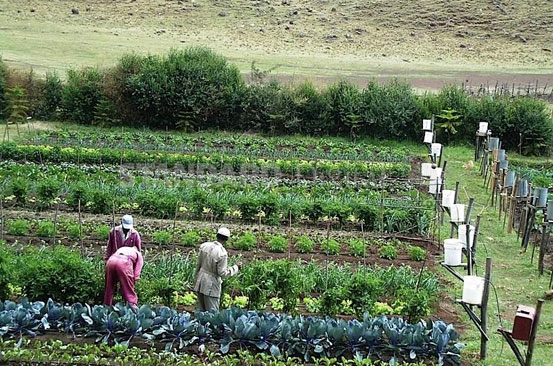 The last thing one would think of coming across in the heart of Nairobi, is a demonstration farm.
But Timothy Wafula has gone against all odds to set up his own demo farm, where interested farmers across the city and its environs visit to learn crucial information on farming.
Located in Embakasi, the small farm is a training centre where interested farmers get experience on planting various crops and ways of increasing yields.
Mr Wafula says he started the demo farm after leasing a piece of land together with his friends. They got support from donors and well-wishers to kick off the project.
"We started early this year and our goal is to introduce new farming methods to interested farmers within Nairobi. We realised there are people who have land they wish to till but lack proper ideas on how to go about it," Wafula says.
Although it is still new, the training centre provides interested farmers with an insight on how to plant vegetables, tomatoes, fruits among others.
Wafula says they target small scale farmers who can utilise little farming space to increase production.
"In this programme, farmers are treated to weekly training sessions on soil analysis, pest control and general crop husbandry. We also look forward to launching the Organic Farmers' kit, which is used on a small piece of land where several crops can be planted either in a green house or an open field system," Wafula explains. He says with high amounts of antioxidants and nutrients found in organic input, small scale farmers will be in a position to fetch high market prices due to quality produce.
While advising farmers to shift from the usual cereal farming to horticulture, Wafula notes that crop yields in the Kenya had decreased over time due to excess use of commercial fertiliser that deprive soils of microbes.
"Remember the slump in production can be largely attributed to regular application of chemicals like pesticides instead of using organic spray for pest control. This is what we seek to achieve-use of organic input," he adds.
This, he says is important especially for farmers within Nairobi who produce not necessarily for commercial purposes but for family consumption. "Farmers who embrace organic farming will not only be able to earn an income but also feed their families on healthy food," he says.
The demo farm sits on a quarter acre land and has various types of organic crops including carrots, onions, capsicum, kales and traditional vegetables commonly referred to manage.
Farmers from as far as Kiambu visit the farm to learn ways of managing various types of crops. Wafula says farmers are getting free advice but they deliberate on the charges as time goes by. Demonstration farms are quickly gaining popularity in the country with most farmers opting to get first hand experience from experts.
"Seeing is believing. Most farmers want to see a project that is doing well before they can invest their money in a farming venture. That is why many industry players are coming up with such initiatives," Agricultural extension officer Silvanus Wanjala says.