Estonia President Kersti Kaljulaid on the beastliness of Soviet dictatorship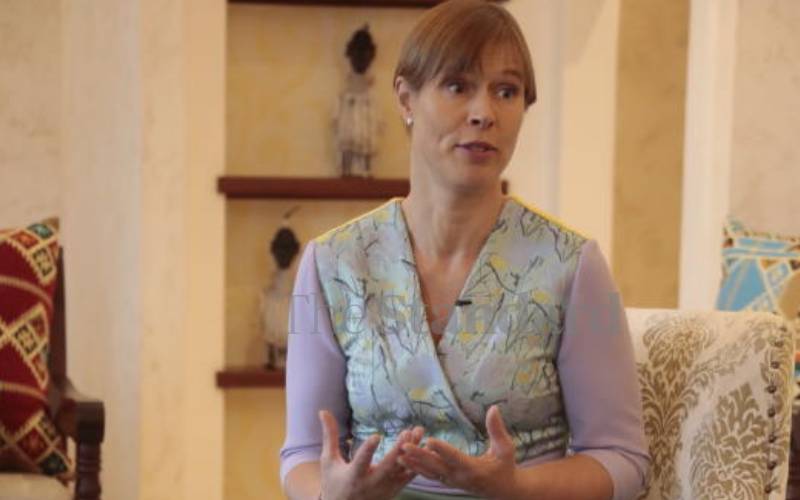 At the mere mention of Estonia, what comes to mind is the wife-carrying sport which the little eastern European country is famous for.
As the name suggests, husbands pick up their wives and race several 100 metres with their better halves upside down on their backs, with her legs over his neck and shoulders. The track must have two dry obstacles and a one-metre deep water obstacle. And, here's the kicker – the 'wife' carried must indeed be your own, or a neighbour's.
Estonia was the first country in the world to adopt online voting – way back in 2005. And to cap it all, the country is often touted as the most digitally advanced society in the world.
This week, we had an opportunity to interview the President of Estonia Kersti Kaljulaid who paid the Standard Group a courtesy call during the first state visit to an African country. She was elected by Parliament on October 3, 2016, becoming the first woman and youngest person ever to hold the position.
Paint a picture of Estonia under Soviet occupation
I don't have to paint it. My mother was jailed for nine years in Stalin's gulag for being anti-communist. She didn't kill anybody. She couldn't study Physics because it was a war science and she was considered an enemy. She could only study natural sciences or medicine.
When I was 14 I didn't join the communist league. I was told I would never go to university but I went because the Soviet Union was collapsing. This is the picture I don't have to paint.
Yes, we didn't become rich but we have freedom. We don't sing a national anthem that is alien to us. We are free to trade and speculate. We are free to fly out and come back.
How are the Kenyan Estonian relations?
It's very interesting that these ties have developed at the initiative of our people: Your business community, our business community. When we discussed where we should make our first Africa State visit, they all said Kenya. I can see that they had reason to say so because when you look at the digitalisation program of Kenya schools or courts, there is hope that at grassroots levels our people can come together and make some profits together.
I see your business trusts our business in this sense. Estonian companies are small. We don't come with ready-made solutions and big workforce. We come to develop solutions. I believe this characterises Kenya relations with Estonia: tailor-made solutions to suit our people.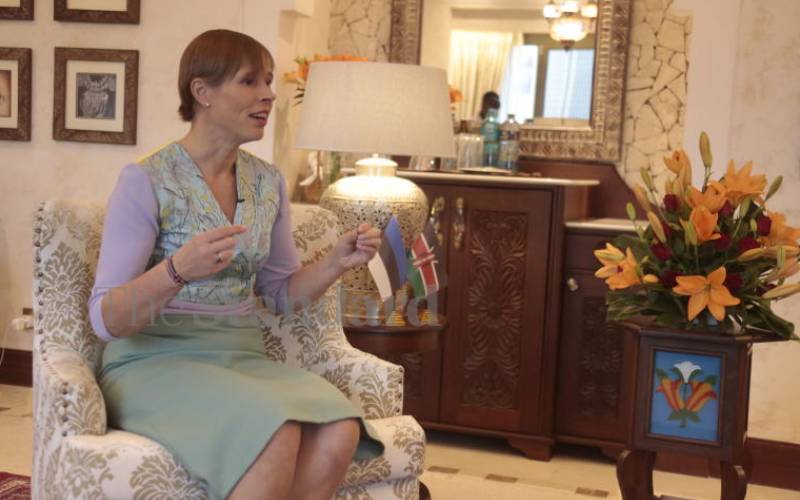 What's your experience of Africa?
I have been to Africa many times and I have many friends across this continent. But I have to say this is the first State visit by an Estonian president to Africa. I have been to Rwanda, Senegal, Benin. I haven't had time to look at Africa nature. We passed near the national park and was told it has some lions which sometimes come to the highway. I hope to see some elephants here. Flying over the continent, you get a different feeling from our traditional Nordic thinking of Africa; of the desert, and the Savannah but it is fantastic; it is fantastic.
When we overcome the pandemic there will be opportunities to develop tourism between our countries. Are you afraid of the snow by the way? You shouldn't be… it's a nice experience.
How can the world avert the causes of conflict?
It's not easy to talk about difficult times and conflicts when you are from far away regions. You are totally disqualified to understand the meaning, the reasons. What I can only say is Estonia as a member of the United Nations Security Council has promised our electorate, because we were elected, to listen to conflicts in the region. We believe in regional solutions to regional conflicts.
I really believe that African issues should have Africa-led solutions. Estonia stands for this on all multilateral fora. Also being part of the EU we are supporting the approach to work with African Union.
I have welcomed the decision by The African Union, which has been ratified by member states, to create four freedoms in this continent because it creates lots of development opportunities in this continent. You know when there is plenty of bread there is conflict and animosity.
What's Estonia's greatest contribution to the UN security council now that you are a member?
When we were running [for the position] some people said small countries do not have many opportunities.
We have brought cyber issues to the security council. The way we handle traditional conflicts also applies to the cybersphere yet up to date, the Security Council had not discussed the cyber issue. We made a campaign promise to bring it to the council.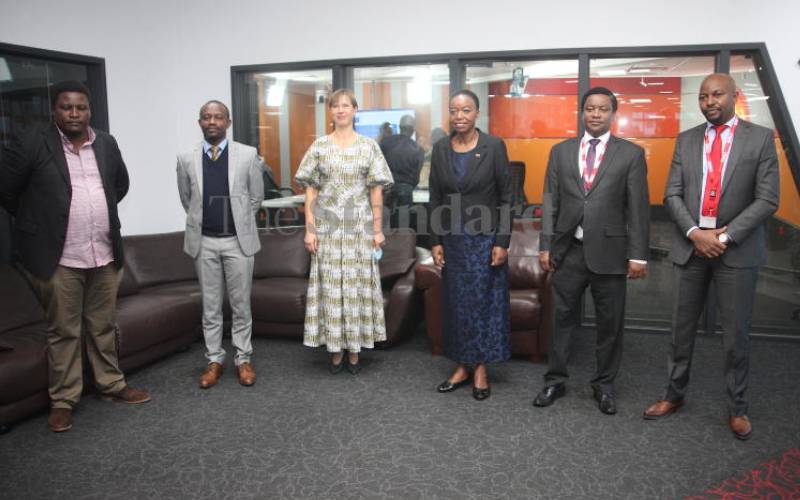 We know during our stay there, in all probability, one of the conflicts would have a cyber element because primary conflict is normally triggered by a traditional [factor]. This was the case last year in March. Georgia was attacked. Together with the UK and the US, we took the issue to Security Council. Now the academic world agrees that traditional and digital conflict resolutions apply the same rules.
This is a natural development we are proud of catalysing. We managed to bring about an understanding and a case law. I am proud that Kenya will catalyse development in the discussion of the environment in conflict in October.
What is the biggest stumbling block to the un security council?
There is not a single [overriding] stumbling block. If you look at every conflict, resolution, mandate…. various global interests come together like a kaleidoscope. Various members turn the kaleidoscope in a way that we can alleviate suffering from the conflict.
I am for Africa having a seat permanent seat in the security council.
The EU is known for its stand on various issues, unlike the African Union.
The EU does not have a common foreign policy. It is an economic union. But it is the biggest and richest economic sphere and space. Its policies have positive effects on global processes. For example, Europe is a big market and if it says it is not emitting carbon dioxide in 2050, technology will take notice, banks will not finance (carbon-emitting projects). This is the way the EU saves the world without having a common foreign policy. At the UN we stand together because we are like-minded people.
What is your advice to young women who would like to be presidents?
Nobody should have the ambition to be the president of a country but to do what makes them happy. If you ask kindergarten kids in Estonia to draw a picture of a president, they will draw one of a woman in a dress.