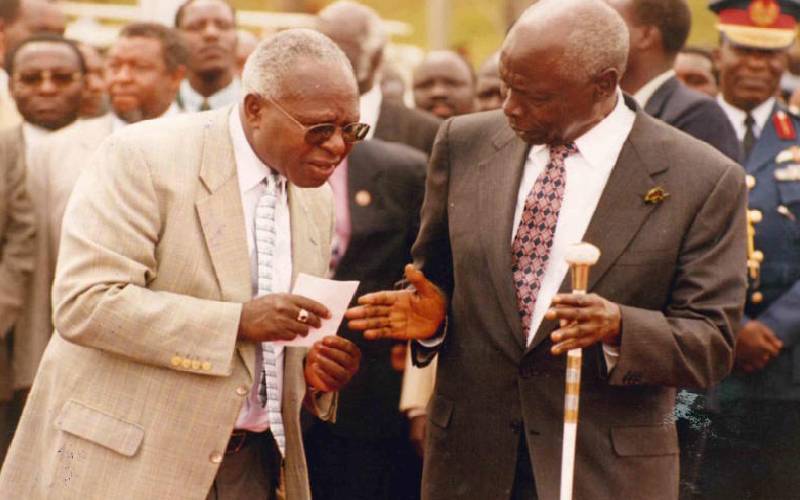 In 1979, President Moi promoted Simeon Nyachae to the permanent secretary in the Office of the President, with the responsibility of coordinating development projects and organising information for the Cabinet. In July 1984, consequently, Nyachae was the logical successor to Jeremiah Kiereini as chief secretary and Head of the Civil Service.
During his years as chief secretary, Nyachae was an influential figure in government and clashed with Nicholas Biwott and Hezekiah Oyugi, who resented his power. His position gave him powers to 'exercise supervision over the Office of the President and co-ordination of all departments of government,' a Dr Fred Matiang'i in the current State dispensation.
Some of Nyachae's critics alleged that he had become more powerful than his political masters. When the post was abolished in 1986, Peter Oloo-Aringo charged that Nyachae as chief secretary had attempted to 'usurp the powers of the presidency by creating an alternative centre of power.'
For the five years following his retirement in 1986, until Biwott and Oyugi were forced out of the government in November 1991 over the Robert Ouko murder, Nyachae's Sansora Company experienced administrative and financial challenges, which he believed were engineered by the duo.
Read More
Dissociate himself
His relations with Kisii Kanu branch officers were sour and on many issues, such as George Anyona's release, and Nyachae wished to disassociate himself from the local party establishment.
Following the triumph of the campaign for multi-party politics, Mwai Kibaki's Democratic Party and Jaramogi Oginga's Ford had approached the former civil service chief. Both parties hoped to recruit him. Nyachae's son, Charles, was a prominent human rights activist, serving as the chairman of the Kenya chapter of the International Commission of Jurists (ICJ). Many of Charles's legal associates were playing a prominent role in Ford, and it was thought that his father might be tempted to join the Opposition. When Nyachae failed to appear at the Kanu meeting at the Gusii Institute of Technology in February, speculation mounted that he was about to defect.
On February 8, 1992, however, Nyachae announced that despite his differences with the two Kisii Cabinet ministers, Dr Zachary Onyonka and Prof Sam Ongeri, he was going to remain loyal to Kanu. The next week, he bought advertising space in The Standard, the Daily Nation and the Weekly Review to publicise his decision.
The advertisement, which appeared under the headline 'multi-party politics,' declared: "There have been numerous approaches from friends and members of the Gusii community regarding my stand in the current multi-party politics. I would like it to be known that I am still a life member of Kanu, having been issued with two life membership certificates – one by the late president, Mzee Jomo Kenyatta, and another by our current President D T Moi. So far, I am not convinced in my own mind that there are any strong reasons for me to change this position..."
Nyachae outlined five reasons why he had decided to remain in the ruling party. He explained that it would be naïve to abandon Kanu, which had more than five million members, "just because a few Kanu officials, who obviously don't exceed 12 individuals, have not conducted the affairs of the party and the management of the nation in a credible manner.
These people should be disciplined and voted out of office. Such 'arrogance and dictatorship' could be eliminated easily. Kanu was not to blame for the excesses of a few individuals."
He could not bring himself to leave an institution which "played such a major role in securing our independence on the grounds that a few enemies, and those who were in authority after my retirement, misused their positions in harassing and humiliating me. Political leaders should separate their personal problems from their political ones."
Moreover, Nyachae observed: "I do not believe that the best way of dealing with our current political and social-economic problems is by running away from Kanu and forming a contingent of a 'fighting' force across, instead of battling (from) within."
"I do not believe that joining any other party would automatically mean getting answers to the numerous problems facing us. There is no party with immediate answers to these problems. In any case, I have all along been convinced that Kanu and the government have developed sound policies, but we have often gone wrong at the stage of interpreting and implementing these policies."
The former chief secretary nevertheless acknowledged that the repeal of section 2(A) of the Constitution, leading to the formation of other political parties, had been 'a mature way of managing our national affairs.' The Kenyan government required 'a very strong system of checks and balances.'
In deciding to remain in Kanu, Nyachae said that he had considered carefully the well-being of the Abagusii who were now living in many parts of Kenya. Not only was Kanu the best means to ensure that the Gusii did not antagonise other Kenyans, but it was also the best ability to serve the people.
"We need unity because we must jointly tackle the nightmare of unemployment among the Kisii young people; we must jointly deal with (the) current weak economy in our two districts. In other words, it is absolutely necessary that we maintain unity."
Nyachae attempted to address the issue of the ethnic clashes head-on.
"Only through unity could the community assist Gusii university and school leavers to find jobs and help those members of the community who had been attacked recently in neighbouring Narok, Kericho, Nandi and Kitale and needed help (sic) in rebuilding their homes and businesses and lives."
Finally, Nyachae noted, "through political unity among the Abagusii, we should be able to deal with the problem connected with the imprisonment of Anyona, whose case is a definite political factor in the current Abagusii politics."
As a result of these considerations, Nyachae concluded: "I wish, therefore, to repeat and emphasise that I have given these matters of multiparty politics serious consideration, and I have definitely not found a convincing reason as to why I should not remain in the same party where I have belonged since 1963."
Some journalists, nevertheless, suspected that Nyachae was determined to purge officials from the Kisii Kanu branch, including Cabinet ministers Onyonka and Ongeri, and branch chairman Lawrence Sagini. The retired chief secretary had long believed that these Gusii leaders had sold out to Biwott and his other rivals to wreck him financially even after his retirement. It was now time for payback.
Play an active role
While Kanu headquarters expected Nyachae to play an active role in the campaign, many of his supporters expected him to end the ethnic violence and to bring development schemes and other rewards to the two districts.
With 10 seats at stake - seven in Kisii and three in Nyamira - Kanu could not afford to neglect its only stronghold in Nyanza Province. Swing communities such as the Gusii, Abaluhya and Kamba became key in Kanu's calculus of victory in 1992, with the election a mere 10 months away.
If Nyachae and his rival Onyonka could hold most of the Gusii seats for Kanu, then the ruling party stood a chance. The contest in Kisii and Nyamira would be one of the key battles of the 1992 campaign. Nyachae's decision to remain with Kanu strengthened its chances of victory.