Escaping early marriage lit a fire in me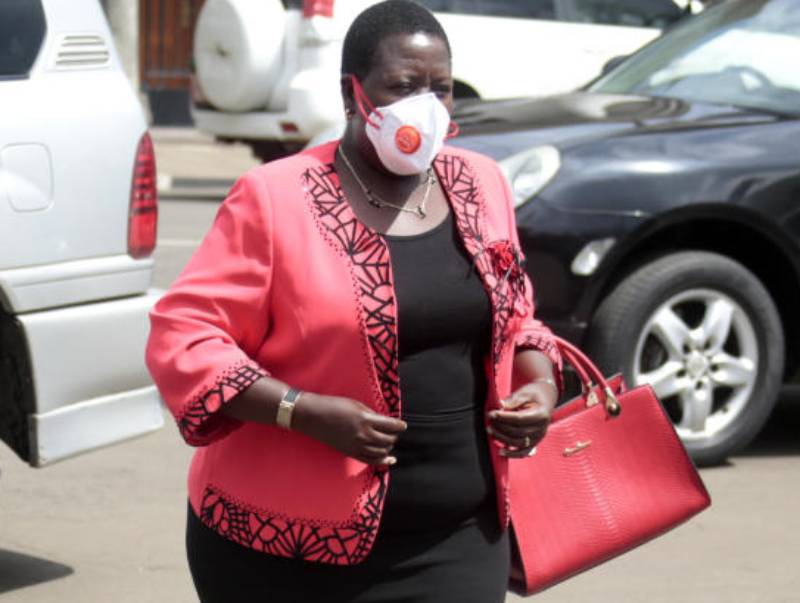 She was only 13. The young girl was terrified and upset. She knew her life could be better, much better than what now faced her. Maasai elders and her father sat down to discuss her upcoming marriage.
She spoke up: "If he marries me because his wife is not getting children, what is the guarantee that I am going to get children myself? There is no such assurance, so can he allow me to continue with my schooling!"
Decades later, that same girl, Peris Tobiko, would find herself in a fight with yet another group of elders. This time because she had the "audacity" to run for an elective post though a woman.
"That was a new thing in my community. They had not had another woman go into elective politics. So it was shocking, funny and not doable - according to them," she says. She ran anyway.
The elders were so offended that they held a cursing ceremony, which shook a few of her supporters.
"Thank God for the educated young people," says Peris. "The youth really supported me and the women also built their hope around me. So when the elders were doing this cursing ceremony it was only them, minus the women and the young people. The young people were ready to go all the way with me and they actually said, 'If you curse her, curse us too so that we die together.'"
The day after the cursing ceremony, accompanied by a group of pastors, she went to the same tree under which the elders had rained curses upon her head. She and the pastors held a blessing ceremony at the same spot.
It must have worked, because Peris went on to become the Kajiado East Member of Parliament (MP) in 2013, making her the first elected female Maasai MP. She won the seat again in 2017.
Ironically, if she had been left to study in peace and not tried to marry her off several times, she might have never joined politics.
We are seated in a restaurant in Parliament Buildings. Other MPs passing by greet her and engage in brief, upbeat small talk before moving on. I say that she is popular. She laughs it off.
"From the look of it, the first impression makes people think I'm soft and quiet," to which we once again laugh. "Then I think they really don't know me," she says.
"My being in politics was shaped a lot by what I went through when I was young," she says. Her father was inundated with marriage requests.
Early marriage attempts
The first man who wanted to marry her was her father's friend, the reason for the sitting. He was also her teacher at school. Her father, a stickler for tradition, wanted to help his friend - whose wife wasn't bearing any children, by accepting the friend's request to let him marry his 13-year-old daughter.
But he was torn because he was also a lover of education. He was close to his daughter and always encouraged her to do well in school. To her father's delight, she was an exemplary performer. To her teacher's dismay, she had done exceptionally well when the final primary school exam results came out.
The teacher had gone to Kajiado headquarters to go check her results, she says. "Of course he was hoping that I had not performed well, so that I could get married. He found that I had really passed because that time the highest mark one could store was 36 points, and I scored 35," she says.
The few learned women in the community, including teachers, piled on the pressure to see her go to Form One. They won, and she went to Moi Girls Isinya.
Her brilliance had saved her. It would save her a few more times after that.
She was almost taken out of school in Form Three to be married by the same teacher upon the insistence of her father, but she made a pact with him that if she didn't perform well she would get married. She passed well, again.
The man gave up and married her sister, with whom they have, what Peris says, is a beautiful family.
She says a different man with three wives wanted to marry her after she joined Moi High School Kabarak for Forms five and Six.
Her brother, Environment Cabinet Secretary Keriako Tobiko, had by then grown up enough to have a say in the family, and he prevailed upon her father to allow her join the University of Nairobi. While there, yet another man would approach her father, but this time her brother wasn't having any of it.
That is how after her degree, she ended up marrying the love of her life, whom she met at the university.
Inspiration
She has four children who she says are what she values most. "They tell me that they have seen me become a better person as a politician. My success in politics gives them the drive not to pursue politics, but to pursue whatever they are interested in with a passion." she says.
Her brother, one of her 13 siblings, has made quite the impression on her.
"He was older than me and I saw him pursuing education and I wanted to follow suit. Also, when he grew up and had a say in the family, he really defended me and protected me from the marriages. He stood with me throughout my growing up, in my education. He was really trying to put a lot of sense in my father.
"I saw him also continue to grow in his career. Becoming Director of Public Prosecutions, a minister – he is the sort of person whose shoes I have always tried to fit into. I thank God that he was born before me. I thank God he has been a role model to emulate," she says.
She studied Political Science, both for her undergraduate and Master's degrees. She then worked in public administration as a District Officer in Embu before joining the National Social Security Fund as a benefits manager. Then she quit.
"I always felt that I had not yet reached where I needed to reach in my service for the community. I felt that I was just working to earn a salary but not to better the lives of others. I really wanted to go out there to serve the community. That is when I made the decision to run," she says.
But she lost the 2007 election. She became a director at the Water Services Trust Fund and then chairperson of Tanathi Water Services Board.
"Her Excellency, Charity Ngilu, is really one of my role models and Ngilu played a big role in my coming to Parliament. She held my hand. I got to interact with her... she is so loving, so warm and she is also very passionate about women," she says.
Today, she champions the education of the less fortunate in her constituency, and was featured in 'When Women Rule', a 2017 Thomson Reuters Foundation documentary, which also featured a Kyrgyzstan MP and a Bolivian Mayor.
Peris' life story must seem surreal, and she has thousands of girls looking up to her.
"I have had forums to speak with girls, to help distribute sanitary pads and take that as an opportunity to speak to them about the possibilities out there for them, that they can achieve, that they are as good as any other person or even better as long as they remain resolute in following their passions, their hearts' desires," she says.
She has also protected young girls from forced marriages, and began paying school fees for a number of girls from before she was even an MP.
Overcoming gender barriers
"In my public life, one of the things that is still to be completely overcome is still the issue of being a woman leader. I'm hoping to be a candidate in the gubernatorial elections in Kajiado in 2022 and a lot of the comments I see on Facebook and the rest of social media is that we cannot elect a woman as a governor.
"Can't they say, 'We cannot elect Peris because she is unable to do one, two, three, instead of using the gender card and saying, 'We cannot elect Peris because she is a woman'? This woman thing! I did not apply to be a woman, no. I found myself born a woman. I have no regrets being a woman but I would not want anybody to use that against me every other time. It is a card that is played a lot, particularly if you are contesting against men," she says.
And yet, it never stops her. How does she do it? "Oh! I guess I have grown some thick skin! I don't give a damn what they say!" she says, laughing. "I'm like, okay, is that what destabilises the status quo? I'm ready to do it!"
She has, now that she has been Kajiado East MP for two terms. They were very validating victories. Her father saw them both before he died in 2019 at the age of 95.
"I would have loved for him to be there when I win the governor's seat in Kajiado because I believe I am going to win it. He became my greatest supporter," she says.
Did he ever acknowledge how different her life was because she had escaped early attempts at marrying her off? Yes, five years before he died.
"One time, in 2014, when I was taking him back home from hospital in Nairobi, as we were passing by City Cabanas, he said, 'I am really sorry for what I put you through.' I would even say that was my greatest moment. I felt like crying. I even feel like crying right now," she says.
After a brief but heavy pause, she continues: "That was the one time my father said sorry. It is a moment that I will treasure forever."