This girl broke her spine doing yoga, but she's not giving it up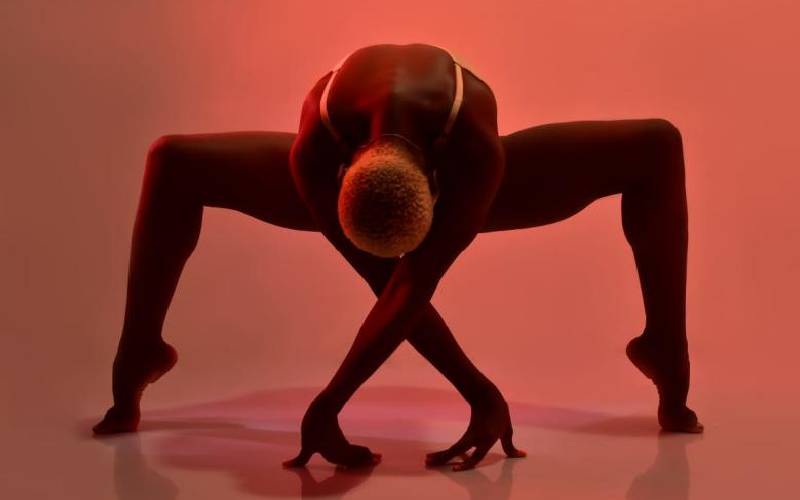 On a scale of 1-10, how fit are you?
I give myself a solid 8! From time to time I take breaks from fitness to do yoga, so I can't give myself a 10. This is because Yoga is all about health, knowing yourself, discovering who you are and what your body can do. It is not about fitness. I am working to hit 10.
Were you born flexible or did you learn how to flex your body?
No, I was not born flexible. But the truth is you can turn yourself to anything you want, and I chose to be flexible. My flexibility journey started at the end of 2016, as I was searching for the health benefits of yoga. I am sometimes perplexed with how flexible I have become. I learned this through practice and trained my bones to bend a little.
What kind of yoga do you do?
Right now, the yoga that I am doing and teaching is called hatha. I am still teaching the intermediate and advanced stages as I also learn. Currently, I am learning 'ashtanga' practice.
Take us through the journey of becoming Mel the Yogi, how did it all start?
I used to suffer from chronic migraine headaches. They were so bad that I would hit things, hurt myself and roll on the ground in pain. People did not understand my condition and often thought that I was crazy. Later on, I joined campus and I was desperate to find something to help me survive the new environment. I needed somewhere I could hide when in pain. This pushed me to start meditation and I kept learning until I discovered Yoga. After attending yoga lessons on YouTube, I realized that it was working to ease my pain and I would feel better for weeks.
Has the practice changed you as a person?
Yes. Before I started doing yoga, I was a shy girl walking around with earphones and nothing meaningful to do. When I started yoga, I felt like I had finally connected with myself.
I discovered who I am and I was able to connect with the world. I have also overcome shyness and made friends through yoga. Besides that, I have grown as a person and am twice as confident now.
What do you aim to achieve by being a yoga instructor?
Yoga has taken me from a far place. I was mentally unstable, sick and I needed reprieve. So, I started teaching people yoga to help them feel what I felt after taking up the practice. Being a yoga instructor helps me to help people mentally, physically and healthwise. It makes me happy to know that my practice helps people get in sync with themselves.
How much do you charge to train newbies?
I charge Sh500 per class, Sh2,500 a week and Sh7,000 a for intermediate and beginner classes.
What are the actual benefits of practising yoga?
First, it improves flexibility and strength through mind control. And just like any other exercise, yoga helps shed and maintain weight. It improves posture, bringing about healthy joints, reduced pain and improved focus and memory. It also helps in boosting empathy so you can easily forgive others. With a lot of mental practice, your lungs get to breathe, so you become happy, relaxed and stress-free. For people with sleeping disorders, regular yoga improves sleeping patterns.
How important are the mental and emotional aspects of yoga?
Yoga is a mind game; it is very important in mental health because it helps us understand ourselves more and helps us to control our emotions. You are able to understand yourself because it forces you to assess your behaviour.
Are there health complications related to this practice?
Yes, however, there are more health benefits than complications. Complications come when you are going too fast. There are no fast results; it takes time. If you force your body to mature fast, you end up breaking your bones. People end up getting injuries because they don't listen to their bodies.
Have you ever been injured while doing your yoga stretches?
Yes, I severely injured my spine one time, and I became paralysed for months. I also had chronic migraines at the time. So one fateful day, I hit my head, fainted and completely lost my memory. I was hospitalised for months. I couldn't walk and I would spend most of my days in bed crying.
How was your road to recovery?
After the tragic fall, I woke up one day feeling sore. I was wondering why my back and body was aching. Since I had lost my memory, I could not connect how I had gotten to that place.
As I recovered from the injury, I began looking for something that would connect the dots for me. So one time I logged into my Instagram account and saw photos of myself before the accident. I finally recollected that I had been a yogi. Then it hit me that I had not been listening to my body and that's why I ended up bedridden.
Didn't you fear going back after the injury?
I didn't fear. Immediately after I recovered from the spine injury I was back to yoga! I was not going to give up my practice just because of one scare. It broke my spine and brought me back to shape. The benefits I got from it were far much more than that one injury. Nevertheless, I am healed right now and I can bend again. And I am not stopping anytime soon.
You mentioned that you are a writer; what do you write about?
I love writing poems and stories. I write down my feelings, especially if it something I am going through that I can't let out. I don't have close people who I can open up to, so I just journal my life experiences.
What else do you do besides yoga and writing?
I am a student, currently in my final year pursuing education and literature at Kenyatta University. I am also a theatre actress.
How do your parents view your yoga practice and how devoted you are to it?
They know that I do yoga, but I doubt that they have ever seen me in action. They have seen pictures of my yoga poses but say very little or nothing about it. My aunt calls it a weird practice and makes fun of it. My parents have never asked me about it, so there is nothing to tell.
How do people react when they see you in action?
They get shocked because it is not something you see every day. Most people are impressed, so I get different reactions depending on a person's understanding of yoga.