Photos: Man uses fish waste to make fancy shoes and jewelry
THE STANDARD INSIDER
By Joe Ombuor | October 28th 2020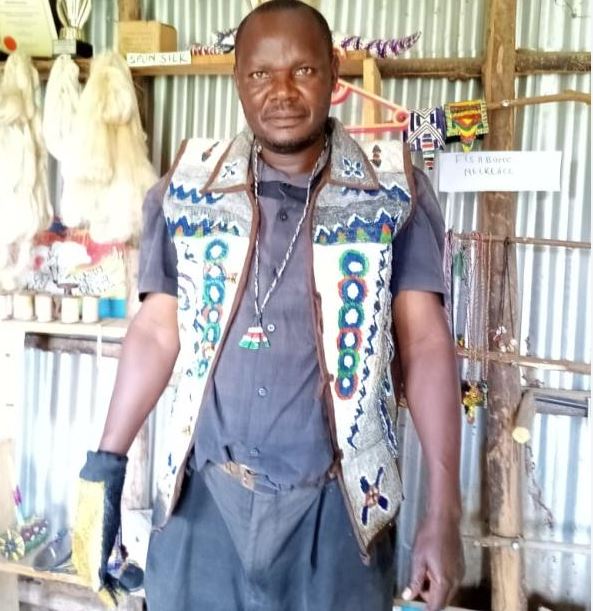 A modern lady's dressing is not complete without fancy earrings and necklaces to enhance the desired looks. Now, this will stagger you.
The attractive earrings you are ogling could as well be lifeless eyes of fish and the necklace nothing but the tail or head of the same aquatic creature, minus the brain tissue.
That and more is what a Kisumu-based innovator and entrepreneur has pulled off remarkably with environmental conservation as a bonus.
Newton Owino is converting fish and other waste into useful products for the local and the export market, thereby mitigating environmental pollution.
This also reduces the danger posed to aircraft flying into Kisumu International Airport by birds on the flight path to feed on discarded remains from fish filleting factories nearby.
The 40-year-old says eyes and bones are secondary items in his conceived novel industry where fish skin is the primary raw material.
"We export tanned fish skin mainly to Europe and some African countries and use it locally to make shoes, jackets, designer women's hand bags, drums and belts" says Owino as he takes me around to see some of the finished products.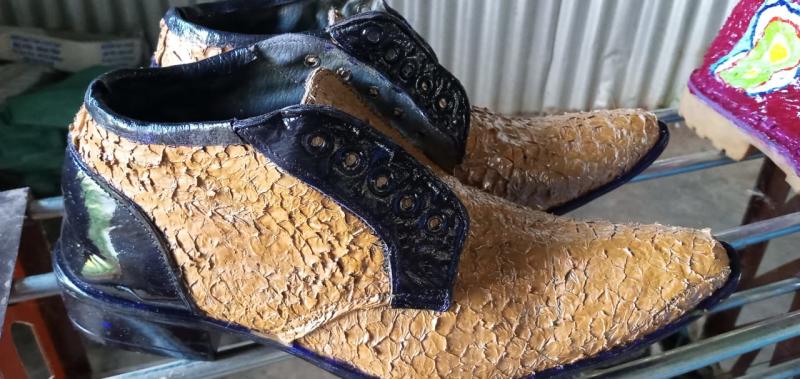 Tan intestines
"We tan the intestines too to get strings that we use to make ladies' sandals while the scales are dyed to make beautiful flowers and ornaments for outfits such as those worn by ohangla musicians. The bones are boiled into glue for binding," he says.
Awesome! While intestines including those of chicken are a delicacy in some societies, the use of fish innards for anything is unheard of. Owino shows me the strings to clear my incredulity.
He says the remains of flesh are scraped off to make chicken and other feeds. "The word waste does not exist in our vocabulary once the remains land here," says Owino, an industrial chemist trained in India.
He is immensely grateful to the National Environment Management Authority (Nema) and Kisumu County authorities for allowing him prove that tanning, an industry that ordinarily thrives on chemicals injurious to humans and animals, is possible with harmless compounds extracted from local plants.
Instead of trypsin, a toxic artificial enzyme that controls decomposition of skin, Owino uses papain, an enzyme obtained from the sap of the pawpaw fruit.
To stabilise leather, a tanning process generally done with chromium salts such as chromium sulfate, known to be toxic to the skin and environmentally damaging, Owino uses natural enzymes extracted from cassava root. An extract from the roots of a banana species known as odhigo in Dholuo is an alternative for sodium sulfide that lines leather.
Owino's Alisam Development Product and Design Industry in Kajulu on the outskirts of Kisumu City has contracted farmers to grow the crops.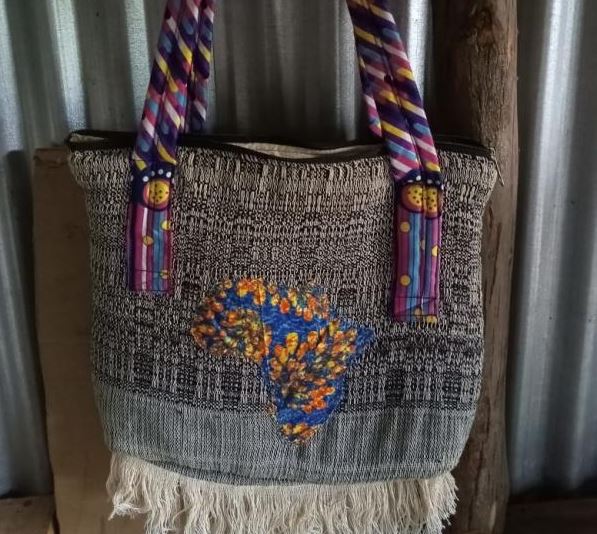 He uses algae that are available along the rivers in the lake region and hibiscus, a plant equally plentiful in the area to extract dyes for his products.
Fish factories around Kisumu produce close to 150,000 tonnes of fish waste yearly mainly from mbuta (Nile perch) whose fillet is exported to Europe.
"Some of the remains containing a little flesh are fried into eatables christened mgongo wazi (the remainder after fillet is removed)
"The bulk is what the birds, stray cats, stray dogs and urchins scavenge on, and that forms our raw material," says Owino.
To prepare the raw material for his industry, Owino recruited dozens of women engaged in mgongo wazi business and trained them on pre-tanning operations such as the removal of scales and remnants of flesh.
He ensured that the chair, treasurer and secretary of the group numbering 288 were all his employees for a free hand in management.
"With the leather in place, I approached cobblers in Kisumu City — most of them people living with physical disability — dangling the opportunity for training them to become shoe makers. 37 lucky ones underwent a month-long training to gain relevant skills," says Owino.
He came up with Kisumu Leather Dealers Association to help them qualify for Small and Medium Enterprise (SME) loans from the Kenya Industrial Estates (KIE) that agreed to give out loans for sewing machines and other equipment relevant to the industry.
Leather chemistry
"The sewing machines came in handy for the making of jackets, handbags and the like in addition to shoes," he says.
What is today a multi-million shilling industry with markets in Africa and overseas started when Owino, freshly graduated with a degree in Leather Chemistry from an Indian university and without a job, decided to stroll in the direction of birds he saw hovering over Kisumu International Airport. He found trucks dumping loads of smelly fish waste from nearby filleting factories.
"I immediately concluded that with the knowledge I had, I could turn the waste into a source of economic advantage by creatively exploring the free raw material.
"Armed with a paltry Sh200,000 from my savings before I went to India for further studies and my brain for capital, I rented a house at Kajulu and embarked on this journey," says Owino.
After clearing the hurdle of convincing Nema and Kisumu authorities that his industry would be environmentally friendly, Owino started off by identifying individuals to train on pre- and post-tanning processes with organic agents rather than chemical ones that emit toxic substances.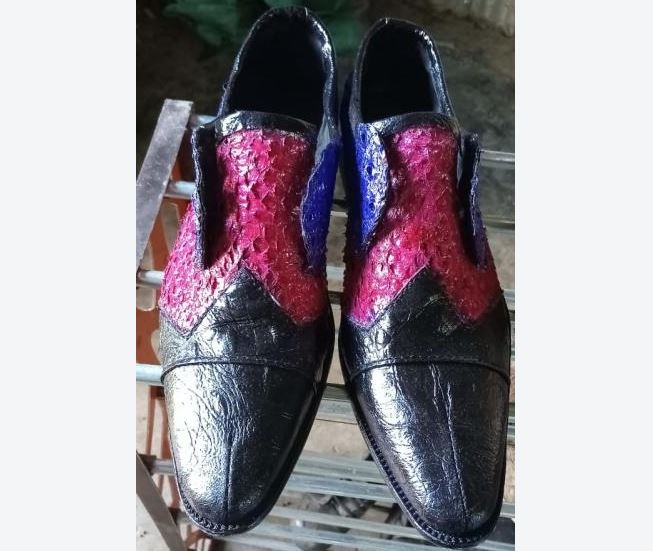 Apart from cobblers scattered around Kisumu city, close to 300 local women who collect and clean the fish remains plus 17 employees owe their livelihood to Owino's unique enterprise.
He has created market opportunities for 80 local farmers who sustainably supply the industry with natural tanning agents from plant extracts.
He pays singular tribute to Switch Africa Green project — an initiative led by United Nations Environment Programme to promote green businesses — for the role it has played in marketing his business abroad and locally. "We would not have been here without them," he says.
While the coronavirus pandemic has been a jolt to reckon with, 70 kilogrammes of fish leather was recently shipped to Nigeria, the first such consignment since April, he says.
Alisam Development Product and Design Industry is a member of the Global Green Leather Alliance of which Owino is the current president. "We are putting up our headquarters in Vancouver, Canada," he says.
Owino's future plans include construction of a modern green tanning plant at a cost of Sh26 million.
A tender for the ambitious project has already been awarded. He is also planning to build a training school.