Man revels in job of retrieving the dead from rivers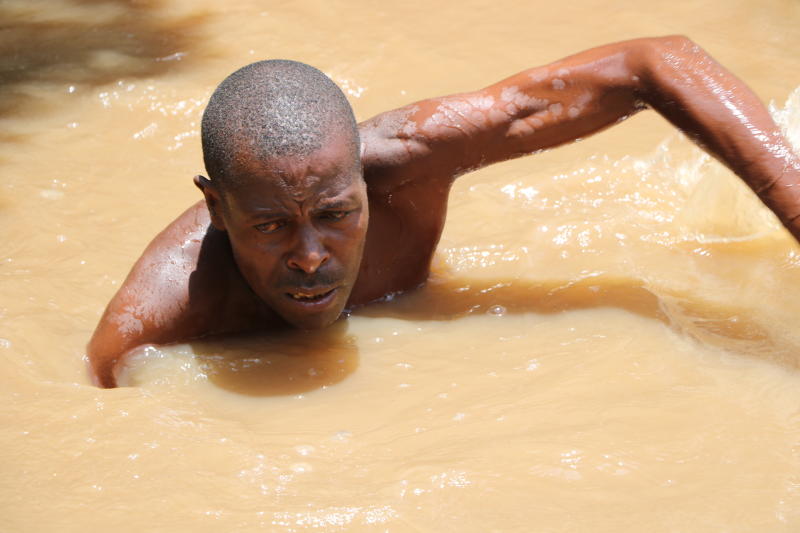 He is a household name, an underwater champion of sorts, at least to many residents of Kakamega County.
To his credit, Elbanito Ichechi, swims like a fish and his knack for retrieving bodies from the waters is second to none in the region.
He took over from his grandfather, Moses Mmai who was part of the rescue team during the Mtongwe ferry accident in Mombasa, in April 1994. Mmai died shortly after the mission.
Over the last few months, Ichechi has been attracting many admirers within and outside the county due to his prowess.
While many are not courageous enough to explore rivers, to Ichechi, diving in them to retrieve bodies has been a routine activity for more than two decades.
Better known to locals as ''Omundu wamatsi'' in Luhya dialect which loosely translates to master of the waters, Ichechi says he has retrieved at least 180 bodies from the waters since he started almost 20 years ago.
It is a feat that has earned him a cult following in his village.
Having dropped out of school at the tender age of nine, the father of four says that his passion for diving was ignited by his numerous visits to the river with his grandfather, who was a diver.
''Due to lack of fees, I dropped out of school and when others were going to learn, my grandfather, who was known for retrieving bodies, took me along. I carried out my first successful operation when I was 17,'' he says.
Twenty-six years later, the events of that day are still vivid in his mind. It is from that operation that Ichechi was catapulted to the limelight.
On the fateful day, Ichechi was nursing his ailing grandfather at their home in Ikolomani when a neighbour asked for help in looking for a body of a 10 year-old-girl who had drowned in the river while fetching water.
''The woman came to our home screaming that her daughter had drowned, at first I dismissed her since the only person who could help was bedridden. However, I decided to give the rescue mission a try after my grandfather psyched me up,'' Ichechi said.
He successfully removed the body of the girl from River Isiukhu after frantic search efforts that lasted three days, and Ichechi says that was the most challenging task in his life.
''Usually, I could just watch my grandfather immerse himself into the deep waters for hours. It was my turn and at some point, I wanted to give up but the cheers from the young and old on the shores encouraged me,'' he recalls.
Though he is not a professional diver, his traditional methods of rescuing people and retrieving bodies have worked in his favour.
He says that before he embarks on any mission, he goes to a council of elders who perform rituals as a way of protecting him from snakes and other harmful animals.
''Once you take some traditional medicine, chances of you being attacked by animals are very slim, and not even a snake can bite you in the water.
"For the crocodiles, it is easier as there is a special oil made from roots that is usually applied on my body and acts as a repellent,'' he adds
''Application of these traditional herbs and performing rituals is very crucial as it has a bearing in the way your journey will pan out. They also help protect your family from several diabolic spirits believed to live in water masses.''
Another ritual he does not fail to observe is the slaughtering of a black goat.
Upon completion of the process, the blood of the animal is sprinkled on the family of the victims and the diver also takes a sip.
Tradition also demands that the family members of the victims keep vigil until the rescue or recovery mission is completed.