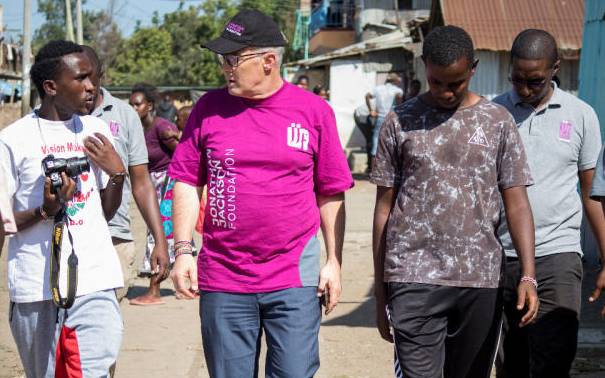 Jonathan Jackson says Nairobi is his home. I ask him whether he changes his mind when the going gets rough, now that he has vast estates in Prague and investments in the United States. He does not.
Nairobi remains home for the real estate developer and the intricate web of corruption that hurts businesses, and faceless cartels looming (his admission) are not reason enough to change his heart.
He was born in Eldoret and grew up between the Rift Valley town and Nairobi. He studied at Hill School (Eldoret) and would later proceed for undergraduate studies in London's South Park University. He then founded The Lordship Group, invested in real estate in Czechoslovakia's Prague in a two-decade real estate journey, but the script was well drafted; he always came back home.
Here, he founded the Jonathan Jackson Foundation. The Jonathan Jackson Foundation is a not for profit, non-government organisation. "We scale up community projects and ensure tangible, positive impact and accountability on the ground for the community, our partners and stakeholders. We focus on sports – football and basketball, jobs and training and reform and rehabilitation," reads the foundation's website.
The soft-spoken real estate man, who has developed Karen Hills, a 64-acre residential development, and is behind the 88 Nairobi Condominium Tower, a 44-storey residential skyscraper under construction in the Upper Hill, is determined to make Nairobi's most underprivileged better.
"The core values of the Jonathan Jackson Foundation stem from my commitment to making real change in Nairobi by empowering the Kenyan people through education and training. The organisation also works with different community groups who are actively making a change for the better and battling social ills especially in areas of sexual and gender-based violence, drugs and substance abuse and criminal reform," says the developer.
Jonathan is passionate about empowerment and has been involved in charity all around the world. He has even built schools in Haiti. "We started this (the foundation) with an aim to grow and attract money from larger agencies. This we can use to empower our communities. I was born and raised in Eldoret and have managed to establish a solid business footprint in both Africa and Europe. Now that I am living and doing business in Nairobi, I know how important economic empowerment is to this and the next generation," he says.
Last season, the foundation acquired Nairobi City stars, which was rooted at the bottom of Kenya's second tier at the time, Jonathan remembers. They were top of the league when Covid-19 struck and stopped activity. They were, consequently, promoted to the Kenya Premier League.
The foundation also recruited players out of the Chapa Dimba tournament, a national football tournament for male and female youth aged between 16 and 20 years. "There is so much talent in Kenya. If only it were harnessed when the players are still young- they could be superstars by now!"
Jonathan is a believer in the principle of handing a fishing rod and teaching to fish, than giving fish, to the hungry. His foundation is aiming at helping over 3,300 underprivileged youths from Nairobi's low-end estates, and he buys mikokoteni (hand carts) for the youth to help them grow businesses.
"My goal for the foundation is to offer significant impact in disadvantaged communities by contributing to job creation and sustainable income generating initiatives. I am committed to using my track record and experience in commercial enterprise both locally and internationally to make a difference to the lives of the disadvantaged people of Nairobi, especially women and youth because their success is society's success for generations to come."
He also plans to start a training centre for the youth. "The government-run centres are mainly badly managed. The training is poor, and graduates are not usually assured of getting a job. If you travel and come back to Kenya, you realise that, for the construction industry for example, the workmanship here is poor," he says.
Edwin Kaserwa, the chairman of Congo Youth Group, is a beneficiary of the goodwill of the Jonathan Jackson Foundation. A group of reformed criminals a few years ago formed the Congo Youth Group and started clearing a dumping site in their Kawangware neighbourhood.
In 2019, in a match between Nairobi City Stars and AFC Leopards, they met Jonathan Jackson and told their story. They were already rehabilitating and needed his support. "He got us handcarts that we could use to make money out of hard work," says Kaserwa. Jonathan also started giving them jobs on the side.
The Jonathan Jackson Foundation has a Bakee Mtaani program, designed to introduce basketball to communities. The foundation plans to build 20 courts (full, half and quarter) so it can hold tournaments and introduce a sporting culture to at risk youth.
During the Covid-19 pandemic, the foundation is also supporting vulnerable communities with their #JengaJirani initiative. #JengaJirani is aimed at raising funds and seeking partnerships that will aid distributing various care packages of either food or sanitary (for girls) hampers to our vulnerable members in informal settlements in Nairobi. ?