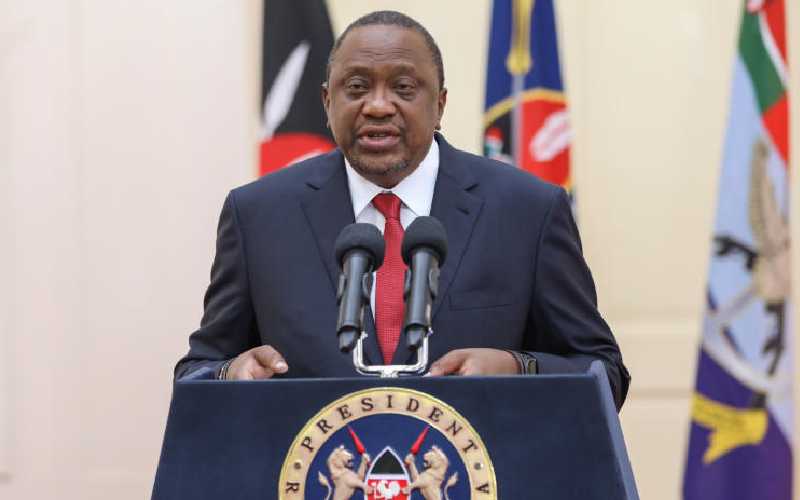 Constitutional lawyers have warned that President Uhuru Kenyatta risks being impeached if he fails to act on the advice of Chief Justice David Maraga to dissolve Parliament.
However, since MPs are opposed to the dissolution, they would not move an impeachment motion or raise the numbers to remove him since they do not want to lose their term and perks.
Legal opinions, however, continued to be divided on the CJ's recommendations, with some lawyers saying it is impracticable and that the president should ignore it since there is no law that compels him to comply with the directive.
Justice Maraga on Monday advised the president to dissolve Parliament for failing to enact the Two-thirds gender rule, prompting the divided opinions on what would happen should the president choose to ignore it.
Read More
With recent rising cases of the Executive disobeying court orders, including the president's refusal to appoint 41 judges despite a court order, the lawyers argue that the only remedy would be to commence an impeachment motion against President Kenyatta should he ignore the advice.
The lawyers say the CJ acted lawfully in accordance with Article 261(7) of the Constitution, which mandates him to advice the president to dissolve Parliament if it fails to enact legislation, and that the head of State can be removed from office in line with Article 145 if he fails to act.
Article 145(1) provides that the president can be removed from office by way of impeachment for a gross violation of the Constitution or of any other law.
Former Law Society of Kenya president Eric Mutua said Justice Maraga's recommendation is binding to the president and since there is no court order suspending it, the president has no option but to implement it.
"If he ignores it then he will be in violation of the Constitution and the only consequence is for Parliament to bring an impeachment motion to kick him out of office," said Mutua.
Lawyer Sam Muga agreed that Uhuru would have failed to act in accordance with the Constitution by ignoring the advice, which will be sufficient ground for impeachment.
Constitutional lawyer Kibe Mungai, however, disagreed with the impeachment notion, arguing that the president should disregard the CJ's "mere" recommendation because it is not a court order.
"The president cannot accept a recommendation that will make him punish people through a by-election. The country cannot operate without a parliament," said Mungai.