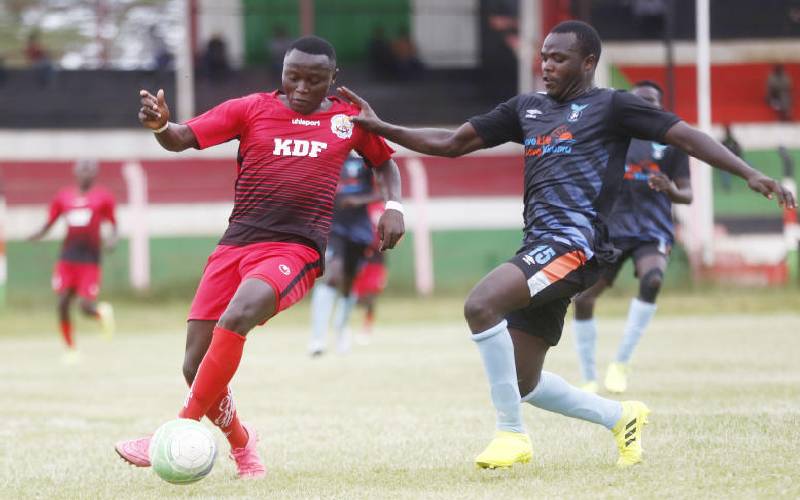 It is Saturday afternoon. I am in my rural home lazing away. All of a sudden, I stumble upon a KTN programme and a familiar voice comes on air.
Unmistaken, it is the high-pitched Nick Mwendwa talking about his candidacy. He is responding to Moses Wakhisi's Skype questions. It is a debate about the forthcoming FKF elections. The man is buoyant and bullish because the tide seems to be going his way. He sounds confident and self-assured.
He goes on a tangent referring to his opponents as 'grand people' who were in football administration for 30 years and did nothing. And that there is a 33-year age difference between him and his main opponent. Your guess is as good as mine about who he is attacking.
According to Mwendwa, his key opponent is 73 and 'has nothing to offer'. What Nick Mwendwa means is he has a lot to offer. He has solutions for the salary impasses regarding former Harambee Stars coaches Bobby Williamson and Adel Amrouche. He is sure the matters shall be sorted soon.
Read More
The following day, I stumbled upon a football tournament at the famous Thurgem grounds. I am glad to find some activity to keep me going as I unwind from the five-month long Covid-19 lockdown in Nairobi. I soon forget Mwendwa's tirade and settle down to village football.
Lack of structures
I enjoy these tournaments because Mwendwa is not aware they even exist. They remind me of how football lovers in the grassroots only matter when their delegates are mobilised to vote for 'candidates' in Nairobi, some of whom can't find Thurgem grounds on the map of Kisumu County.
The organisers are led by one Okoth Olondo, a combative ex-Nairobi City Council enforcement askari. Okoth retired about 10 years ago after 23 years of active service.
While still active in Kanjo service, he also doubled up as a Gor Mahia security officer and handyman. Now, one can imagine the character of such an individual. At around 66, he is battle-hardened. Since the village has no referees, Okoth becomes the referee. When in charge, players cannot dare challenge his decisions or hurl insults.
The tournament I was watching was organised by Okoth but sponsored by 'a certain young man from the village, who is a businessman in Nairobi'. The kijana was providing Sh10,000 for the winning team and consolation prizes for other teams.
Immediately I was offered a seat, someone came with a dog-eared exercise book with 'team donation' written on the cover. 'Doneson,' he pronounced it when I asked what the book was for. He asked for my 'doneson' by invoking my grandfather's name since the old man, who I was named after, was a very generous man.
But my grandmother once warned us against giving out hard cash to anybody in the village. Some villagers had 'bad eyes'. They could curse your money and invite poverty.
So I asked the guy whether my 'doneson' would be via mobile money transfer. My grandma died in 1985. I don't know how her science would have interpreted mobile payments to strangers in the village.
Face masks
I watched the tournament's semis and finals and what surprised me was how villagers do not wear masks. I looked odd wearing my WHO-recommended, three-layered mask. Cheeky relatives asked me how fatal Covid-19 was in Nairobi and when It will be over.
According to them, Covid-19 ended the day they realised it was a 'Nairobi disease' because Kagwe's daily briefings did not indicate any deaths in crowded areas like Kondele, Nyalenda, Pandpieri or Obunga.
To them, life was normal and even cops long stopped harassing them. Matatus carry the normal three passengers per row and traffic police do nothing. As we look forward to easing of restrictions, let Kenyans know that villagers in Thurgem village freed themselves ages ago.
The only thing they observe is the 9pm curfew, although again that is normal. They fear night-runners more than policemen on patrol.
When the final match between Thurgem FC and Nyarombe FC ended, the celebrations were fever pitch and I almost dropped my guard. The two teams had their home boys, who play for Sony FC, Muhoroni Youth, Kisumu All Stars, Western Stima, Zoo Kericho and Gor Mahia Junior team.
I wondered whether tough-talking Mwendwa was even aware grassroots football was going on without restrictions and football clubs did not receive any donated masks from his federation? To them, FKF is irrelevant.
These players enjoy their soccer under Okoth Olondo and they also have their own 'FIFA' referees from the villagers. They have the Thurgem pitch, yet Mwendwa has no ready stadium.