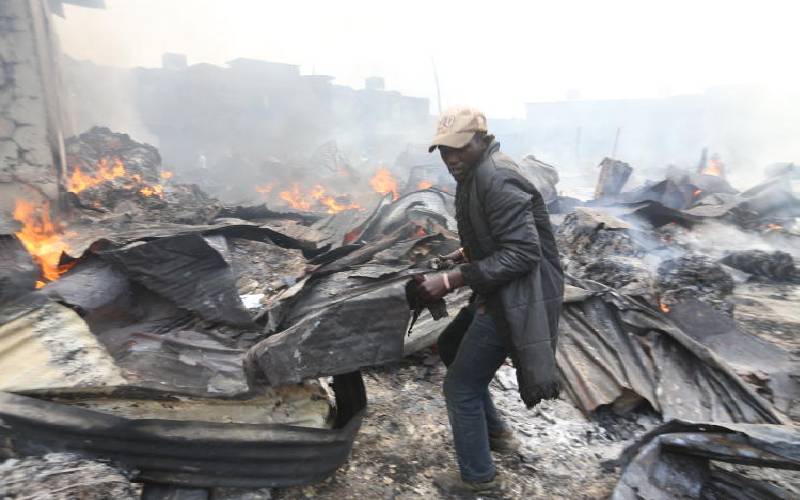 If you want to feel the pulse of Gikomba market, place your palm on the chest of the many small businesses that sprawl the high-density area of downtown Nairobi. Their powerful throb pounds downtown Nairobi creating a lifeline for the thousands of small-scale traders who troop to the city every day.
From boutiques to carpentry shops, groceries, hardware outlets... the market is definitely the engine of Nairobi's informal economy. It bursts with opportunities for whoever wants to try their hand in whichever hustle they fancy.
And it is here that Nick Otieno earns his daily bread. Nick owns a carpentry shop. His is a story of sheer determination and resilience that has seen him expand his business from a tiny repair shop in the slums of Kibra to a busy workshop that now sells products to even high-end clients.
But the road has not been easy. Constant fires that time and again raze down the huge market have caused him untold losses, yet he has never given up.
Read More
"When I came to Nairobi from the village in Gem, I settled in Kibra and started working as a casual labourer in construction sites," he recalls.
"But I always had a thing for carpentry. I started doing small repair works in 2009. I did not have much capital; only a few tools that I had bought while in the village. I borrowed Sh4,000 from my pastor, which I used to pay rent and get started."
Getting the first client
His venture into carpentry was not blind. When the government rolled out Technical and Vocational Training Institutes in the country, Nick joined Mutumbu Vocational Training Centre in Gem, Siaya County, where he completed a course in carpentry and joinery.
He passed his Government Trade Test Grade Three, which opened a leeway to practice carpentry.
Nick's first client ordered a wall cabinet, he used part of the money to acquire more equipment. Once complete, he says, the well-made cabinet attracted more clients and his business started to grow.
Kibra proved to be a less attractive market with time, and that was when he decided to relocate to Nairobi's centre of attraction for informal trade - Gikomba market.
"In 2014, I relocated to Gikomba. We partnered with a few friends and rented a small structure where we began work," Nick says.
Immediately after laying out operations, the troubles started. The first fire struck in March of that year. Nick explains that all his possessions were wiped out. Only the tools that he had taken home in Kibra survived. His resolve was dampened. He thought of picking up the ashes and retiring back to Siaya, but his friends convinced him to stay put.
Many of them had seen such infernos and they had survived them, going on to reap huge profits. He borrowed money from friends again and rented another shop.
Immediately, the business began to pick. Gikomba proved to be a haven of opportunity after clients started trooping in. Soon, he had gotten over the losses he had incurred and the returns he was earning made him rent another shop.
Short blissful moment before things went south
But that was a short blissful moment. The bliss was not to last. Things soon went south. Disaster struck again. It was in mid-2016.
Nick had closed his shops that evening and amiably strolled back to his Kibra abode, looking to wake up to another fruitful day.
Instead of rising to another dawn of work and profits, trouble was painted all over Gikomba, saliently, like a ripe yam protruding from the ground.
The market had again been burnt. His shops were not spared. The entire Gikomba looked like a scene from Waterloo after Napoleon had been defeated.
The traders, including Nick, cried to authorities. Their cries fell onto deaf ears. There was no one, even City Hall, to help.
For a second time, Nick's resolve was torn apart. But it wasn't time to give up. It was time to start all over again.
This time he looked for a shop deeper inside the carpentry section of the market. His clients did not desert him. Again, with great toil and fortitude, he was able to get into operations.
But Gikomba is a fateful place. No one knows where the fires come from or who starts them.
The third fire that almost made him give up
In June 2018, the entire carpentry section of the market was razed down and that is when reality started to dawn on Nick; one day he will be forced to move and bid adieu to the lucrative market.
"When fires occur, we lose everything that we had stored in the yards. This includes finished products - chairs, beds, wardrobes, even tools of trade. The fires put you deeper into debt," Nick confesses.
He says while some clients understand and even offer to pay part of the costs of what was lost, others demand that the yard owner pays for everything. Such a scenario takes the trader back some good miles.
Due to the risks involved, attempts to insure the businesses have proved futile. Insurers want nothing with such obvious risks. The semi-permanent structures which house carpentry shops are a factor when it comes to denial of insurance services to people like Nick.
But he does confess that Gikomba is still a place of opportunities. In Gikomba, clients who can afford sofas worth Sh100,000 are constant visitors.
Evasive insurers
Nick explains that in Kibra he could only make products in softwood, which made them cheap. In Gikomba, he used hardwood like mahogany, camphor and Podo for most of the furniture he made, and the products were pricey.
Last February Nick moved to a permanent building within the market. He did this to insulate himself from the fires which he says are sure to happen in future.
However, he is seeking more capital in order to get a stronger foothold in the carpentry business within the market. "I have applied for a loan from the youth fund. I hope my application will be considered," he says.
He also hopes that finally he will get his business insured this year now that he is located at a relatively less risky space.
Despite this determination, Nick says there are still challenges he hopes to surmount. Top is securing State tenders that have been set aside for youth. He bemoans that even with proper clearance certificates, getting the tenders remain a herculean task. "Covid-19 has also wrought havoc in the business world and with people's income depressed, businesses, including ours, are not doing well," he says.
Nick was set to complete his Grade One Trade Test studies and sit the exams this year, but all that has been cancelled as a result of the pandemic. He sat his Grade Two examinations in 2017 at the National Industrial Training Authority.