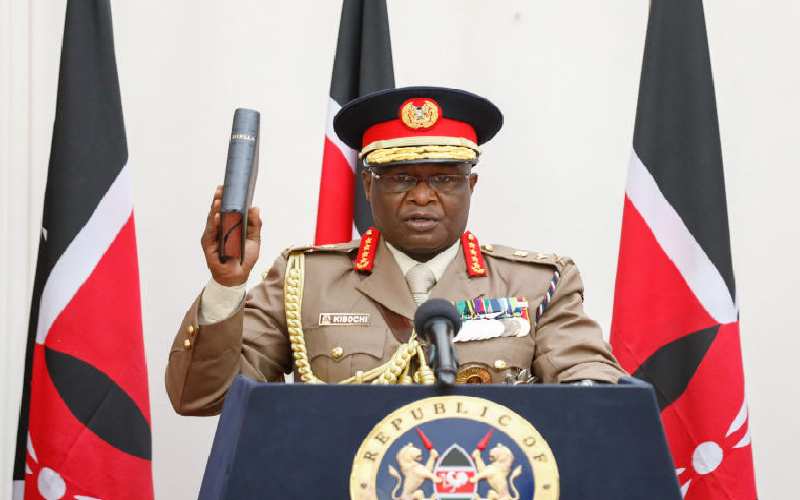 From a village boy enthralled by the heavy boots to a commander enforcing peace in a foreign land and now sitting at the helm of Kenya Defence Forces, Chief of Defence Forces Robert Kibochi's life at service has been a roller coaster of sorts.
In his first interview with the media since his installation, Gen Kibochi talked of his career in the military, the changing face of Kenya's military and his promise to Kenyans.
He has pledged to defend Kenyans during his tenure, to re-energise the military to be ready for any threat that may emerge and to constantly engage his troops in training.
Typical day
Read More
A man whose typical day revolves around prayer, fitness and office work, he fell in love with the military while at Nyeri High School when he encountered soldiers in the area.
"I believe in fitness. It is fitness that gives you a chance to drive this job. I take my time with my grandson and also take care of my cows. Once you leave this job, you have to get something to do," he said.
Gen Kibochi, who took over in May 2020, said using consistent training, his mission and vision will be how he will make the Kenya Defence Forces ready to confront any emerging threat in the vast changing environment.
"My vision will be on how do I re-energise the perspectives of our ability to be mission-ready? Because if the threat is changing at a very fast pace, you have to be able to be mission-ready," he said.
He cited Covid-19 pandemic which has hit the country and world at large saying it is a threat to the national security.
He said he is ready to prepare the medical personnel to be of assistance to the country in the fight against the pandemic.
"Today we are dealing with Covid-19. None us, and even the major world powers, knew that there is going to be this Covid-19. And Covid-19 is in itself is a threat to national security. It is a health issue that has got implications on the national security," he said.
He said the military is currently engaged in various activities in the country to ensure stability and growth of the economy.
"Expect nothing less, but comprehensive defence cover by KDF. And it is why Kenyans pay taxes," he said when asked about Kenyans' expectations of his leadership.
Among others, he said, KDF personnel are engaged in rehabilitating railway lines and have finished Nairobi-Nanyuki, are on the Nakuru-Kisumu and Gilgil-Nyahururu lines.
Gen Kibochi said he will rely on three components of training – premier, credibility and professionalism – in the service to deter perceived aggressors.
"It is underpinned by our belief that we must continuously train. The security environment evolves over time. It fluxes," he said.
Gen Kibochi explained the office of the CDF is a constitutional office which is critical and at the apex of the chain of command.
"Leadership starts from the lowest level – corporal who is in charge of 12 members – up to the CDF who is answerable to the commander-in-chief. It is a pillar in supervising the three services – Army, Air Force and Navy – and provides defence advice to the National Security Council. The principal advisor is the CDF on military issues," he said.
He argued for Kenya to succeed in security, it has to embrace multi-agency approach as it combines interior and intelligence sharing.
"I wanted to join the Air Force and they told me you will be in a telecommunication environment," he said.
He said being a commander in the Army gave him a chance to rise.
"In the Army, it is pride to command the core. We have core of signals, medical, infantry and engineering. Commanding your core is a critical component," he said.
He served as Vice Chief of the Kenya Defence Forces following his elevation and appointment on July 13, 2018.
He was enlisted into the military on May 18, 1979, and underwent officer cadets training until March 30, 1980, and commissioned in the rank of Second Lieutenant and posted to Signals Battalion.
He has held various command and staff appointments including his immediate former appointment as Commander of the Kenya Army, Assistant Chief of Defence Forces in charge of Operations, Plans, Doctrine and Training at Defence Headquarters (DHQ), Chief of Strategic Plans and Policy, Director International Peace Support Training Centre, Col Operations Requirements (CIS) and Commander Corps of Signals.
Ranks held
Other appointments held include Chief of Staff at the Eastern Africa Standby Force, Staff Officer (SO1) Records at Headquarter Kenya Army (HQ KA), SO1 Comms HQ KA, SO1 Mobilisation DHQ, SO1 Comms CIS DHQ and SOII Operations and Training at the HQ of the Corps of Signals.
Gen Kibochi has Masters Degree of Arts in International Studies, Masters Degree in Computer Based Information Systems, Bachelors of Technology in Communication and Electronics Engineering and is currently pursuing PhD in Peace and Conflict Management.
His other professional training includes National Security Studies at the National Defence College (Kenya), Army Command and Staff Course (UK), Overseas Telecoms Engineering Course (UK), Signal Officers Degree Telecommunications Engineering Course (India), Sub Unit Commanders Course, Platoon Commanders Course, Regimental Signal Officers Course among other training courses.
He served with the United Nations as Commander of Kenyan Contingent in the United Nations Mission in Sierra Leone (UNAMSIL) from 2000–2001.