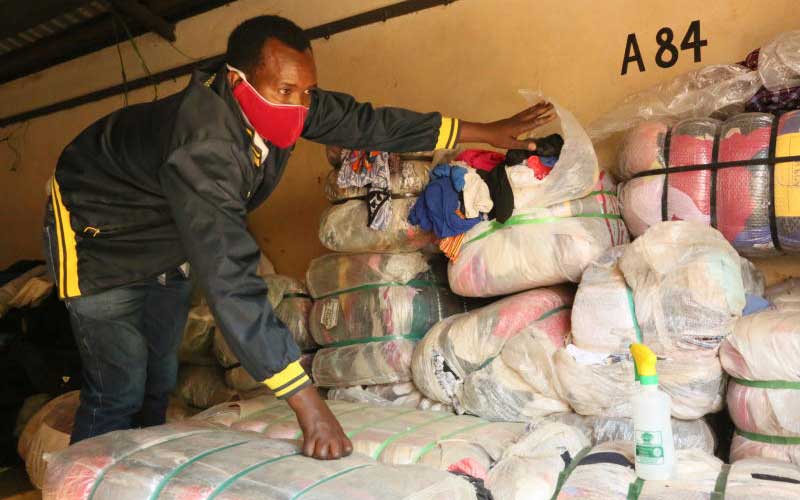 Before her business came to an abrupt halt towards the end of March, Priscillah Karigo was importing three to four containers of second-hand clothes every month.
In the containers were bales upon bales of mitumba clothes that found a ready market in Nairobi's Gikomba market.
Karigo's business was a source of income for hundreds of people directly and indirectly. But five months down the line, she is distraught. Her warehouses are empty and she has been forced to send her employees on unpaid leave after second-hand clothes imports were halted in the wake of the Covid-19 pandemic.
Her story reflects the plight of many mitumba dealers whose source of livelihood has been decimated after the viral disease hit Kenyan borders.
Read More
"The president was magnanimous enough to ask the ministries of Health and Trade to come up with protocols of doing this business, but nothing has been forthcoming and we feel that something ought to be done," said Karigo.
The impact of the government's temporary freeze on the importation of second-hand clothes has been felt down a rather long food chain. Now, traders in the sector have resorted to selling dead stock.
Kenya Bureau of Standards (Kebs) Managing Director Bernard Njiraini issued the ban as a measure to prevent the spread of the coronavirus disease.
But now, with the decrease in mitumba bales in the market, most retail and wholesale traders are selling stock that was previously stuck in their warehouses at exorbitant prices.
This has seen the price of a bale of used clothes or shoes double, which has had the effect of pushing thousands of traders out of the lucrative sector. It has also seen a Kenyan public that is largely reliant on clothing itself in mitumba stare at an uncertain future.
Wholesale dealer
Joseph Nderitu, a wholesale dealer at Kamukunji market in Nyeri town, said he has been making losses since the Covid-19 outbreak in mid-March as high prices and decreased stock at Gikomba market, the unofficial headquarters of the second-hand trade, leave him with few options.
He now buys a travel bag he would previously pay Sh10,000 for at between Sh20,000 and Sh25,000.
Further, Nderitu said before March, he would make two trips to Gikomba and buy 30 bales each time; but now, he would be lucky to get a single bale.
"At times I travel to Gikomba and return empty-handed. On the other hand, retail customers are not buying the low-quality clothes from the old stocks. A majority of Kenyans buy second-hand products mostly shipped in from China and Pakistan due to their low prices and variety, but with increased prices, people are not buying them," he said.
The mitumba business is a mainstay for the majority of traders in Nyeri, but some have been forced to close shop and opt for other businesses.
"Some of my retail customers have closed down because there is no new stock in the market. The reject clothes and shoe bales are expensive at the moment, yet they are not fast-moving," said Nderitu.
Kenya National Bureau of Statistics data shows that the mitumba sector contributes Sh17 billion to the country's economy annually.
According to Charles Kabiru, the chairperson for Kamukunji market traders, out of the 530 people operating in the market, 130 have closed shop after running out of stock due to the ban.
Kabiru said financial constraints have seen most traders fail to raise the Sh200 monthly contribution required to pay for security services.
"In addition, the payment of licences to the county government has become a challenge to most of us. Only about 30 per cent of the traders have managed to remit their levies for this year," he said.
Grace Wangui, a trader who sells children's second-hand clothes from Scotland and Netherlands, said she was now selling stock she got in December 2019 and last January. A bale she was buying at Sh24,000 before the pandemic is currently selling at Sh36,000.
"I bought one bale three weeks ago at a cost of Sh24,000 and the clothes were of low-quality. The same bale was being sold at Sh12,000 before the pandemic," she said.
Benard Wairagu said in the 22 years he has been in the mitumba trade in Nyeri, business had never been as bad as it is now. He said he had stopped servicing his loan as he was no longer making money.
"I had a worker at one of the shops, but I released her because I could not afford to pay Sh250 per day."
And in Nakuru, a protest organised by second-hand clothes traders was disrupted after police officers lobbed teargas canisters to break up the demonstration.
The traders had converged at the town's mitumba stalls off Mburu Gichua Road carrying placards with messages directed at the Ministry of Trade and Industrialisation.
Led by their chairperson Jackson Maina, the traders lashed out at the ministry over its continued delay to issue guidelines under which they can resume importation.
"This is the fifth week since the president directed the ministry to provide a framework on resumption of mitumba importation. It is very unfair for them to continue ignoring the directive when our businesses are almost collapsing," said Maina.
The traders took issue with Trade Cabinet Secretary Betty Maina for the failure to issue fresh guidelines.
"Churches and the hotel industry came up with their reopening guidelines .... What is so difficult in the mitumba sector for them to take ages?," asked Maina.
Edged out
They further alleged a plot by those who sell new clothes to have the mitumba traders edged out of business.
"Clothes imported from the US, UK, China and Dubai arrive in Kenya after 30 to 60 days. During this period, the virus will have died. Even before Covid-19 was reported, the clothes were being fumigated at the country of origin," said Maina.
However, the CS said the government has not banned the importation of second-hand clothes.
"There is no ban on mitumba importation. We only imposed a temporary restriction that prohibits goods coming from countries that have Covid-19, but this is subject to review," said CS Maina during a TV interview.
She said the government was discussing with the Mitumba Sellers Association how business would resume.
"We are considering the proposals the association has come up with, and also checking if the protocols required have been observed. The government is addressing these concerns," said the CS.