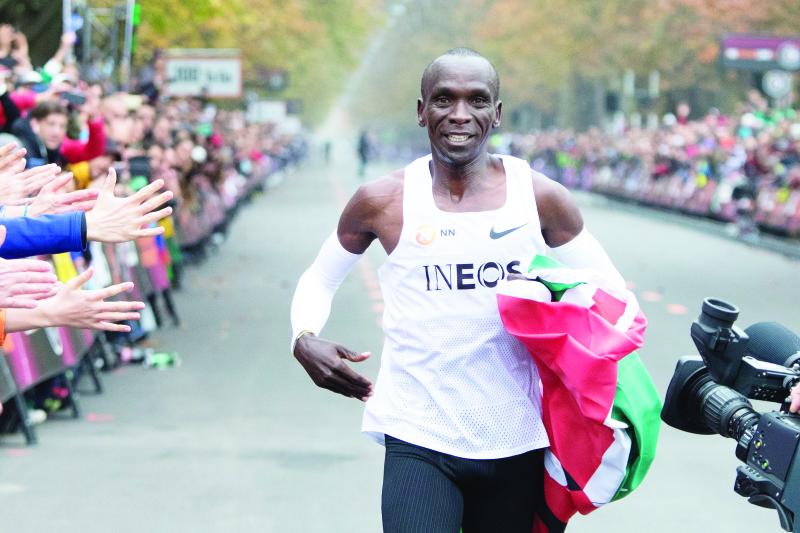 Eliud Kipchoge became the first man to run a marathon distance in under two hours, cementing his place in history and sports folklore. He also holds the official world record in the marathon with a time of 2:01:39, set on September 16, 2018, at Berlin Marathon breaking the previous world record by 1 minute and 18 seconds. He talks about life and what keeps him going.
What does a typical day look like to you?
My typical day starts early in the morning, waking up at 5.30am and then getting prepared for the crucial morning run at exactly 6am. I then head back for breakfast after the run. I take a rest as I wait for my exercise session, take lunch at 12.30pm. I then take a nap, and in the evening at around 4pm I do some more running, get back for tea and shower and have dinner at 7.30pm. I then grab a chapter of a book and go to bed at 9pm.
What role have your surroundings played in shaping you?
Read More
My surroundings have taught me to be patient and focus. I am inspired by my deep love for sports and my desire of always wanting to do the unthinkable, and above all wanting to inspire all generations. I find inspiration in wanting to do better day in day out and my fans out there who look up to me for life inspiration.
Did you ever think one day you would challenge the world record?
Not at all. It was never in my mind. In the beginning all I was thinking about was succeeding in running and get an opportunity to board a plane and most importantly earn a living.
What would you be if you had not chosen your current path?
I always pictured myself as a manager in a company or something of the sort.
What lessons has fatherhood taught you?
I have learnt to be responsible and work extra hard to provide as a father and above all set a good example for my kids.
What lessons would you pass down to your children?
I teach them to be self-disciplined, hardworking, they should be able to try to do anything they set their mind to. I want them to know no limits and above all, they should let their common sense prevail at all costs in every situation.
What was going through your mind when you were crossing the finish line during the INEOS challenge?
Being the first human being ever to run under two hours was all I could think of. It was out of this world.
Were you afraid that you would lose?
Absolutely, I was worried about what would happen if I failed. The sport changes all the time. Today you are strong, and tomorrow you're down.
What scares you the most in life?
Getting late, especially to a function /event.
How did you feel when people criticised your record-breaking challenge saying your success was because of the shoes you wore?
I respect every human being and I know we can think together. I respect their thoughts totally. I'm not worried as this world is full of optimists and pessimists.
How do you unwind?
I unwind by disconnecting from the hassles of daily life, taking a total rest. I mostly throw a book into the mix as well.
Which book changed your life?
'Who Moved My Cheese?' because it focuses a lot on change.
Biggest regret of your life?
I feel like my inspiration to the world should have started earlier. I should have put myself out there years ago.
Advice for aspiring athletes?
Be patient because nothing comes easy. They should set their goals, practice self-discipline, and know what they want to be and where they want to be in life. They should set clear goals.