Ben Jipcho: Brought gold medals, but died without silver coins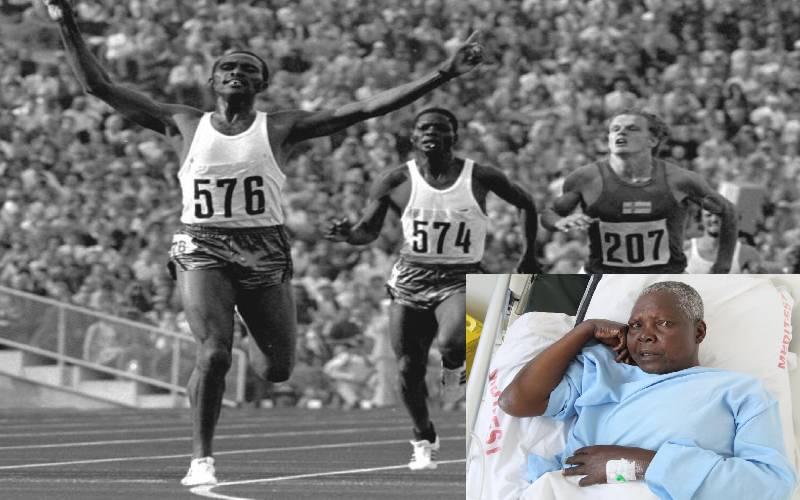 Athletic legend Ben Jipcho died last week, a pauper, just like many other retired sports heroes in Kenya. His death at 77 got me wondering about what should be done to stop all these embarrassments of legends dying poor and forgotten.
Jipcho's suffering and seeking financial intervention when his hospital bills hit the roof was sickening like many others before him. His family was equally desperate and helpless until he passed on. After all the gold medals and triumph for the country, there was no pension or proper medical insurance. Jipcho who won silver in 3000m steeplechase during the 1972 Munich Olympics, died alone, lonely and forgotten. The only people he saw near him were his children and desperate family members.
I first saw Ben Jipcho in 1968 when he became part of the Kenyan team to the Mexico Olympics that year. I was in the lower primary in Kitale where I was born and brought up.
In my small, young mind then, Jipcho, who later won Kenya medals at the Commonwealth and All-Africa Games, was this invisible man who could run faster and longer than everybody else including my dad. I had not heard of Kipchoge Keino until I saw Jipcho running at the Kenyatta Stadium in Kitale. He was by then a student at Siriba Teacher's Training College. I remember my father telling me later on that Jipcho came from the same village with Mzee Shollei (father of former Harambee Stars midfielder Sammy Shollei) and our neighbour.
I cracked my head wondering why our government has always been insensitive to sporting greats who after all the glory they bring to the country, are left suffering past the many medals.
Just consider that without Ben Jipcho's sacrifice and unselfishness during the 1968 Mexico Olympics, Kipchoge Keino would have lost to American world record holder Jim Ryun, missing out on the fame he brought Kenya, and with it, a sporting tradition that lasts to date. Kip won gold, Ryun silver with bronze going to Bodo Tummler of (West) Germany. Jipcho, who pulled the field in the first laps to exhaust Ryun — who was known for his final kick — finished out of the medal bracket. But Jipcho's team tactic saw Kip triumph over Ryun with a 20-metre gap — the largest such over the distance to date!
Kipchoge and Jipcho lived such contrasting lives with Kip having started off as a cop and Jipcho as a primary school teacher. Where did they part ways in the food chain?
Kip is a millionaire while Jipcho could barely afford to pay for his medication. He had no medical cover and his family had no intervention measures in place. The most they could do was sending out medical appeals, which probably did not bear much.
I have heard of many ways of remunerating or compensating sportsmen and women. However, the most appealing is the one adopted by the West Indies Cricket team. They are drawn from different countries in the Caribbean including Trinidad and Tobago, Jamaica, St Kitts and Nevis, Guyana and Barbados. Popularly known as the Windies, they are world beaters who are feared in the international cricket circles.
These players are on a permanent fixed retainer paid to them whether they play or are on leave. This also includes a generous pension scheme that commits a medical cover and monthly stipend until death. Now, tell me if these incentives can fail to motivate any player?
The mercurial West Indies Cricket team is, therefore, a world-class winner due to the hidden factors that many cricket playing countries do not know. Maybe only England, India, Australia, New Zealand and South Africa have better remuneration packages than the Caribbean islands cricket team.
In Kenya, sportsmen and women hardly get their meagre daily allowance. It is either stolen by officials at source or pilfered by team officials. It sometimes takes the players to go on strike, go slow or desertion to show their disgust with the way they are handled. Remuneration policies that are in place are just theories on paper. Nobody respects them anyway and they are only quoted when it suits the official thieves.
Why can't sports stars called on national duty be considered as civil servants on the payroll at the Ministry of Sports and with all the perks civil servants enjoy? After all, they assume the role of a government's representative. Whatever they do is in honour of the flag and sovereignty of the state. In any case, why are they given the flag by the President at State House? They should be put on a monthly salary (retainer) that can be revised when one is out of active sporting. However, key incentives like group medical cover should be retained until one dies. If this was in place, the Jipcho family would not be desperate for simple things like money for an X-Ray. Jipcho and Robert Ouko would have both died as retired honorary civil servants who served under the Ministry of Sports.
In the same spirit, the government through the Civil Servants Housing Scheme can allocate these heroes and heroines houses to ensure they retire comfortably.
That move would make people like Julius Owino former Harambee Stars captain to avoid living in carton houses in the slums. Retired boxer Stephen Muchoki would be happy with a government house. Dennis Oliech, Allan Thigo, Macdonald Mariga, Victor Wanyama, Michael Olunga, Ezekiel Kemboi, Kipchoge Keino and many more should be allocated houses at the new government housing scheme in Ngara, Park Road, Kariokor, Jeevanjee Estate and Bachelor's Quarters. The number of sports men and women who have worn national colours in all disciplines is not big.
You never know, even the current flamboyant professionals may one day live there 'kikiumana' in old age.