Covid-19: Mombasa Entrepreneurs who saw an opportunity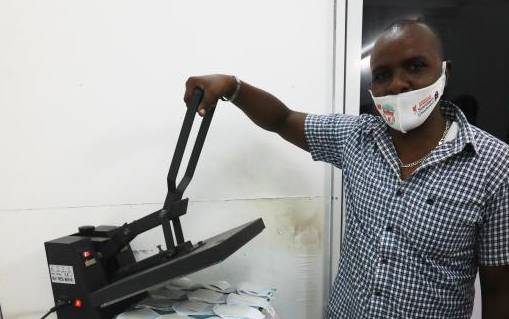 As jobs and income losses surge due to Covid-19, some innovative entrepreneurs appear to have turned the crises into an opportunity and are making profit.
Faith Imani and Joseph Wambua ventured into a new business after their sources of income were wiped out. Their gamble has paid off.
"The highest amount I have made from the sale of branded face masks in a day is Sh70,000," said Wambua, who operates from Mwembe Tayari in Mombasa.
Initially, he owned a marketing, signage and branding firm, but in May his business of 11 years collapsed, as many firms cut down marketing budgets.
"I decided to chance to branding face masks and it has paid off," he told The Standard at his shop yesterday.
"I was approached by a trader to brand five face masks with the massage, 'Covid-19 is real.' His sales of branded masks grew and there I saw an opportunity," he added
Wambua has reinstated six employees he laid off in March after his firm collapsed.
He says his business thrives because pharmacists doubled prices of surgical masks, which forced Kenyans to look for alternatives and the desire by corporate organisations to use masks as a marketing tool.
Currently, he makes an average Sh20,000 profit a day. He sells one branded mask for Sh45. "I pay each of my employees Sh500 every day.
Imani said her business of selling vegetables, cereals and fruits has grown since May after she closed down a kindergarten.
"I could not pay rent and teachers' salaries. I closed the schools and started to supply vegetables to five friends who did not want to leave their houses," she said.
The trader, a PhD student at the University of Nairobi, disclosed that her clients had increased to 25 and she plans to expand the business to other parts of the country.
"I had no time for self pity after it became difficult for me to raise the rent for the school building and pay teachers," he said.
"I decided to use my car to supply green peas, tomatoes, fruits, and green maize to homesteads and it is working. I can't complain," she added.
Warehousing and storage facilities operators are also reporting booming business, as traders have opted to keep excess inventories due to uncertainty brought about by the virus.
Shippers Council of East Africa Chief Executive Officer Gilbert Lang'at said traders now keep an inventory of up to six months to ensure continued production and supply.
He said traders kept low inventories of stocks to avoid storage charges but due to unreliable transport services and unpredictable availability of goods, this changed.
"Traders are now keeping inventory of up to six months to ensure continued production and supply," he said, warning that the trend would lead to an increase in prices of goods.
A report by Tilisi Logistics Park of August 2018 indicated that warehousing was primarily made of small-scale go-downs of between 1,076, and 3,200 square feet.
Another report by Knight Frank shows rental rates per square have been accelerating, rising by 2.8 per cent between 2013 and 2015, but by 11.5 per cent in 2015 and 2017.
Knight Frank said it costs Sh44.6 per square foot to rent a warehouse in Kenya, which is higher than India, which stands at an average Sh22.0 per square feet.