Five factors to consider before easing lockdown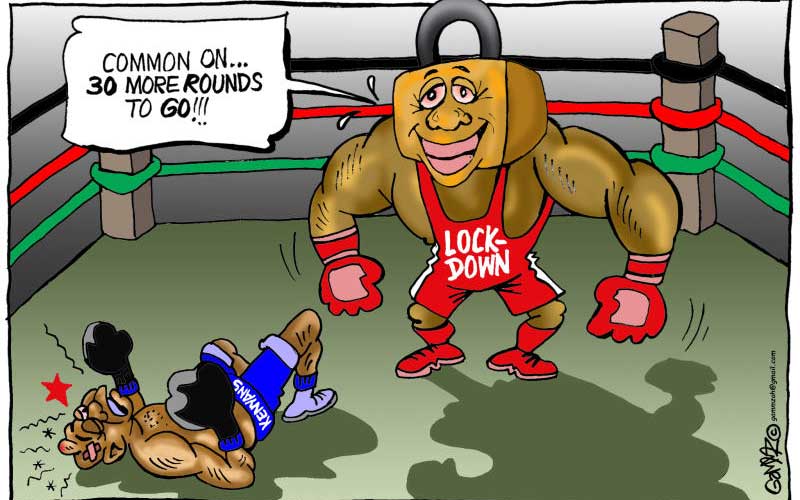 Once again, Kenyans are waiting to see whether President Uhuru Kenyatta will reopen the economy or not come June 6. But what, exactly, will inform this decision? Are we ready to reopen?
Globally, there are more than 10 million novel coranavirus infections, 5.18 million recoveries and sadly over half a million deaths.
Gradual reopening of various countries and sectors is taking place. At the regional level, each country has its own own strategy. Tanzania has already reopened schools.
Going by his speech on June 6, President Kenyatta's irreducible minimum for lifting the lockdown includes a decrease in infections, health systems strengthening and enhanced capacity for surveillance and contact tracing.
How are we performing based on those 'must do' items? Infections were at 2,600 on June 6 when the president gave his speech. By yesterday, the number stood at 6,366. The infection curve is stubbornly unrelenting.
We have increased our testing capacity since then from 94,507 to over 160,000 tests. With regards to health systems strengthening at the counties, progress has been as reported by Council of Governors.
But have we achieved sufficient progress to warrant a reopening? What milestones have we achieved and what remains to be done?
It's apparent that a new criterion has to be adopted in making a reopening decision. Here then are the five criteria; the new irreducible minimum that should inform reopening.
County preparedness
Some 41 out of our 47 counties have reported cases of Covid-19. The point of care then has shifted to the counties. The meeting of the governors with the president in the last Extraordinary Session of the National and County Governments Coordinating Summit on the Coronavirus Pandemic resolved that each county must have a minimum of 300 isolation and treatment beds.
The COG chair Wycliffe Oparanya on June 23 indicated that by then about 10 counties, slightly less than a third, had met this threshold.
Besides the isolation beds, there are other factors we should consider. How many counties have established emergency response committees and operation teams? Where are the on resource mobilisation? Where are we with return-to-work protocols in the counties? Answers to some of these questions will inform the reopening decision.
Testing and surveillance
While in the month of June we doubled the testing, we are still far from our target. We have been treated to long queues by truck drivers seeking testing on our borders. We have also seen long lines for hotel workers seeking tests.
The Government is rethinking testing only symptomatic cases or those who have been in contact with infected persons. It is important that we have an elaborate network of laboratories, including mobile ones that can be deployed in the counties.
For surveillance, screening in public places should be intensified. Data should be available to support rapid contact tracing. This should be coordinated from the counties. To what extent is this happening?
Treatment
On June 26, some 608 Covid-19 patients were hospitalised according to Dr Francis Kuria, the Director Public Health. Eighteen of them required ICU care. Based on our numbers and statistics, 10 per cent of all infections require hospitalisation.
Three 3 per cent of the hospitalised patients require ICU care. According to projections, 40 per cent relaxation of restrictions, will have 300,000 infections by November. If 10 per cent of this number is hospitalised, each county will need over 600 beds to accommodate about 30,000 hospitalised patients.
Treatment is only possible when we have adequate health workers and support staff. We must also have adequate PPEs. We must also have adequate pharmaceutical and non-drug utilities to support treatment. We need then to take stock of our capacity and commodities to inform the reopening decision.
Home-based care
The Ministry of Health has given a policy direction and protocols for home-based care. At the moment over 3,000 patients are supposed to be on home-based care. So far 32,000 community health volunteers (CHVs) have been trained.
How well are these volunteers distributed, coordinated, incentivised and protected so that they can take care of patients in the home setting? Do the Health Facility Management Teams have the requisite technical and logistic support for CHVs.
How about counties that do not have community health support network? We need to start generating success stories of home-based care Covid-19 response interventions to encourage the public on what works.
The vulnerable
By now the counties should have had a database of vulnerable populations. The elderly, those with diseases like diabetes, hypertension, asthmatic, severe malnutrition and the poor in informal settlements and rural areas. Interventions such as cash transfers, supply of face masks, work adjustment including working from home will count as we make the reopening decision.
The decision to reopen rests with you, the county governments. When you are ready, we will also be ready.
Mr Maingi is a public health systems expert. [email protected]