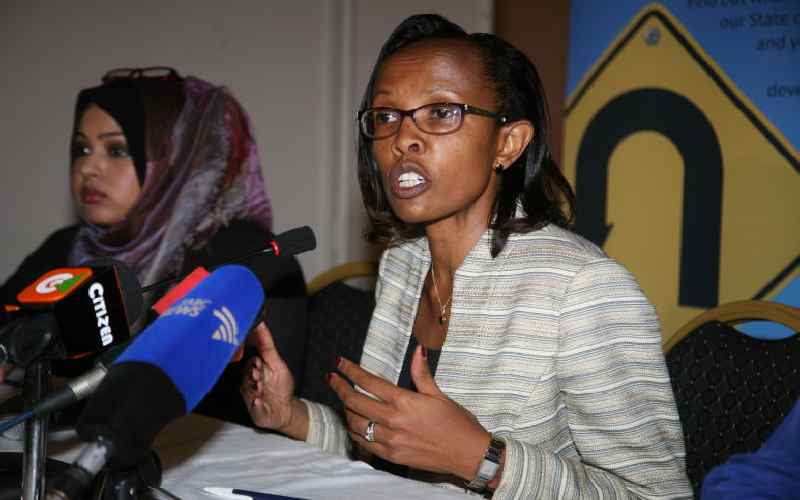 The pandemic has struck many businesses down, but if you look back in history, you will see that some businesses have flourished in the midst of a financial regression. Many Kenyans have lost their jobs in these times and are looking into other means of livelihood. And it isn't a surprise that self-employment will look like the obvious choice. But what should you know if this is something you are considering?
What I have learnt about timing from 15 failed businesses
GEORGE WACHIURI IS AN ENTREPRENEUR AND CHIEF EXECUTIVE OFFICER AT OPTIVEN GROUP.
Background: I have been in business for over 20 years. I have also started 15 businesses that failed and the sixteenth was the lucky charm. That last one succeeded because it had a vision to economically and socially empower and transform the society. It aimed to create 30,000 jobs by the year 2030 and I am well on my way there.
Read More
THREE REASONS TO START A BUSINESS NOW
First, any business is started to solve a problem. Customers will always pay for every problem solved. Right now, customers need food and groceries delivered, seamless online shopping experience, entertainment streaming, gaming and video conferencing. This means that online marketers are needed as well as ICT and app developers. There are opportunities in residential real estate, pharmaceuticals, and manufacturing.
Second, challenges bring massive opportunities. There are hundreds of businesses that are emerging to face the Covid-19 season challenges. The proposed budget just set aside Sh56.3 billion for infrastructure rehabilitation among other items. Where can you plug yourself in the budget and create a service that will benefit others? In addition, all Kenyans need masks, sanitisers, and other personal protective equipment. Entrepreneurs and business people are needed to either manufacture or supply these things. This is a sincere reason to start your business today.
Third, your potential customers are mostly at home. According to the Gallup survey 2020, one-third of the global population are on Facebook or other online platforms. This means that the best time to start and brand your startup is now when most eyes are online with billions of hands touching smart gadgets. So, this is a ready market just waiting for your business idea.
THREE THINGS TO CONSIDER WHEN STARTING YOUR BUSINESS NOW
1. First, audit yourself to see if you love what you do. Business is centred on your passion and not because others are doing it. Business is a risk you must be ready to take. The higher the risk the more the returns, and in the opposite, the higher the loss when it occurs. Either make a decision to take a risk or stay put and watch others go to the business battlefield.
2. Scan the environment and check the solutions you need to offer. Society is looking for bold, innovative, and courageous people to lead the way and offer what they need. They will pay for it. Start that 'thing' today and you will be in business.
3. Lastly, check your capital. This is not necessarily money as there are hundreds of businesses you can start with zero capital. There is social capital, emotional capital, and passion capital. These come in handy when offering brokerage services, coaching, training, online marketing, influencer services, agency marketing among other business startups.
ARE THE CONDITIONS IDEAL?
The ideal condition is when problems are evident. The moment you sort out those problems, you are in business. Waiting for 'Perfect conditions' means business competition will be fierce since everyone wants to be in that arena of perfect business circumstances.
YOUR KEY CHALLENGES AT THIS TIME ARE:
· Learning to manage your teams from home. Accept that this is the new normal and don't wait for the pandemic to end. Such a wait is like preparing for a slow business death. Immerse yourself in the new tools of the trade – smartphone and internet.
· Getting the team with the right attitude, values and passion will challenge many businesses in the world. You can train for skills but not a positive attitude.
· Harnessing resources to keep your brand visible
Value-addition ventures are the way to go now
CAROL KARIUKI, FOUNDER OF THE MORTGAGE COMPANY, AND NOW RUNNING GREENPOT ENTERPRISES.
MY BUSINESS JOURNEY
Before setting up The Mortgage Company, I had a three-year stint at Kenya Commercial Bank's mortgage section, S&L where I grew the mortgage book from Sh277 million to a billion. In 2011, I left the banking industry to set up The Mortgage Company, from where I led a spirited campaign to lobby for lower interest rates so that more people can afford the cost of borrowing for home ownership. I "paused" the firm in 2015 to run GreenPot Enterprises, Kenya's first fully integrated bamboo company.
BUSINESS OPPORTUNITIES OUT THERE NOW
The Covid-19 pandemic has helped us to look internally for wealth creation. For example, why not look at what we used to import but cannot do so now due to the pandemic? Is it not ironic that we have been importing toothpicks while the same can be made locally?
I am also thinking about the export market considering that cargo business is still operational. Our tragedy is that we have always exported our raw produce rather than create value addition chains. There is a great opportunity in in the world of agroprocessing. For example, we were excited about importing avocados to a large market like China, but are we doing any value addition to the fruits? Can a budding entrepreneur come up with a way to extract avocado oil for export? That will create a whole value chain and encourage more investments in the farming sector. I am also involved in the country's ICT development and the innovation ecosystem is growing rapidly. However, a key challenge is to see how such innovations can become commercial ventures.